Tashkent - the Capital of Uzbekistan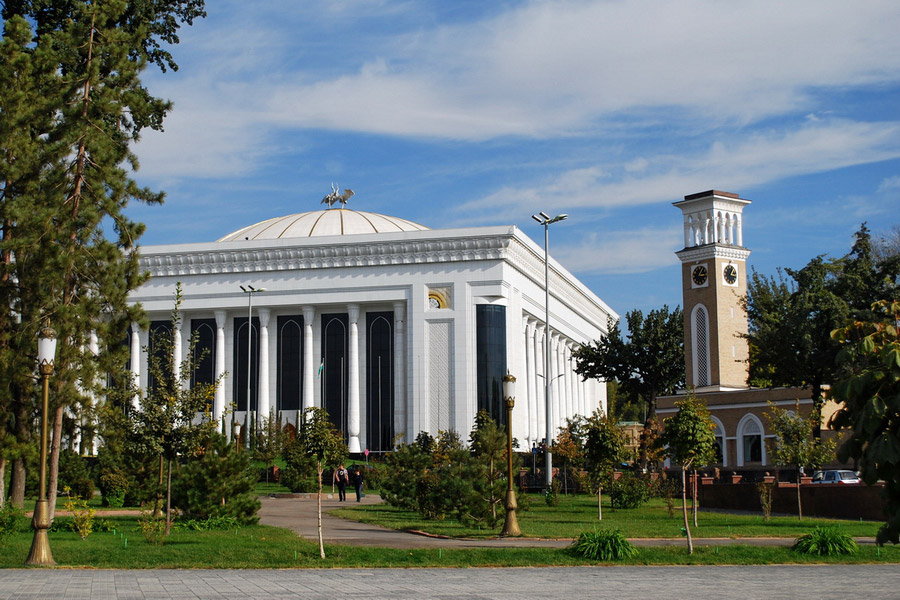 Tashkent is Uzbekistan's buzzing capital and biggest city, home to nearly 3 million people. It's where economics, culture, industry, and science thrive. Bursting with colors, the city beckons travelers with its diverse attractions, welcoming vibe, historic architecture, aromatic spices, lively markets, and artisan shops. For many visitors, Tashkent is the starting point for their Uzbek adventures, giving them their first taste of the country's rich culture.
Strolling through the old town near Chorsu Bazaar, you'll step back in time with architectural wonders dating back to the 15th and 16th centuries. In Tashkent's heart lies the ancient Ming Urik settlement, reaching back to the 1st century BC. The cityscape is a historical patchwork, featuring Russian imperial buildings alongside sacred sites.
How to Get to Tashkent?
Getting to Tashkent is a breeze by air, with its international airport connecting to cities across Russia, Europe, and Asia, and major hubs like Istanbul or Seoul for those coming from afar. Within Uzbekistan, domestic flights are aplenty, linking Tashkent with the rest of the country. Overland, train connections are available from various cities, including Almaty and Dushanbe, while a car ride from Shymkent, including border crossing, is a quick three-hour trip.
Currency
As for money, the Uzbek soum is what you'll use here. You'll find bills ranging from 1,000 to 200,000 soums, with coins for smaller amounts. Exchange your foreign currency at Tashkent's airport exchange, bank branches, or select ATMs where you can also get US dollars using Visa or MasterCard. While Visa is widely accepted in supermarkets, cafes, and some restaurants, MasterCard is less common but still usable in some places.
Internet and SIM cards
When you land in Tashkent, make grabbing a local SIM card your first move. You've got options like Beeline, Ucell, Mobiuz, Humans, and Uzmobile. If CDMA is your thing, pick up a Perfectum Mobile SIM. You can get them at the airport or any operator store, but don't forget your passport—it's a must-have to buy one. Tariffs vary, with bundles of data included, and while unlimited data isn't a given, you can always top up with extra gigs as needed. And good news: free Wi-Fi's a thing at hotels, on the subway, and in most public spots where you can grab a bite or a coffee.
Is Tashkent Safe?
Tashkent's the kind of place where you can feel safe wandering around. The police presence is strong, and they're pretty vigilant, especially in crowded places like the subway and malls where they might check your bags. Just use common sense and keep an eye on your stuff to avoid any trouble.
Brief History of Tashkent
Here's a quick history hit: Tashkent's been on the map since the 2nd century BC, celebrating its 2200th birthday in 2009. Its historical heart can be seen at the Ming Urik ruins, smack in the middle of town, hinting at a lush past with "apricot orchards" (that's how "Ming Urik" translated). Ming Urik, or as it was known, Madina Chacha, thrived till the 8th century until the Arab takeover, which saw the old city fall and the rise of a new one near Chorsu Bazaar. Excavations at Ak-Tepa uncovered a slice of life from the 5th to the 13th century, including a royal pad from the 5th to the 8th.
Fast forward, and Tashkent's been through a lot: Genghis Khan's ransack, a rebirth under the Timurids, a stint with the Sheibanids, a mention in the Bukhara Khanate, and then it got scooped up into the Kokand Khanate. The Russians rolled in by 1865, bringing schools, churches, and colonial structures. It then had its Soviet era before broadcasting into independence in 1991 as the capital of Uzbekistan, just after a physicist there literally paved the way for television and the city bounced back from a major earthquake in 1966.
Tashkent Sights & Attractions
Hit up Tashkent to check out some amazing oriental architecture, starting with the Hazrati Imam complex. This spot's got it all: a grand mosque, an old mausoleum, and a bunch of madrassas, including one that's home to the legendary Quran of Uthman. Supposedly, it's got the bloodstains of Caliph Uthman himself. The complex is a big deal, with a spiritual directorate and even an Islamic Institute in the mix.
Then there's the Kukeldash Madrasah, a massive throwback educational spot from 1569, which is still teaching students today. Right across from it is the Khoja Ahrar Vali Mosque, rebuilt in 2003 after a long history and an earthquake or two. There's also the Abdulkasim Sheikh Madrasah, which, against all odds, made it through the Soviet era intact and is still a big draw.
Check out the Sheikhantaur Mausoleum too—Amir Timur himself ordered it built in the 14th century. It's got a super old tree that's nearly turned to stone, supposedly from the time of Alexander the Great.
For a different vibe, the Tashkent TV Tower is where it's at, with killer views and a restaurant that takes a full spin around the tower.
Amir Timur Square is the heart of the city with a big statue of the man himself on a horse, surrounded by historic buildings and a hotel. The Tashkent chimes are an iconic spot where the original clock mechanism was a gift post-World War II, and now there's a bar where you can chill with a drink and enjoy the history.
For a grand sense of place, swing by Independence Square, with its fountains and memorials. It's gone through a few name changes over the years, but now it's all about celebrating Uzbekistan's independence.
And don't miss the Palace of Prince Romanov. Built in the 1880s, this place has seen everything from a grand art collection to a pioneers' palace. Now, it's where the Ministry of Foreign Affairs entertains guests. So yeah, Tashkent's got layers of history, culture, and cool spots to soak in.
The St. Alexander Nevsky Church is the oldest Orthodox spot in Tashkent, built in 1905 right by the Botkin Cemetery. There's a little chapel there too, called "Joy of All Who Sorrow."
The German Kirche or the Evangelical Lutheran Church in central Tashkent is pretty special too—it's been around since 1899. It's been a warehouse, a dog club, and even police housing before becoming part of the conservatory in '77, complete with a working organ. It reopened for services in '93 and you can catch one on Sunday mornings.
Then you've got the Holy Assumption Cathedral, which is basically headquarters for the Russian Orthodox Church in Uzbekistan. They started it in 1878 and later expanded it into a bigger cathedral with all the works: the Metropolitan's residence, church offices, a seminary, a couple of libraries, a Sunday school, and even their own printing press.
For something different, the Sacred Heart Cathedral is a hit with tourists and locals alike. It's this awesome neo-Gothic building they started in 1912 but couldn't finish because of funding issues after the revolution. It's been through a lot, including stints as a dorm and warehouse, until it was given back to the church in '92. A year later, they started fixing it up, and by 2000, the place was good as new and holding masses in Polish, Russian, English, and Korean.
The Minor Mosque is a must-see, too. It's huge and can fit 2,400 people. Built in 2014 by the Ankhor River, the mosque rocks some fancy white marble, a couple of minarets, and a big blue dome.
And while you're here, you've gotta check out Human House. It's this vibrant place where you can shop for clothes and souvenirs, peep some art, and enjoy a coffee or tea with some sweet local treats.
Don't miss the Chapel of St. George the Victorious, famous for being built in 1886 over a mass grave of Russian soldiers at the Kamalan Gate. There's also a Muslim cemetery next door. The chapel's been sinking and is now about 1.5 meters down from where it started but got some TLC in 2020.
Tashkent Museums
Tashkent's museum scene is off the charts—they've got like 33, and they're probably opening more as we speak. History buffs, art lovers, and science geeks will find something cool, with spots like the History Museum of Uzbekistan, Timurid Museum, and Museum of Applied Arts. There's also a bunch of house-museums honoring famous people who lived in Tashkent, from writers to the first president of Uzbekistan. Plus, for the quirky at heart, there's everything from a Wax Museum to a Pumpkin House Museum. There's a ton to see, so you'll never be bored.
Tashkent Theatres
Hey art fans, Tashkent's got a decent scene with 10 theaters to check out.
The Uzbek National Academic Drama Theater is a solid pick for anyone into musicals and expressive performances—you'll get the vibe even if Uzbek's not your thing.
Opera and ballet enthusiasts? Hit up the Alisher Navoi Theater for some classic shows like "Alisher Navoi," "Aida," and "Carmen."
The Academic Russian Drama Theater is the place for timeless plays like "The Inspector" and modern laughs with shows like "Husband on Credit." They mix it up with both comedy and serious drama, so there's something for everyone.
Ilkhom Theater, by Mark Weil, is all about edgy, indie vibes—it's been cool since it was the first indie theater in Soviet Uzbekistan. They put on everything from "Tartuffe" to "Free Romance."
There are more theaters for your list too, like the Abror Khidoyatov Uzbek Drama Theater and the Youth Theater. Want to catch some dance? "Ofarin" will serve up some moves. And for the kids, the Young Spectator Theater and the Puppet Theater are total wins.
Tashkent Parks
On the park side of things, Tashkent is as leafy as they come. If you're looking for a zen moment, the Japanese Garden is your go-to spot, while the Alisher Navoi National Park is prime for lounging in the great outdoors. And for a dose of nature with a sustainable twist, you can't miss the Ecopark.
If you're into more offbeat attractions, Anhor Lokomotiv Park got the tallest Ferris wheel for some killer views, and Navruz Park is like stepping back in time with its medieval Uzbek architecture and local artisan shops.
New on the block is Yangi Uzbekiston Park—it might be short on shade, but it's packed with cool spots to explore. Plus, it's the place to be for festive fireworks when they're on.
Got kids in tow? They'll love the good times at Central Park (also known by it's old name - Telman Park), plus Ashgabat and Lokomotiv parks are loaded with rides and games to keep the fun going all day. And for a local slice of life, hit up any of the district culture and rec parks sprinkled around Tashkent.
Markets and Shopping Centers of Tashkent
When it comes to shopping and snacking, Chorsu Bazaar is the OG spot in Tashkent. It's a throwback to the days of Genghis Khan and still serves up the heartiest Uzbek flavors and vibes. It's not just a place to shop for the freshest fruits, veggies, and spices—it's where you get a true taste of local life, maybe over a big plate of pilaf or some samosas in the "gluttony" row.
Alay Bazaar might be less flashy than Chorsu, but it holds its own with delicious fresh finds and a bunch of sweets and spices to discover.
And when you're up for a mall crawl, Samarqand Darvoza, Next, Riviera Mall, and Mega Planet are calling your name. These spots have it all—from the latest fashion to food courts, cinemas, and play areas for the little ones.
For designer threads and unique jewelry, hit up boutiques like Kanishka, The Black Quail, Art Anor, and Human House for some serious retail therapy.
Food in Tashkent
Now, let's not forget the culinary tour—Tashkent-style.
Tashkent is home to the renowned pilaf hub, Besh qozon, with four branches around the city. The standout spot is right by the Tashkent TV Tower. They serve up a trifecta of plov styles: the lavish wedding plov, the casual teahouse plov, and their unique special plov. Just a tip: they make it in big, old cauldrons and it sells like hotcakes, so make sure to drop by before 1 PM to catch some.
Tashkent's a hotspot for shashlik fans. This classic dish is all about chunks of marinated meat grilled to perfection on a charcoal BBQ. In Tashkent, you can get adventurous with a range of shashlik varieties beyond the usual beef, lamb, and chicken—think juicy fish, beef liver, tasty ribs, and even veggie and mushroom options for something different. It's a grilled feast that's not to be missed!
And for the soup lovers, mashkhurda, shurpa, and chuchvara are just the beginning of the soup saga here.
Plus, if your appetite is as big as your passport, Tashkent's got international eats ranging from Italian to Korean to keep things interesting.
Transportation in Tashkent
Getting around Tashkent is a breeze with its variety of public transport options, including regular buses, electric buses, minivans, and a metro system that's a historical marvel in itself—it's the oldest in Central Asia, having opened back in 1977. Fast forward to late 2023, and you've got a sprawling metro network with 50 stops to explore. For a dose of culture while you commute, check out the older stations like Cosmonautov, Alisher Navoi, and Chorsu—they're like underground museums and a hit with visitors.
Taxis are everywhere, too. You can flag one down the old-fashioned way or tap a few buttons on local ride-hailing apps for a quick pickup (Yandex Taxi, My Taxi). You can also rent an electric scooter in Tashkent.
Best Time to Visit
Visiting Tashkent? The sweet spots are March to June or September to November when the weather's just right—warm and welcoming. But if you're not big on crowds and don't mind a cooler vibe, winter here is mild and less packed. That's from November to February, which could be the perfect chill (pun intended) getaway.