Russia Travel Guide

Legislative branch: the two-chamber Parliament (the State Duma and the Council of the Federation)
Capital: Moscow
Administrative-territorial division: the Russian Federation comprises 89 equal-right federal subjects including 22 republics, 50 oblasts (provinces), 10 okrugs, 6 krais (territories) and 2 federal cities that function as federal regions - Moscow and Saint-Petersburg, one autonomous oblast and 10 autonomous okrugs. All the territory is divided into 7 federal okrugs.
Area: 17,075,400 km2
Population: 150 million
Official language: Russian
Religion: Christianity
Currency: Ruble (RUB)
Time zone: UTC+2 to +11 (exc. +4), Summer (DST) - UTC+3 to +12 (exc. +5)

State Flag of the Russian Federation
State Flag of the Russian FederationTricolor (white-blue-red) historical flag of Russia was adopted as official national flag of the Russian Federation on August 1991.
The flag is presented by rectangular cloth consisted of three equal horizontal stripes: white on the top, blue in the middle and red on the bottom.
Proportion of width to length of the flag is 2:3.
The standard of the Russian President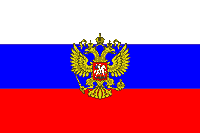 The standard of the Russian PresidentThe special flag - the standard of the President of the Russian Federation - was established on February 15, 1994. The colors of the standard are the same of the State Flag of Russia; main difference is proportion between width and length of the flag - 1:1 - as well as the State Coat of Arms of the Russian Federation positioned in the middle of the standard without escutcheon.
Original of the standard is one of state symbols of the Russian President. The cloth is fringed with gold, the silver cramp-iron with engraved surname, first name and patronymic of the President of the Russian Federation and the dates of his term in office is fixed to the flagpole. The flagpole is crowned with the metallic lance-like top.
The coat of arms of the Russian Federation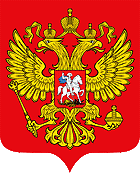 The coat of arms of the Russian FederationThe coat of arms of the Russian Federation is the official symbol of Russia.
The coat of arms of the Russian Federation is a rectangular red escutcheon with rounded corners and pointed edge on the bottom side. The golden two-headed eagle with arisen stretched wings is presented there.
Eagle is crowned with two small crowns and a large crown above them, connected between each other with a ribbon. In the right leg the eagle holds a scepter, in his left - an orb. There is a silver rider on the breast of eagle inside the red shield which is dressed in blue cloak and is sitting on a silver horse striking with a silver spear a black Snail overturned to its back and downtrodden by the horse.
Geopolitical position
Russia is the largest country in the world. Its square is 17.075,5 thousand square kilometers covering 11,5% of the world area. The State is located in the eastern part of Europe and northern part of Asia.
From North to South Russia extends for more than 4000 km, from West to East - for almost 10000 km. In the south and southeast Russia shares borders with the People's Republic of China, in the south - with Kazakhstan, Mongolia, Georgia and Azerbaijan, in the southwest - with Ukraine, in the west - with Finland, Belarus, Estonia, Latvia and Norway. Kaliningrad oblast, the enclave of Russia on the shore of Baltic sea, borders with Poland and Lithuania.
Russia owns such islands as the New Land (Novaya Zemlya), North Land (Severnaya Zemlya), Vaygach, the archipelago of Franz Josef Land, Novosibirsk Islands, Wrangel Island in the Arctic Ocean; Kuril Islands (a part of the Kuril Islands is disputed by Japan) and Sakhalin Island in the Pacific Ocean. In the east Russia is washed by the Japanese, Okhotsk and Bering Seas as well as by the Bering Strait. It confronts the Barents, Kara, Chukchi, East-Siberian Seas and Laptev Sea as well in the east, the Baltic Sea and Finland Bay in the west as well as the Black and Azov Seas in the south.
Russia can be divided into three quite vast regions: European Russia covering the area from west to the Ural Mountains; Siberia extending from the Ural almost to the shore of the Pacific Ocean and the Far East of Russia. The territory of this country covers 11 time zones!
Climate
Climate of Russia is variable due to the vast territory of the country. It alters from marine climate in northwest to sharp continental in Siberia and monsoon in the Far East. Average temperature in January is from 0 to -500C, in July - from +1 to +250C. Average temperature in Moscow is from -16 to -90C in January, average temperature in July - from 13 to 230C. Permafrost exists in many regions of Siberia and the Far East. The largest rivers of Russia are the following: Lena, Irtysh, Yenisei, Ob, Volga and Amur Rivers. Among the biggest lakes there are the following: the Caspian (Sea), Baykal, Lake Ladoga and Onega. Arctic deserts and tundra as well as forest, forest-steppe, steppe and semi-arid zones can be found on the territory of Russia.
Nature
Various climate zones result in diversity of nature zones. There is moss, polar poppy and buttercups in the arctic deserts of the Far North. Dwarf birch, willow and alder are added to these kinds of trees in the tundra region. Almost a third of the territory of Russia is covered with forests; taiga is located to south from tundra and extends to the southern borders of Siberia. is located south and extends to the southern border of Siberia. The conifers are typical for this area. Broad-leaved forests zone begins in the south. There are a lot of rare kinds of trees in Priamurye: Mongolian oak, Manchurian maple, elm and walnut. The forest-steppe and steppe of Russia are presented by oak woods, herbs, grasses. Subtropical forests of downy oak, juniper, boxwood, black alder dominate in the Black Sea sub-tropical region.
The country has rich and diverse fauna. The most typical species for arctic and tundra zone are the following: seals, walruses, polar bears, arctic foxes, reindeer and arctic hare. Bear, lynx, Manchurian deer, wolverine, elk, sable, weasel, chipmunk and squirrel are inhabitants of taiga. Grouse, hazel grouse, black grouse, woodpeckers and nutcracker can be found here. Among the other things taiga is characterized by a large number of mosquitoes. There are wild boar, deer, mink, numerous birds and lizards living in broad-leaved forests. The forests of the Far East are inhabited by rare Usury tigers, bears and deers. Small rodents, many of saiga, badgers, foxes, large birds of the steppe dominate among the animals of the steppe. Fauna of desert zones presented by gazelles, jackals, dune cats and numerous rodents. There are a lot of reptiles and turtles. The Caucasus region is the ambient for mountain goats, Caucasian deer, porcupine, leopard, hyena, bear as well as for a large number of reptiles.
Population
Russia's population (as of 1995) is about 149 million 740 thousand people. Population of Moscow comprises around 10 million people, Saint-Petersburg -4.5 million, Novosibirsk -1.5 million, Nizhny Novgorod - 1 million 440 thousand, Yekaterinburg - 1 million 371 thousand people, Samara - 1 million 239 thousand people. Other cities with population over 1 million people - Omsk, Chelyabinsk, Kazan, Perm, Ufa, Rostov-on-Don and Volgograd. The average population density is about 9 people per square kilometer, but this value varies in different regions. There are more than 100 nationalities in the Russian Federation, the largest of which are Russian - 82%, Tatar - 3,8%, Ukrainian - 3% and Chuvash nation - 1,2%.
Language
The official language is Russian. Local languages and dialects are widely used within the borders of national and autonomous regions.
Religion
Orthodox Christians, Muslims, Protestants (Lutherans, Baptists, Seventh Day Adventists, Pentecostals, Jehovah's Witnesses, etc., mostly Buddhists in Tuva, Buryatia and Kalmykia), Jews make up approximately 40% of the population, atheists are presented by 60% of the population.
Currency
Russian monetary unit is the ruble. Equal to 100 copecks. Banknotes of 5000, 1000, 500, 100, 50 and 10 rubles, as well as coin 50, 10, 5, 2 and 1 ruble, 50, 10, 5 and 1 copeck are in circulation. U.S. dollars are also widely used. Credit cards and traveler vouchers can be used in big cities only, hotels and some supermarkets. Currency can be exchanged at banks and exchange offices (mainly U.S. dollars and Euros). Banks are open from 10.00 to 19.00. There are a lot of exchange offices in Moscow which work till late time and open for 24 hours.
Entrance-Exit Regulations
Visa is not required for citizens of Uzbekistan in order to entry the Russian Federation. To entry, exit, transit, stay and move on the territory of Russia it is required to have a passport of a citizen of the Republic of Uzbekistan, for children - a certificate of citizen of the Republic of Uzbekistan who is younger 16 years old, as well as a certificate of return to the Republic of Uzbekistan. Citizens entering Russia citizens are allowed to import things with no charge, if the imported goods are not intended for being used in industrial or commercial activity or the number of the imported goods does not exceed the established norms. Individuals not younger than 17 years old can import with no charge the following products: up to 2 liters of alcoholic beverages, 50 cigars, 100 cigarillos, 200 cigarettes or 0,25 kg of tobacco. The cost of imported goods shall not exceed 2 thousand US dollars. It is allowed to import and export with no customs charge the goods necessary for personal use - clothes, toiletries, jewelry, photos and video equipment. It is allowed to import not more than one pack of drugs of each item, fish and crustaceans - up to 5 kg gross (per person), sturgeon caviar (black) not more than 280 gramms, products made of gold and platinum - not more than five items with total weight up to 130 g, commemorative coins made of non-precious metals being in circulation in Russia - not more than ten items per person and per one trip without any obligation to bring them back. Individuals are allowed to export from Russia memorable coins made of precious metals only by special permission of the CB of RF. Commemorative coins of precious and non-precious metals can be imported without limits.
What to see and where to go?
There are a lot of things which can be seen in such enormous and not similar to other countries as Russia - from beaches of Sochi to majestic domes of Saint-Petersburg. Moscow, St. Petersburg, Golden Ring, the Black Sea coast of Krasnodar region are the favorite places of tourists.
"Golden Ring of Russia" is the tourist route, which allows to get acquainted with ancient Russian cities such as Moscow, Zagorski, Pereslavl-Zalesski, Rostov, Yaroslavl, Kostroma, Suzdal, Vladimir and their architectural monuments.
There are a lot of remarkable places in Moscow. The historical center of the city is a complex of the Moscow Kremlin with 20 towers, the main of which is called Spasskaya with well-known Kremlin chimes and their loud striking. There are magnificent monuments of architecture of 15-19 centuries here in the center namely: Uspensky, Archangel and Blagoveshensk Cathedrals, the Bell Tower "Ivan the Great," Palace of Facets, the Terem Palace, the former Senate building, the Grand Kremlin Palace, the Armory Chamber which is a location of the most ancient museum of decorative arts in Russia and a rich collection of jewelry. It should be mentioned the Tsar Cannon and Tsar Bell. The Cathedral of Vasily Blagenny and the Lenin Mausoleum are located nearby the Kremlin on the Red Square. Ensembles of Don, Novodevichy, Andronikov monasteries and the Church of the Ascension are of interest. There are a lot of world-known museums in Moscow: the Tretyakov Gallery, the Historical Museum and the Andrei Rublev Museum.
Saint Petersburg is another major cultural center of Russia. The town is famous with its museums, it is a huge open-air museum itself. Hermitage - one of the largest of art and historical museums of the world - is located in the buildings of the Winter Palace (18 cent.), the Small Hermitage (18 cent.), the Old Hermitage (18 cent.), the New Hermitage (19 cent.) and the Hermitage Theatre (18 cent.). The Russian Museum, located in the Mikhailovsky Palace, - can boast of a rich collection of ancient and modern Russian art. Speaking of St. Petersburg, it is to mention architectural and historical monuments such as: St. Isaac's Cathedral, the Alexander Nevsky Monastery, the Smolny Palace, the ensemble of Peter and Paul Fortress, Palace Square with the Winter Palace, Alexander Column, Field of Mars, monument to Peter I, Kazan Cathedral, Summer Garden, the Engineers' Castle and the Admiralty.
Such resort zones on the Black Sea region as Anapa, Gelendjik, Tuapse and Sochi can be underlined as natural sightseeings of Russia.
Transport knot
Means of communication in Russia are various and numerous. Something will cost higher, something is cheaper. The railway network of Russia, perhaps, is the most developed kind of transport of the country. You can get almost any point of Russia by train - it is cheap enough and reliable. From town to town you can get by bus. It is very convenient if you want to see the cities located along the path to the destination. Usually, the buses do not go during off-hours. Keep this in mind if you rely on this means of transportation. You can rent a car during your stay in Russia. A good system of highways meets the needs of automobilists. Some places of Russia are better to be reached by crossing the waters of this vast country. The ferry transfer is quite developed here however the ships are used mostly for research and exploration of polar regions famous with their reserves. Furthermore, the entertaining cruises are offered to all who wish to enjoy it.
Power supply: Voltage - 220 V, 50 Hz.
Communication: Telephone calls to the country can be made both from payphones, and post offices and hotels as well.
Shops / Prices
Shops are open from 9-10.00 to 20-21.00, supermarkets are open until 23.00. Small shops and stalls, working around the clock are very numerous here. GUM is the legendary store in the downtown of Moscow, on the Red Square. GUM is not exclusively a feature of Moscow. Stores of this type are located practically in all regional centers and large cities of Russia. However, you will not find such luxury, architectural grandeur and abundance of world trade brands in any of them as you find in GUM of Moscow. So, if you decide to arrange shopping in Moscow - you should start from GUM for sure.
Today, the GUM is strongly associated with large-scale retail trade. Due to its convenient location - right in the center of Moscow - GUM enjoys wild popularity both of the Muscovites themselves as well as visitors. Every day this trade "monster" is visited by dozen of thousands of people. Range of available goods is beyond any description. Enough to say that the annual turnover of GUM is about 100 million dollars! GUM is the largest retail store of Russia and the shopping is not for the poor. Perhaps the only place for fashionistas hungry for relatively inexpensive and high-quality clothes, is the store Oggi (first floor, second line). In general, however, you can walk in the hypermarket without making purchase at all, but merely admiring its interior decoration. Besides this, only here you can find a cafe, which windows offer beautiful views of the Red Square and where you can enjoy great coffee.
National peculiarities
Russia is the multiethnic State. Therefore, we cannot surely say that the Russian character is somewhat universal. Although there are common features surely uniting various nationalities into the term "Russians".
The first and, perhaps, the main national feature is Hospitality. The guests are always welcome in Russia. Russian hospitality is mostly explained by other national characteristic - laziness. It sounds paradoxical, but ... When welcoming guests, it seems that work is not necessary duty.
Coming to Russia we should be ready to what you would invite to his home and friends, and strangers. Basically, for us, the inhabitants of the East, it is not unusual. But to abandon the many suggestions, you can. In Russia it is not considered to be offended, remember that until the end of life.
The second distinguishing feature of Russian citizens (which is really hiding the fact) - addiction to alcohol. World-known feature. Russians drink a lot, a long and in different ways. Keep in mind that to refuse of offered drinking is not proper as well as to leave unfinished drinking, hold the glass in hanging position while filling it etc.
The third feature is heartfelt attitude. In Russia, the soul of all people is literally quite open. To conceal thoughts either good or bad is not common in this country. Our recommendations to the travelers: be open, but not intrusive, friendly but without excess, relaxed, but attentive. In any case, you should always remember that communication, like any other process, has its limits. Therefore, even with such a hospitable nation, which lives in Russia, it is necessary to have a measure and not to overdo it.
Health
Russia - a very large country with diverse geographical and ecological conditions. So travelers are required to pay not less attention to various infections than to those in exotic countries. These include hepatitis A endemic in rural areas, and tick-borne encephalitis, which is distributed throughout the taiga and forest zone.
Cuisine
Everyone knows the Russian proverb, "porridge and cabbage soup is but our native food". Yes, indeed, these dishes are traditional but not limited for Russian cuisine. Russian national cuisine is original and unique. There is no country in the world which has such a wide variety of vegetables, meat, fish and other cold appetizers, first, second courses, desserts and cookery. Russian cuisine consists of a number of interesting and delicious dishes: buckwheat, pancakes, cabbage soup, fish soup, pies - all that you can enjoy during your journey across the vast spaces of Russia. Whole roasted suckling pig, roast goose with buckwheat and apples and baked sturgeon ... These dishes are the real delicacies and used to be served during the period of holidays.
Russians were the first to open a receipt of yeast dough among Europeans and Asia nations. That is why Russian cuisine is peculiar to abundance of bakery products: all kinds of cakes and pies, pie, muffins, rolls, buns, cakes, pies, pancakes and fritters. There are a lot of kinds of pie in the Russian cuisine! Here you can find rye, and wheat, lean and rich, closed and open pies. And small pies! There are round, oblong (kulebyaks) and triangle, large and small pies. Filling deserves a separate description: mushrooms, cereal, cheese, peas, fish, meat, berries and jam. Traditional Russian cuisine is characterized with dishes of different cereals: porridge, casseroles, Krupenik, oatmeal jelly, bean dishes, combining with other cereal products. Cooked in a real Russian oven, these dishes were particularly taste and aroma.
The Russian dinner table cannot be imagined without pickles as they are a component of many dishes - vinaigrette salads, rassolnik, saltworts. Another feature of the Russian national cuisine - a variety of soups. From ancient times to the present day rich assortment of first courses has been preserved, in particular, of filling soups (cabbage soup, borscht, rossolnik) and saltworts. There are over 60 species of cabbage soup alone! The most popular dishes are borscht (Moscow, Leningrad, Siberian, borsch with mushrooms and prunes), fish and meat soups, fish soup. Assortment of soups based on cereals and cereals-vegetables, cold soups based on kvass and beet broth: okroshka, beetroot, botvinya is quite various.
Useful information
There is no special requirements to dress for travelers in Russia. The choice of clothes depends on the season and itinerary of your route. It is useful to bring an umbrella with you regardless of the season of your travel. In the summer, especially in St. Petersburg it rains. The first aid kit should contain medicines that you are always using. If you are going to rest on the Black Sea coast, it is useful to bring a sunblock cream.
Public holidays:
January 1-2 - New Year
January 7 - Christmas
February 23 - Day of the Defender of the Fatherland
March 8 - International Women's Day
May 1-2 - Labor Day
May 9 - Victory Day
June 12 - Independence Day
7 November - Day of Accord and Reconciliation
12 December - Constitution Day
Emergency:
Fire-fighting service - 01
police - 02
emergency care - 03
gas service - 04
references and enquiry - 09
rescue service - 937-99-11.