Monuments of Mustakillik Square, Tashkent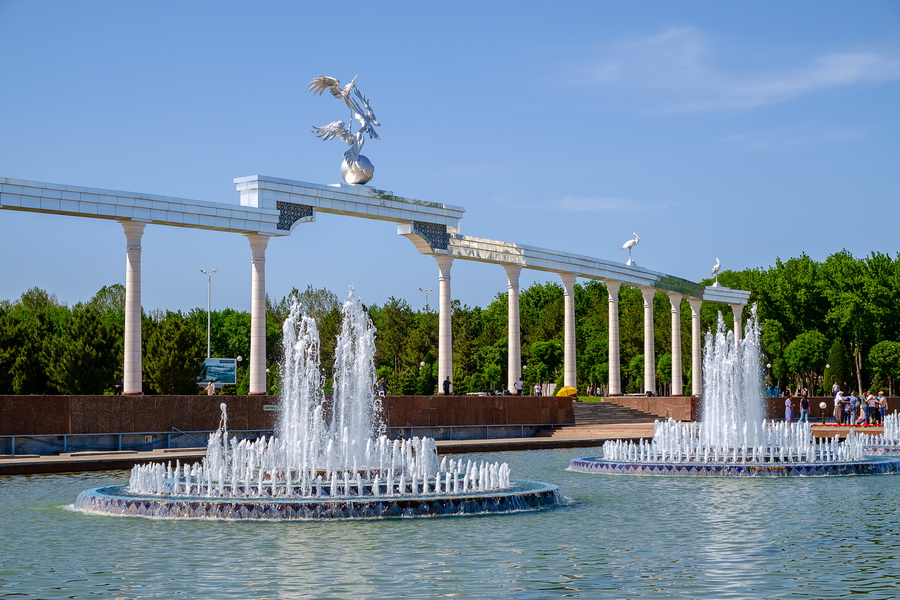 On the largest square of the Republic of Uzbekistan sit the administrative headquarters of the Cabinet of Ministers and Senate. In the past few years Mustakillik Square, thanks to extensive reconstruction projects, has changed immensely, not only in style but in meaning. It remains the most important square in the country, a symbol of freedom and independence, and a place of worship, where the hopes and dreams of our generation are expressed.
The entrance to Mustakillik Square is through the Ezgulik decorated archway (the arch of good and noble aspirations) adorned with sculptures of storks taking flight. Bearing in mind their most intimate desires, all passing under the arch are ushered into the center of Mustakillik Square, where the Independence Monument rises. "The concepts of "independence" and "humanitarianism" are expressed by our most precious achievement, the greatest wealth, we must keep as the apple of our eye and convey to future generations!" - said President of Uzbekistan I. Karimov, placing a wreath at the foot of the monument. It consists of two sites – "Independence" and "Happy Mother". The Monument of Independence (1991), which marks the sovereignty of Uzbekistan, is a large golden globe with outlines of the borders (territorial) of the State. But the engraved territory of the Republic does not repeat the geographical location of the country, as it symbolizes the desire of the young independent state to join the world community and its recognition by many countries.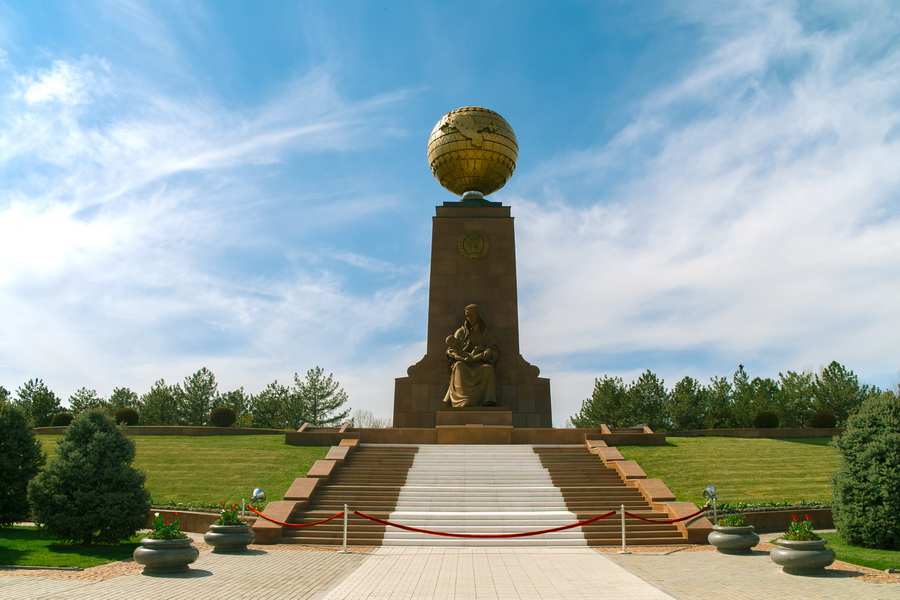 The "Happy Mother" monument (2006) was completed by the sculptor, Ilhomom Kamolom Dzhabbarovymi. The image symbolizes a mother's homeland, and a child - the image of the future. The Happy Mother is 6 meters high and the length of the child is 3.5 meters. The monument is simple, but solemn. A simple Uzbek woman with a kind face and happy eyes: this is a symbol of the homeland, life and wisdom. Her open eyes are fixed on the dearest thing which any mother has - her child, symbolizing the birth of the young independent state. She carefully keeps her priceless treasure, it is in safe hands and no one and will ever be able to wrest it from her. She will nurture and raise him, in order that he grew up worthy of his mother – the Motherland. The main wealth of the state and its future is the younger generation. But a country without a history has no future. Simply knowing this, and respecting their predecessors, the younger generation will be able to build a new society. Not surprisingly, Mustakillik Square has another memorial dedicated to those who never returned from the fields of World War II. Near an eternal flame are tragic figures of bereaved mothers who look to the fronts of the war and await their children. More than a million Uzbek fell in battle. Their names are inscribed in golden letters, "memorial books", located here. From all corners of Uzbekistan during both holidays and weekdays, people come to remember relatives and loved ones