Charvak, Uzbekistan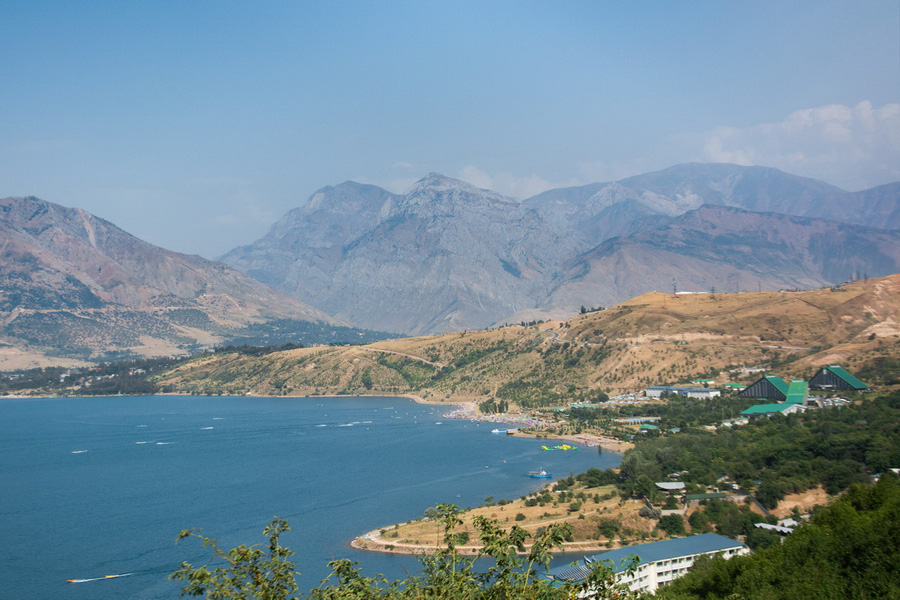 Charvak Lake is one of Tashkent region's top attractions. Formed along the Chirchik River in the Chatkal Mountains of the Western Tian Shan Range, this reservoir is just a 90-minute drive (80km) from the capital. Situated in a mountain oasis of hiking trails, waterfalls, caves, ravines and walnut groves, its crystal-clear waters are made all the more accessible by the numerous hotels, recreational areas and campgrounds scattered along its sandy banks.
Charvak Lake, in reality a manmade reservoir, is much younger than the age-old mountains that surround it. In 1964, the Soviets began construction of a hydroelectric dam that was completed in 1970, with Charvak the largest of several reservoirs created at this time. During the construction process Charvak village sprang up, an island of Russian language and culture in the mountains of Uzbekistan.
Today, the entire area has been turned into a year-round holiday village. Considering the reservoir's rich blue tones, the fresh mountain air and the cool Charvak Lake temperatures that are perfect for cooling off in the summer heat, it's no surprise that the reservoir has become a favorite vacation spot of citizens and tourists alike.
Indeed, Charvak Reservoir has plenty to attract visitors young and old:
Charvak Oromgokhi (Rest and Wellness Resort), which attracts thousands of tourists per year. Situated on the banks of Charvak Lake, the area features a beach with local topchans, (raised platforms for group rental) and opportunities for boating, swimming, sunbathing, windsurfing, water skiing and paragliding. Oromgokhi Hotel, with its famous triple pyramids towering visibly from a distance, have become the reservoir's landmarks.
Bochka, a popular avenue of cafes just a few minutes' drive from the lake. Both tasty local cuisine and European dishes are served up in artfully decorated restaurants, where you can enjoy freshly made food after a day of swimming and hiking. Most iconic of them all is Chinara (Plane Tree) Restaurant,
which lives up to its name with the four huge plane trees that provide shade to hungry customers.
Opportunities abound for horseback riding, trekking, seasonal skiing and cable car rides in the mountains surrounding Charvak Lake, most notably at Beldersay Gorge and Ski Resort. Charvak region is also considered one of the most scenic areas for hiking in Uzbekistan.
Numerous Charvak Lake hotels and Russian-style wellness sanatoriums are scattered throughout the district, perfect for an overnight getaway or a 7-to 10-day, all-encompassing health retreat.
In the vicinity of Charvak Reservoir are small villages with notable cultural and historical relics:
Bogiston village is the birthplace of both Sheikh Hovendi at-Tahur (Sheihantaur), whose mausoleum in Tashkent is one of the key historical attractions of the city, and Sheikh Ubaydulla Ahror, a descendant of Sheikhantaur and renowned Sufi leader in the 15th century.
Near Khodjikent village (Village Inhabited by Saints) are petroglyphs depicting mountain goats, hunting and other symbols of ancient life in the region. Tucked away in caves, these petroglyphs are well worth a visit.
Also in Khodjikent is a spring surrounded by 3,000-year-old trees. If legend is true, Alexander the Great stopped at this oasis before deciding to turn back from his expedition of conquest.
The Chatkal Biosphere Reserve requires further driving into the heart of the mountains, but you'll be rewarded with seeing rock petroglyphs amidst untouched surroundings of waterfalls, streams and caves.
Come breathe in the fresh mountain air of Charvak, bask in its refreshing coolness and glorious views, and see with your own eyes all the charms of the picturesque mountains in Uzbekistan.
Visit our Charvak Lake Tours Page for more information on OrexCA's private and group tours to the region.