Charvak Travel Guide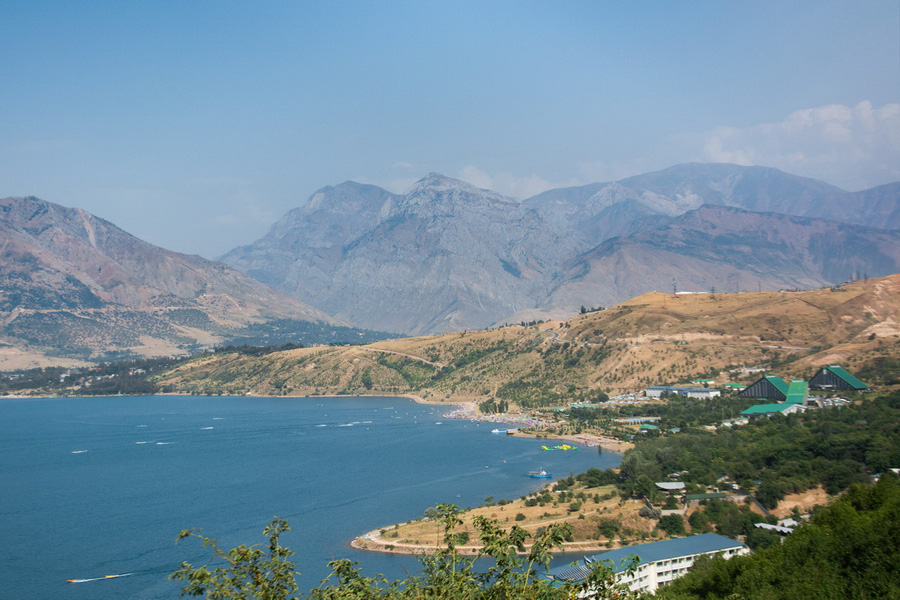 Charvak Reservoir, a man-made wonder in the Tashkent Region, is a favorite spot for thousands of Uzbeks and tourists alike. Every year, they come to enjoy the clean mountain air, take a dip in the refreshing turquoise waters, try their hand at paragliding, and soak in the natural beauty.
The waters of Charvak teem with a variety of fish, including trout, carp, pelada, whitefish, and marinka, adding to its charm.
Encircling the reservoir are the picturesque villages of Brichmulla (Burchmulla), Yusufkhona, Sijak, Bogustan, Charvak, Yakkatut, and more. A convenient ring road connects these villages, perfect for a scenic drive around the reservoir. The area also boasts several recreational and children's health camps along its shores.
How to Get to Charvak?
Charvak is conveniently located just 80 kilometers from downtown Tashkent, making it easily accessible by car or private cab.
There are also regular bus services to Charvak, departing multiple times a day from the "Mashinasozlar" metro station.
Near the "Buyuk ipak yuli" metro station, still fondly known as "Maxim Gorky," you'll find a shuttle bus park. From there, you can take a shuttle to Gazalkent and then a private cab to Charvak.
Another option is the electric train from Tashkent to Khojikent, with Charvak less than 10 kilometers away from there.
Is Charvak Safe?
Charvak is generally a safe destination, with a substantial law enforcement presence in the coastal areas. Nonetheless, it's wise to keep an eye on your personal belongings and documents.
Brief History of Charvak
Archaeological discoveries confirm that the area around Charvak was inhabited as early as the 1st millennium BC, revealing ancient settlements and burial mounds. The findings include a cache of bronze artifacts dating between 300 BC and 600 AD.
Significant sites like a Stone Age cave in Aktash, an ancient settlement with burial mounds from the X-VIII centuries BC in Brichmulla, and bronze bracelets from the XII-XI centuries BC along the Chatkal's right bank have been found. The area is also known for its large quantity of clay artifacts from the III-II centuries BC.
In total, over 150 historical monuments dating back to BC times have been discovered around Charvak Reservoir and its vicinity, including old settlements, fortresses, petroglyphs, and even parts of ancient mountain caravan routes leading to the Fergana and Talas valleys in modern-day Kyrgyzstan.
The Charvak Reservoir came into existence in 1970 with the construction of a dam for a hydroelectric power plant in the Bostanlyk district of Tashkent province. This dam unified three mountain rivers – Chatkal, Kok-Su, and Pskem – to form this artificial lake.
Since 2020, motorized watercraft have been prohibited on the reservoir to preserve its tranquility and environment.
Charvak Sights & Attractions
Bogustan (Bogistan) is the final resting place of Sheikh Khoja Omar, father of the famed Sheikh Hovendi at-Tahur, known as Sheikhantaur. A descendant of the second caliph, Omar ibn al-Khatab, Sheikh Omar played a pivotal role in spreading Islam across Uzbekistan in the 14th century. Today, thousands of pilgrims journey to Bogustan annually.
In Khojikent, visitors can marvel at ancient petroglyphs dating back to the IV-III millennia BC, notable for their unique depictions of women – a rarity in Central Asian rock art.
Near Charvak, the Obi-Rahmat (Obirahmat) grotto on the Paltau river is an archaeological wonder. It was a prehistoric human settlement, with artifacts found here dating back at least 50,000 years.
Chimgan, close to the Charvak reservoir, boasts a popular ski resort and a variety of activities for visitors.
What to Do in Charvak
In summer, Charvak is an oasis for Uzbeks escaping the heat. You can swim in the reservoir's cool waters or enjoy poolside relaxation at numerous hotels and guesthouses. For nature enthusiasts, there are various hiking trails suitable for all fitness levels, offering glimpses of ancient petroglyphs, waterfalls, and more. Fishing and horseback riding are also popular activities here. For thrill-seekers, paragliding offers an adrenaline rush.
In Khojikent, near the reservoir, the Chinorkent ropeway provides stunning panoramic views from its upper station.
In winter, Charvak transforms into a snow-lover's paradise. Nearby ski resorts like Beldersay, Chimgan, and Amirsoy offer skiing, snowboarding, sledding, and tubing. Equipment rental is readily available for those without their own gear.
Food in Charvak
The Charvak area and Khojikent are home to various dining options, where visitors can savor traditional Uzbek cuisine like pilaf, shashlik, and shurpa. Local mountain vendors also offer honey and herbs for brewing tea. The regional delicacy, Bogustan khashtak (apricots or prunes with nuts and honey), is a must-try for sweet-toothed visitors.
Best Time to Visit
Charvak reservoir's azure waters are a sight to behold year-round, but the best time to visit is from May to October. Winter visitors should consider a trip to nearby Chimgan for its snow-clad beauty. During winter, the reservoir's water level drops, revealing the erstwhile lakebed for unique exploration opportunities."