Chimgan, Uzbekistan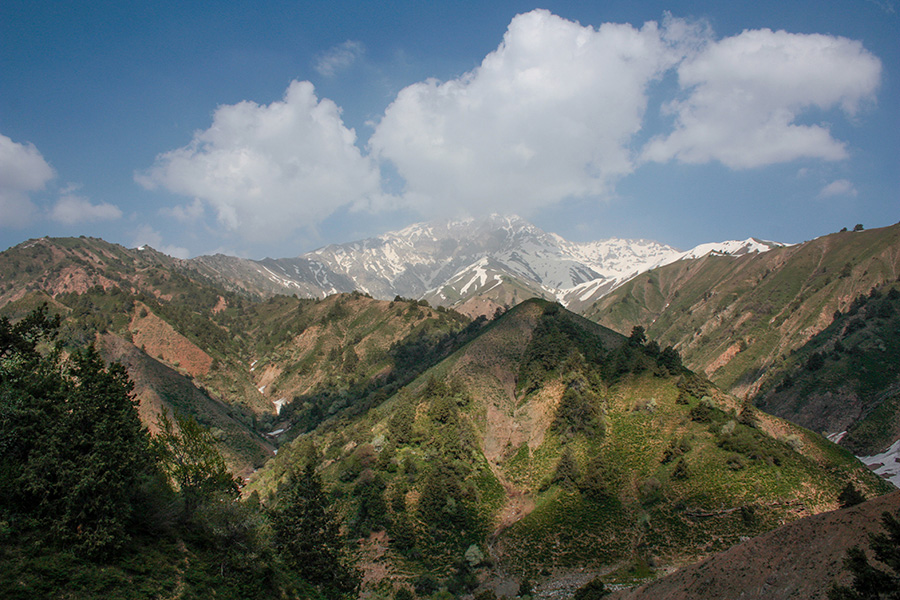 1. Geographic position and climate conditions Chimgan is located 25 km (30 - 40 min) from the regional center, Gazalkent, 30 km from the settlement of Charvak. The nearest international and local airport is in Tashkent, 100 km, or 2 hours. It is possible to reach Chimgan from Gazalkent by public bus in 50 minutes. The routes Chimgan-Gazalkent (departure at 6.30 and 13.00) and Gazalkent-Chimgan (10.30 and 14.30) leave from there. It is also possible to reach this place by private car, including taxi. The road is accessible at all times during the year, only in spring restrictions are possible due to landslides and mudslides, and in winter owing to avalanches. Alternatively, it is possible to arrive by helicopter (their use is limited, however).
The nearest settlements offering Community Based Tourism are Khumsan (30 km) and Brichmulla (30 km). The abundant and famous fish in the mountain rivers of Chimgan are called Marinca, and live in gullies and deep river beds. The majority of fish are immigrants which have been introduced. Among the amphibians, a lake frog and a toad live in the valleys of the rivers up to the snowline. In the foothills and lowlands, reptiles such as the gray gecko, multi-coloured runner, desert gologlaz, water grass-snake and jeltopuzik comfortably thrive. It is necessary to be careful with the shitomordnik and gray adder, as they are fatally poisonous snakes.
Also in Chimgan exists a zone where it is possible to excavate the remains of sea fossils: ammonites, trilobites, and crustacea. The wide variety of Chimgan landscapes is spurring the development of eco tourism. These include mountains (Peaks Small and Big Chimgan), plains, the waterfalls of Gulkam and Novotash, and the Charvak reservoir, 12 km long. Fishing is popular on the Chimgan, Beldersay, Nurekata, Gulkamsay, and Ishakupriksay rivers. The "Black Waterfalls" (height 40 m) in the foothills of Peak Big Chimgan, are a natural marvel. From the high elevations it is possible to see the rivers Ugam, Pskem, Karzhantau.
One more sight is a peculiar geological feature of Chimgan. The red color of the hills, containing iron oxide, was formed in the Neogenic period. There are also ancient lava beds. Interesting species of plants include juniper forests; flowers, including tulips and eremurus; shrubs and Alpine meadows. Mountain rams and bears, marmots, as well as eagles, partridges, owls, nightingales and many others live in this region.
2. Historical information The first human settlement appeared 500 years ago, probably tamed by immigrants from the southern part of Central Asia. It is assumed that they were nomads. Some experts see Chinese language in the name "Chimgan", but others translate the name as "sod" or "a pasture, plentiful water, a green valley". There are various trees and shrubs, the most widespread of which are aster type families of compositae, papelionaceous (leguminous) and fowl-grass (cereals).