Bukhara - ancient city of Uzbekistan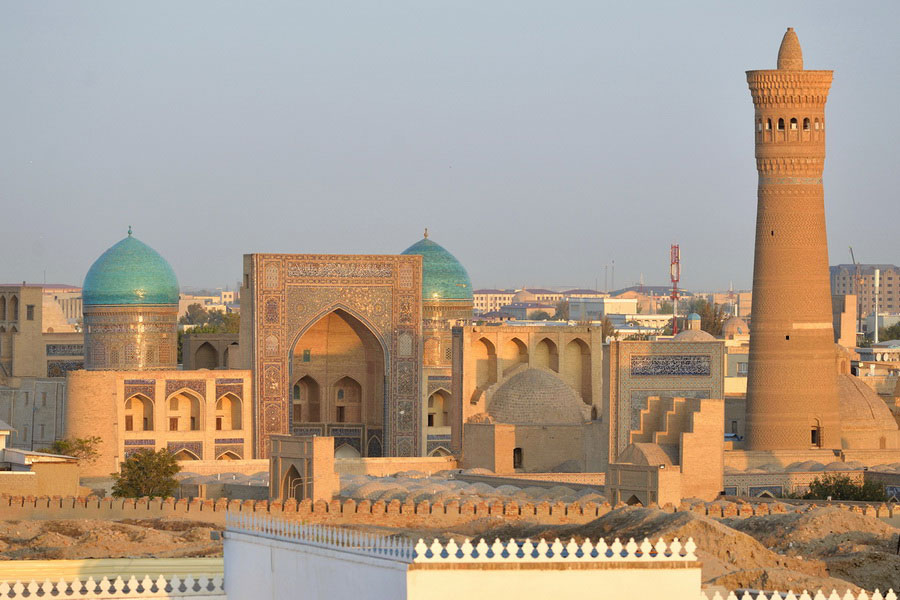 Bukhara, celebrated for its 2,500 years of history in 1997, ranks among the world's most ancient cities. Once a significant stop on the Great Silk Road, this city wasn't just a hub for international trade but also a resting point for caravans before their desert journey. Since 1993, its historically rich center, boasting numerous landmarks, has been recognized on the UNESCO World Heritage List.
More than just a tourist attraction, Bukhara holds religious significance for Muslims globally and has been dubbed the "Central Asian Mecca" for centuries. The city is dotted with holy shrines and had the honor of being the cultural capital of the Islamic world in 2020. The diverse population ranges from Uzbeks to the unique community of Bukhara Jews, whose presence in the city can be traced back to the 5th century BC. While many have migrated to Israel, a few remain, often speaking an intriguing blend of Jewish and Tajik languages.
Brief History of Bukhara
Bukhara's origins date back to the first millennium BC. The name "Bukhoro" first appears on copper coins from the 4th-5th centuries, and written records from the latter half of the 7th century also reference the city. Its name's origins have multiple interpretations, from Sogdian's "Bukhar" meaning 'a dwelling of scholars' to an idolatrous temple's name, as suggested by philologist Mahmud Kashgari. Historical texts have mentioned it by various names like Nyumi, Bukhala, Ansi, and more.
Bukhara's dynamic history has seen it under the dominion of the Hephthalite Empire in the 5th century, the Turkic Kaganate in the 6th, the Arabs in the early 8th, and the Samanids by the 9th century, who declared it their capital. By the 10th century, its plethora of Islamic structures rivaled even Baghdad. Various dynasties, including the Karakhanids, Karakitai, Khwarazmshahs (Khorezm-Shahs), Mongols, and Timurid dynasty, ruled it over the centuries.
The 1500s saw Bukhara incorporated into the vast Khanate of Bukhara, spanning eight present-day nations, including the five Central Asian countries and parts of China, Iran, and Afghanistan. Initially, Samarkand held the capital title, but by 1533, Bukhara gained capital status. Its stature as the principal city persisted when it transitioned into the Emirate of Bukhara in 1785 and continued until 1920.
By 1925, Bukhara had become part of the Soviet Union. Though the city housed nearly 42,000 people in 1926, its populace has grown to 280,000 in a century.
Bukhara Sights & Attractions
The Ark Citadel stands as Bukhara's most iconic landmark and its most ancient architectural relic. Revamped in the 7th century, it housed structures such as a temple, prison, treasury, and chancery. A local myth suggests the legendary hero Siyavush's tomb lies within its confines. Although the last structures were added in the 19th century, parts of the citadel were sadly demolished by the Bolsheviks in the early 20th century.
Nearby lies the 18th-century architectural marvel, Bolo-Hauz Complex. Its centerpiece mosque once held such importance that the Emir of Bukhara prayed there.
World-renowned, the Samanid Mausoleum stands as a testament to Central Asia's ancient urban monumental architecture. Built in the late 9th century, it's one of the region's oldest structures.
The towering Kalyan (Kalon) Minaret, alternatively known as the Arslanhan or Bukhara Minaret, dates back to 1127. At 46.5 meters, it's the city's tallest ancient Islamic structure.
Adjacent to the minaret is the Poi-Kalon Complex, comprising the minaret, the 12th-century Kalyan Mosque, and the 16th-century Miri Arab Madrassah.
Lyabi Khauz, a historical pond, forms the nucleus around which Bukhara's attractions radiate - including the 17th-century Nodir-Divan-Begi Madrasah and Khanaka, and the 16th-century Kukeldash Madrasah. Even today, the area bustles with cafes, souvenir shops, and a vibrant local scene reminiscent of its 400-year-old heritage.
Chashma-Ayub, or "Job's Spring", is a revered site, drawing both Muslim and Christian pilgrims. Legend claims the biblical prophet Job rests here, a belief shared by several nations. The spring within this 12th-century complex allegedly has curative properties, albeit not being particularly palatable.
The Magoki-Attori Mosque intrigues visitors as its foundation lies 4.5 meters below ground level, making it one of Bukhara's most ancient edifices.
Ensemble of Khoja Gaukushon, built in the 16th century, includes a mosque, minaret, and madrasah, located on the eponymous square known for its historical livestock slaughters.
Unique in its decorative elements, the 17th-century Abdulaziz-Khan Madrasah boasts murals of a dragon and the Semurg bird, deviating from traditional Islamic motifs.
Lastly, the enduring Trading Domes of the 16th century each carry distinct titles reflecting their specialties: Toki Zargaron (jewelry), Toki Sarrofon (household items), Toki Telpakfurushon (hats), and Tim Abdullah Khan (textiles).
Dive deep into the heart of Bukhara by exploring its mahallas or traditional neighborhoods. Meandering through these narrow, twisting lanes offers an authentic taste of local life. Marvel at ancient houses adorned with intricately carved wooden doors, each a masterpiece in its own right. Notice the distinct "bells" or knocking methods on these doors – men would knock on the metal part while women knocked on wood, letting homeowners know the gender of their visitor. And don't be surprised if locals warmly invite you over for a cup of tea!
Bukhara also boasts a wealth of lesser-known mosques and mausoleums, often overlooked in tourist guides. Seek out one of these hidden gems and chat with locals to uncover its history.
Just outside the city lies the country palace of Bukhara emirs, Sitorai Mokhi-khosa. Constructed in the 19th century, this palace showcases an unexpected blend of Central Asian and European architectural styles. Roam its halls to unearth tales of the last Emir of Bukhara.
Nearby, the Baha ad-Din complex, also revered as the mausoleum of Bahauddin Naqshbandi, beckons. Erected in the 16th century, this sacred site draws countless Muslim pilgrims each year.
Another must-visit is the expansive Chor-Bakr necropolis in Bukhara's outskirts. This vast burial ground, with tombs dating back to the 16th century, stands as one of Central Asia's most significant.
How to Get to Bukhara
Flying is the quickest and most convenient mode of reaching Bukhara, with regular flights connecting the city to Tashkent, Moscow, St. Petersburg, Yekaterinburg, Makhachkala, and Istanbul.
For rail enthusiasts, trains serve Bukhara from Tashkent, Samarkand, Khiva, Volgograd, and Dushanbe. It's worth noting that trains halt at the Bukhara-1 station in Kagan, roughly 13 km from Bukhara.
Alternatively, shuttle buses and taxis run from major Uzbek cities to Bukhara. If you're looking for a direct and personalized journey, consider hiring a private cab from any city within Uzbekistan.
Food in Bukhara
Bukhara is the birthplace of the renowned Alat samsa, a favorite across Uzbekistan. Unlike its counterparts, this samsa boasts an unleavened dough, reminiscent of fried pita bread.
Osh-i sofi (oshi sofi) is a pilaf unique to Bukhara. Each ingredient is cooked individually before being layered in a cauldron and slow-cooked to perfection. A finishing touch involves drizzling the pilaf with sizzling oil.
Barracha stands out as a regional specialty, crafted from tender, newborn lamb. The meat is sautéed with onions and then gently braised, resulting in a melt-in-your-mouth dish.
Just a short drive from Bukhara lies the quaint town of Gijduvan, which locals swear by for the nation's best kebabs. Nonetheless, you can relish these famed Gijduvan skewers right in Bukhara.
Adding a twist to the typical samsa, Gijduvan samsa incorporates vegetables (often onions and tomatoes) and a rich broth alongside the meat.
Shopping in Bukhara
Bukhara brims with skilled artisans producing handcrafted treasures. Beyond the usual souvenirs, shoppers can discover national-style jewelry, embroidered hats and jackets, gold-threaded items, handbags, dolls, distinctive Gijduvan pottery, traditional knives and daggers, and intricate carpets.
For those with a penchant for luxury, Bukhara offers exquisite karakul fur coats and headgear made from plush karakulcha fur.
Safety in Bukhara
Bukhara takes pride in being a safe city. A notable police presence ensures security. Feel free to wander the streets of Bukhara even after dark. However, it's wise to keep an eye on personal belongings – basic safety precautions still apply.
Best Time to Visit
Renowned as one of Uzbekistan's hottest cities, Bukhara is best visited between March to early June or September to late November. During these times, expect a surge of tourists flocking to the city. If you opt for a summer or winter trip, you'll find Bukhara serene with significantly fewer visitors.