Fountains of Tashkent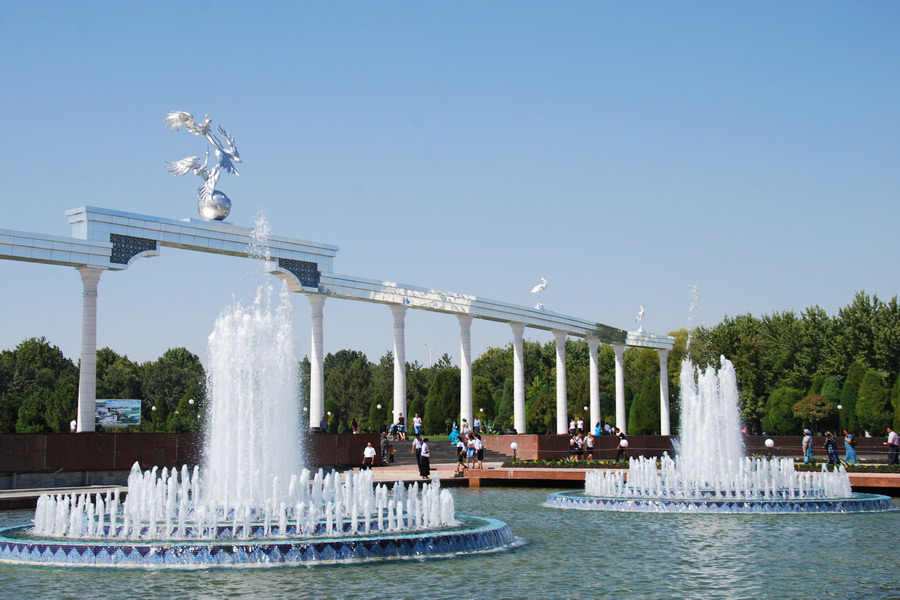 With the onset of summer in the crowded public spaces of Tashkent spring to life magnificent fountains. Varying in size, some of them more than half a century old, and some have been installed only recently.
None of the cities of Central Asia can boast such a variety. If you believe the opinions of foreign travelers, the capital's summer fountains are the first thing you will notice; visitors can be seen posing for photographs all around them.
The summer heat (up to 45 degrees Celsius), just normal for Tashkent, makes the fountains not just an architectural luxury, but a vital necessity. Only after passing by these beacons of cool on a scorching hot day can one appreciate what a welcome and pleasant gift they are.
Fountains can be seen in a variety of local settings - next to major government buildings; by museums, banks, and colleges; in bazaars and small side streets, in parks; in short, everywhere. Young mothers walking with their toddlers in strollers, courting lovers, and pensioners conversing are constant sights here.
The first fountain in Tashkent was installed in 1890 at the palace of Prince Romanov, followed by another at the mansion of A. Polovtsova (now the Museum of Applied Art of Uzbekistan).
In the 20th century, fountains crept into the heart of the city and began to play an important role in its architectural layout.
One of the oldest fountains Tashkent is located near the Opera and Ballet Theatre named after Alisher Navoi (architects - A. Schusev, V. Arkhangelsk, and L. Karash). The fountain is built in the form of boxes of cotton. It was built in 1947 by Japanese prisoners of war, and since then it has not changed. During a strong earthquake in 1966, the fountain and theatre escaped damage. These days it is one of the most popular summer hangouts for locals and visitors to the capital of Uzbekistan.
The biggest fountain in Tashkent sits on Independence Square (architects - L. Adamov, S. Adilov, B. Zaritsky, S. Mezentsev, E. Rozanov, and F. Tursunov). During restorations in 2005, the mechanical systems were replaced and night lighting was added, but the appearance of the classical fountain remained.