Madrassah Kukeldash, Tashkent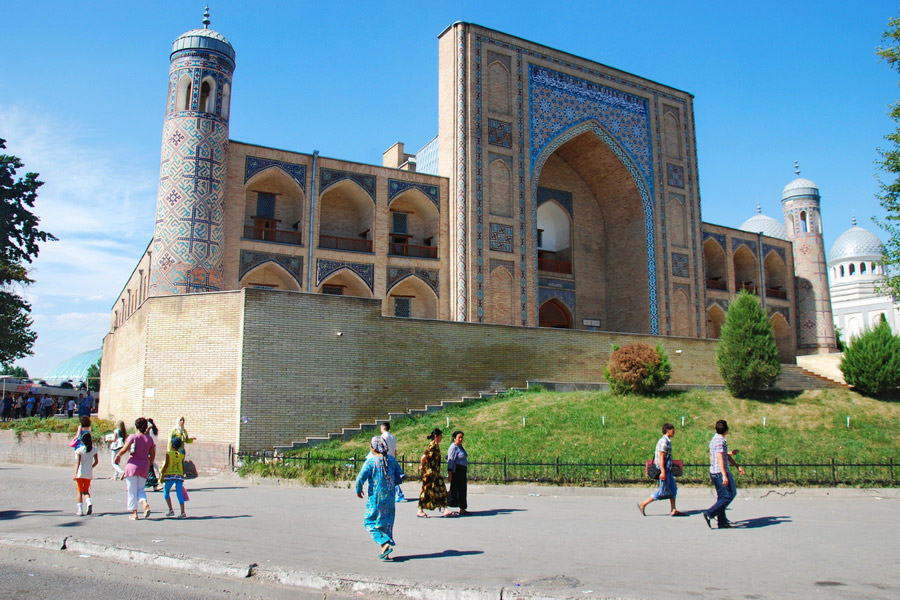 Madrassah Kukeldash is located on a high hill in the area of Chorsu square. The builder of the Madrassah was a vezir of the Tashkent khans (1551-1575), called Kukeldash ("the foster-brother of the khan"). The Madrassah has a traditional composition: an extensive court yard, built on khudjras, with darskhana and a mosque in the corners.
The main facade has a high portal, two story loggias, and angular turrets called guldasta. At the end of the 18th century, the maadrasah was used as a caravanserai, in 1860 it served the khans of Kokand as a fortress, and also as a place of execution (from the top parapet, women convicted of infidelity were dumped in bags onto a platform covered with stones). Madrassah Kukeldash is one of the largest Madrassahs of 16th century still preserved in Central Asia, with the advanced layout and specific construction of that time.
The Madrassah was constructed from baked brick. Only one facade is decorated. On the portal, the remains of carved decor, glazed bricks and majolica have been preserved: they were restored in 1950. The monument has a huge historic and architectural value. Madrassah Kukeldash, despite its critical condition, was preserved and restored.