Uzbekistan Covid Travel Restrictions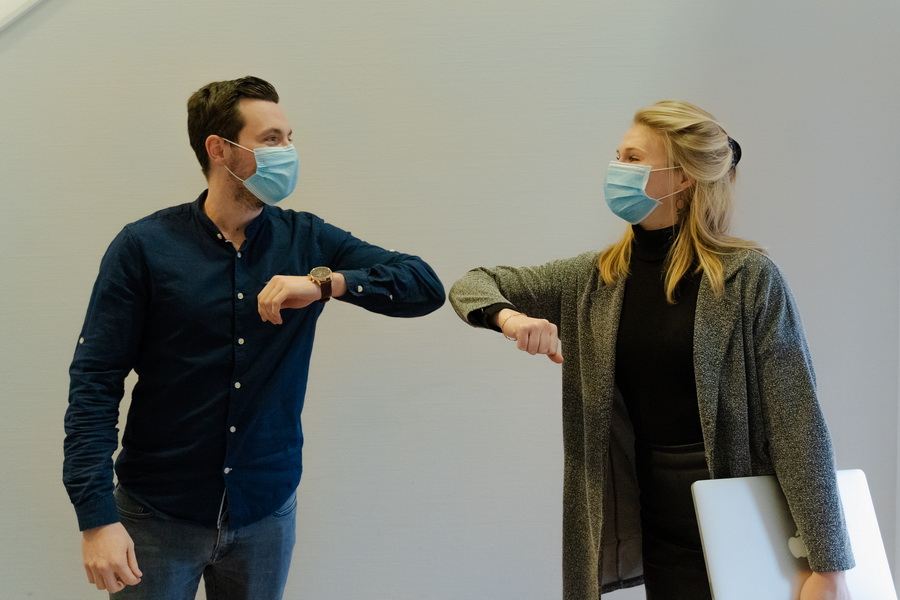 Last Updated: March 31
Uzbekistan Covid Travel Summary
Travel to Uzbekistan: Allowed for tourists and business travelers
Entry requirements: Negative PCR test result taken within 72 hours of flight or entry
Quarantine: Mandated for select nationalities only (see details below)
Lockdown: No
Gatherings: Permitted up to 100 people
Hotels: Open
Transport: Fully functioning, masks required
Shopping centers: Open
Entertainment venues: Open
Eateries and bars: Open
Uzbekistan Entry Restrictions
Travelers entering Uzbekistan by air or land must have a negative PCR certificate for Covid-19, written in English or Russian and taken within 72 hours of checking in for the flight or train ride.
Regardless of test results, travelers arriving from Great Britain, Italy, Denmark, Austria, Australia, the Netherlands and South Africa may be asked to quarantine for 14 days at their own expense in a designated hotel. According to current Uzbekistan covid travel restrictions, all other travelers do not need to quarantine upon arrival.
Uzbekistan Covid Exit Requirements
Everyone who departs from Uzbekistan by air will need to show a negative PCR test. Test results are not required for domestic flights.
The standard cost of PCR testing in Uzbekistan is around 25USD per person. The result is usually ready in 5-8 hours in Tashkent, while in other regions it could take more time. Payment, usually by cash, must be made by the patient prior to testing.
If you don't wish to go to a clinic, you may order testing at your hotel for a service fee of 10 USD per person. You will need to place your request one day in advance and send a copy of your passport to the clinic. Please note that this service is available only in Tashkent.
To receive results back in 2-3 hours, express PCR testing (also available only in Tashkent) may be requested for a price of approximately 40 USD. Most clinics in Tashkent are open 24 hours, while in other regions the typical working hours are from 09:00 to 17:00.
At most clinics, you will have the option of either receiving a printed result in color or a black-and-white copy via the messaging app Telegram. You may also get your result at the telegram bot @coronavirustest_testingbot by following these steps:
Enter START
Enter your passport number
Enter your date of birth (date.month.year)
You will be given a link which you will need to open to view the results
You may print a black and white copy, size A4.
Please note that only printed PCR certificates will be accepted by most airlines flying in and out of Uzbekistan. The printout must either be an original in color or a black-and-white printout with a QR code.
For an example of the type of official test result which will be accepted at Tashkent International Airport, please see the following.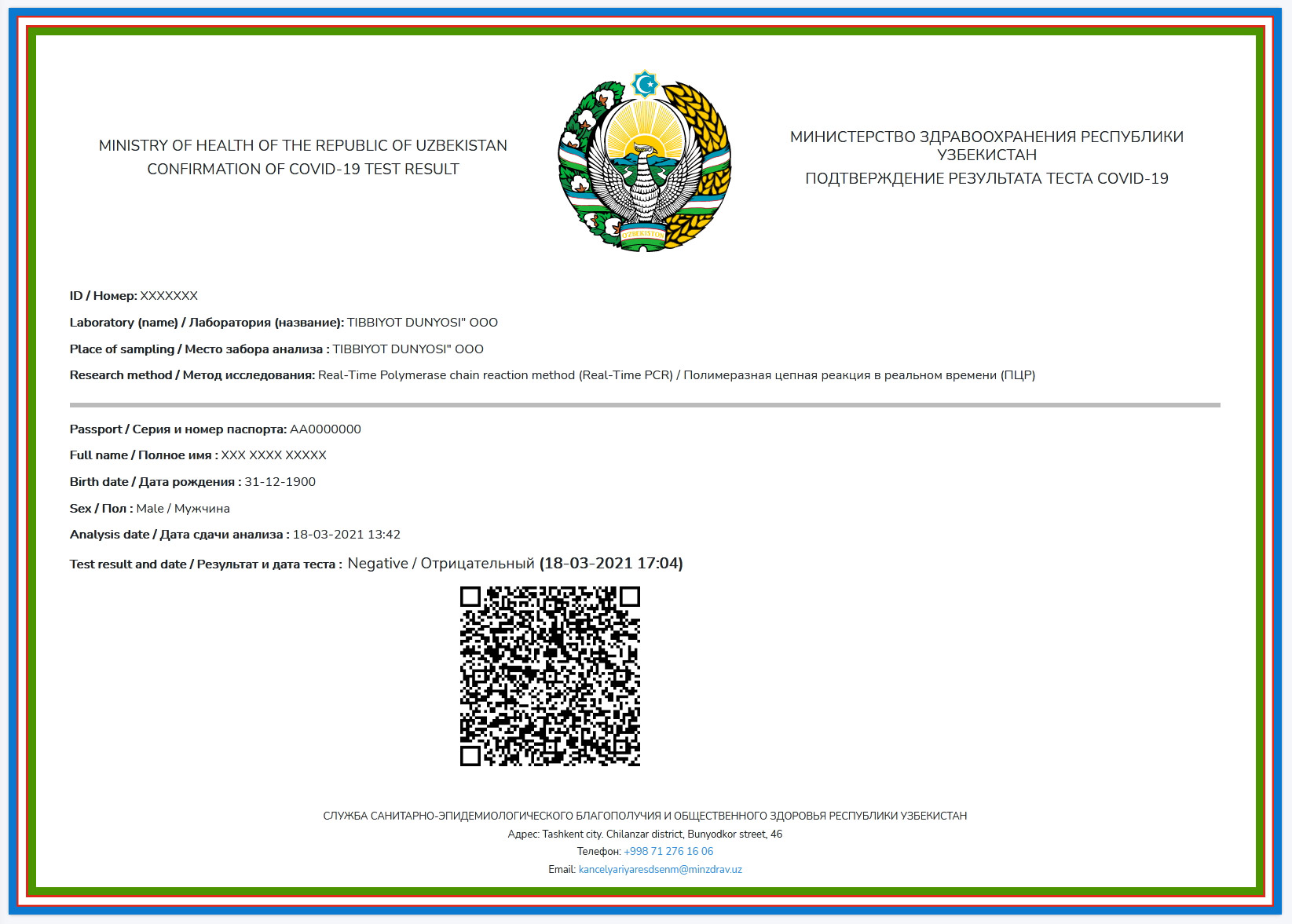 Credit: coronavirus-test.uz
Uzbekistan Clinics Offering PCR Testing
There are more than 40 laboratories in Uzbekistan which can provide PCR testing for Covid-19, including the following clinics:
Tashkent:
Tibbiyot Dunyosi, +998 95 199 5500, +998 71 277 5090 (www.td.uz)
Genotexnoligiya, +998 95 198 8303 (www.genetech.uz)
Unilab Service, +998 33 070 1133
Shox International Hospital, +998 71 207 0017 (www.shox.hospital)
Swiss Lab, +998 71 207 6556, +998 95 145 0006
Samarkand:
Samarqand Tibbiy Diagnostika, +998 66 233 9333, +998 66 233 0533 (www.samtibdiag.uz)
Gamma Med Clinic, +998 95 507 3330, +998 93 353 2726, www.gammamed.uz
Parizoda Medical Service, +998 95 500 1848, +998 91 546 6171
Neo-Vita Medical Center, +998 90 530 1144, +998 95 560 1118
Fergana:
Free-Joy Medical Laboratory, +998 91 126 3040
Biotest Medical, +998 90 634 3120, +998 73 244 0033
Kokand:
Evromed, +998 91 202 0077
Nukus:
Medical Centre, +998 78 770 7777, +998 99 503 0303
Emergency Medical Service +998 61 224 8820, +998 91 373 3108
Bukhara
Emergency Medical Service, +998 65 223 3740
Urgench
Emergency Medical Service, +998 62 228 8281, +998 62 228 8270
Please feel free to contact us with any further questions you may have in relation to the latest Uzbekistan covid travel restrictions.