Muynak, Uzbekistan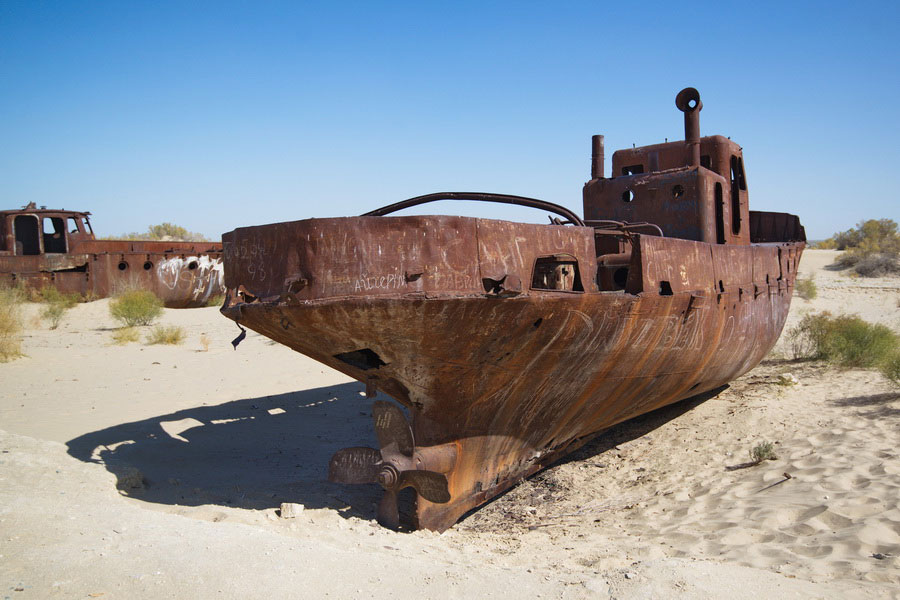 Muynak is originated from turk "moynak", it is widely presented in the geographical terminology among the Turkic languages. Muynak is located in the Amudarya mouth. From the Kazakh language it is translated as "isthmus", "narrow strip of water"," narrowing of the stream canal", "strip of land, sand", "shallow".
Muynak encapsulates, more visibly than anywhere else, the absurd tragedy of the receding Aral Sea. Once one of the sea's two major fishing ports, it now stands some 100 km from the shoreline. What remains of Muynak's redundant fishing fleet lies rusting on the sand, beside depressions marking the town's futile efforts to keep channels open to the receding water.
The town's shrunken population of 2000 people now suffers the full force of the Aral Sea disaster, with hotter summers, colder winters, debilitating sand, salt and dust storms, and a gamut of health problems.
In the tourist potential of Karakalpakstan there is a large quantity of various places of sightseeing representing the huge interest. As is known, Karakalpakstan is famous for a great amount of archaeological monuments, sights and museums. Along with it, the greatest interest for visiting by tourists denotes the city of Muynak which once was on the bank of the well-known Aral Sea. Fish factories and enterprises which worked here had been completely focused on sea and fishing industry.
Besides all of it, the attention of visitors to this city starts to be attracted by The City Museum of Local Lore with the exhibits collected in 80s by doctor Eserkepov.
The town remains a tragic monument to the conscious environmental havoc wreaked by the Soviet Union's policies in Central Asia. Today, it is nightmarish town of stagnant, corrosive pools and deserted factories, the victim of a Soviet crusade to overcome nature. Not a single fish can survive in the sea, 10,000 fishermen have lost their jobs, and Muynak has lost its raison d'etre.
The main reason for a visit to Muynak is to witness the death throes of the Aral Sea and the dramatic sight of dozens of deserted fishing boats rusting at their moorings, submerged in sand, or riding the crest of a sand dune. The City Museum and the Monument to the people who died during the October Revolution (the highest point in Muynak) are also interesting places to visit. Tourists can take a taxi or a bus to get to Muynak from Nukus.