Your dream destination
Armenia

Armenia travel guide
Armenia - a true "open air museum". On its territory there are 25 thousand historical and cultural monuments from all periods of human history, starting with the megalithic era.
Ancient Armenia is one of the places in the world, where the first cultivate the vine, and where the viticulture and winery was brought to the level of the high art. Armenian cognac or armagnac was one of the favorite drinks of Sir Winston Churchill.
Armenia - is also a "museum of nature". Ridges and peaks, alpine lakes and rivers, deep gorges and mountain passes, landscapes and their variety with altitude changes and for each pass, gives to Armenian geographical identity unique features.
Emblem, Flag and Anthem of Armenia
National Flag of Armenia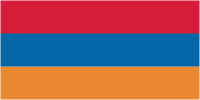 National Flag – a tricolor with horizontal lines of red, navy and orange evenly distributed from top to bottom. Red symbolizes Armenian Highlands, Armenians' incessant struggle for survival, Christian faith, liberty and independence. Navy symbolizes the aspiration of the Armenian nation to live under the peaceful sky. Orange symbolizes the talent for creative work and diligence of the Armenian people.
National Emblem of Armenia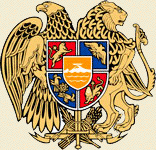 National Emblem – Mount Ararat together with Noah's Arc and the emblem of four kingdoms of historical Armenia are illustrated in the center - on the shield: the Bagratunies are on the top left, the Arshakunies are on the top right, the Artashesians are on the bottom left, the Rubinyans are on the bottom right. The shield is supported by an eagle (on the left) and by a lion (on the right), and there is a sword, a branch, a sheaf of ears, a chain and a ribbon illustrated under the shield. The emblem colors symbolize the colors of the Armenian flag.
Armenia at a glance
Information on Armenia
Continent: Europe
Official name: Republic of Armenia (Hayastani Hanrapetoutyun)
Government: President
Capital: Yerevan
Territory: 29, 800 sq. km (Worldrange 138)
Large Cities: Gyumri, Vanadzor
Territorial division: 37 districts, 21 cities
Average Height Above Sea Level: 1800m
Highest Mountain Peak: Mount Aragats (4090m)
Population: about 3 027 600 (2013)
Climate: Continental. In this small piece of land sultry summer and eternal winter exist almost side by side.
Official languages: Armenian
State religion: Armenian-apostolic
Internet Domain: .am
Currency: Armenian Dram/AMD/ 1 dram = 100 lumas(app. 370 AMD=1 USD)
Population density: 108 peoples a km2
Ethnical composition of the population: Armenian 97.89%; Yezidian 1,26%; Russian 0.45% and other
Location
The Republic of Armenia lies in the north eastern part of the Armenian plateau between the Caucasus and Asia Minor. In the north and east it borders upon the republics of Georgia and Azerbaijan, in the west and south upon Turkey and Iran. Armenia Border length: Iran - 35 km, Turkey - 268 km, Georgia - 164 km, Azerbaijan - 787 km. Ancient Armenia was one of the largest states of the Middle East. Its name is among six other countries depicted on a Babylonian map dating back to the 5th century B.C.
Political System
Praesidial republic since 1991, constitution adopted in July 1995. 18 years is the threshold for the voting rights. One chamber parliament called National Assembly with 131 seats. Parliamentary election every 4 years. Direct presidential elections every 5 years.
Regions (Marzes)
Armenia is comprised of 11 regions (marzes): Aragatsotn, Ararat, Armavir, Gegharkunik, Lori, Kotayk, Shirak, Syunik, Vayots Dzor, Tavush, Yerevan.
Official languages
Armenian. It is a separate branch of the Indo-European family of languages. Mesrop Mashtots created the Armenian alphabet in 405 A.D.
Religion
In 301 A.D. Armenia adopted Christianity thus becoming the first country in the world to proclaim it a state religion. The Armenian Church is one of the Eastern Orthodox Churches. Holy Echmiadzin is the historical center of Armenian Apostolic Church, the seat of the Catholicos of all Armenians.
National Currency
The dram/AMD/ is the monetary unit of Armenia. It is subdivided into 100 luma. The word "dram" translates into English as "money", and is cognate with the Greek drachma. The Central Bank of Armenia has the exclusive right of issuing the national currency according to Armenian Law. The dram came into effect on 22 November 1993. Banknotes currently in circulation – 1000, 5000, 10 000, 20 000, 50 000, 100 000 dram.
Foreign currency can be exchanged in any branch of a bank.
USD, EUR, GBP, RUB can be exchanged in any exchange office.
Customs Rules
For the import and export from the country of the foreign currency there is no limits, only the customs declaration must be filled out (it must be saved until the departure). The amount more than 10 000 dollars USD (or equal in other currency) must be transferred through the bank. Import and export of the native (local) currency is forbid. It is allowed to import the things of personal use, and goods and other things with the total cost equal to the no more than 500 dollars USD without custom payments.
The import of the alcoholic drinks - up to 2 liters and also tobacco goods - up to 50 packs without customs duty is allowed. For all imported goods and things, which total amount is more than the mentioned above, must be paid the custom duty. Import and export of all kind of antic goods, including the jewels, coins, manuscripts and other art works, without allowance of the correspondent departments is forbid. The transit of the narcotic, poison and explosive substances, arms and ammunitions (excluding hunter's arms, which must have permission of MIA RA) is forbid.
Visa Application Guidelines
The entry to Republic of Armenia realizes on the visa base, given out by Ministry of Foreign Affaires of RA, and on the frontier and in the airports - by corresponding departments of Ministry of inner affaires of RA, or by the order, fixed by international agreements.
There are two ways to get a visa for entry into Armenia:e-Visa and conventional Visa.
Transportation
Buses and taxi-vans/marshrutka/ with fixed routes function in Yerevan and among the towns. In Yerevan fee is 100 AMD (around 0,32 $). They run from early morning until late at night.
Metro
The underground in Yerevan is open from 6:30 a.m. to 11:00 p.m. Fee is 50 AMD (around 0,16 $).
You can also order taxis.
Getting to/from Airport
Bus: N201 from airport to the center of Yerevan (Opera House) runs 7:30am-6:00pm every 20minutes, fare is 150 AMD (around 0,50 $).
Minibus: N107 from airport goes to Barekamutyun Metro (also know as Druzhba) and N108 goes to the railway station. Both run every 20min from 8:00am to 8:00pm; fare is 200 AMD (around 0,65 US$).
Taxi: From airport to the centre is fare 5000 AMD (around 16 $), from centre to the airport is fare 3500 AMD (around 12 $).
Health Services
No risk for health. No need for vaccination.
Working Hours
The government offices and NGOs work every day, from 9:00 a.m. till 18:00 p.m., except for Saturdays and Sundays.
Fairs and markets are open every day.
Supermarkets are open every day from 9:00 am till 10:00 p.m. Some of them are open round-the-clock.
Stores are usually open from 9:00 am till 7:00 p.m. or from 10:00 a.m. till 10:00 p.m.
Holidays, Days of Commemoration and Celebrations
January 1 - New Year
January - 28 Army Day
March 8 - Woman's Day
April 7 - Day of Maternity and Beauty
April 24 - Genocide Victims' Commemoration Day
May 1 - Labour Day
May 9 - Victory and Peace Day
May 28 - First Republic Day
June 1 - Children's Rights Protection Day
July 5 - Constitution Day
September 21 - Independence Day
October - Yerevan Foundation Day
December 7 - Earthquake Victim's Commemoration Day
Religious Holidays
January 6 - Christmas
April 12 - Easter
July 19 - Transfiguration of Christ Day
August 16 - Assumption Day
September 13 - Exaltation Day
Important note: Before departure from Armenia have to be paid state Exit Duty in the amount 10000 AMD.