Abdulazizkhan Madrasah, Bukhara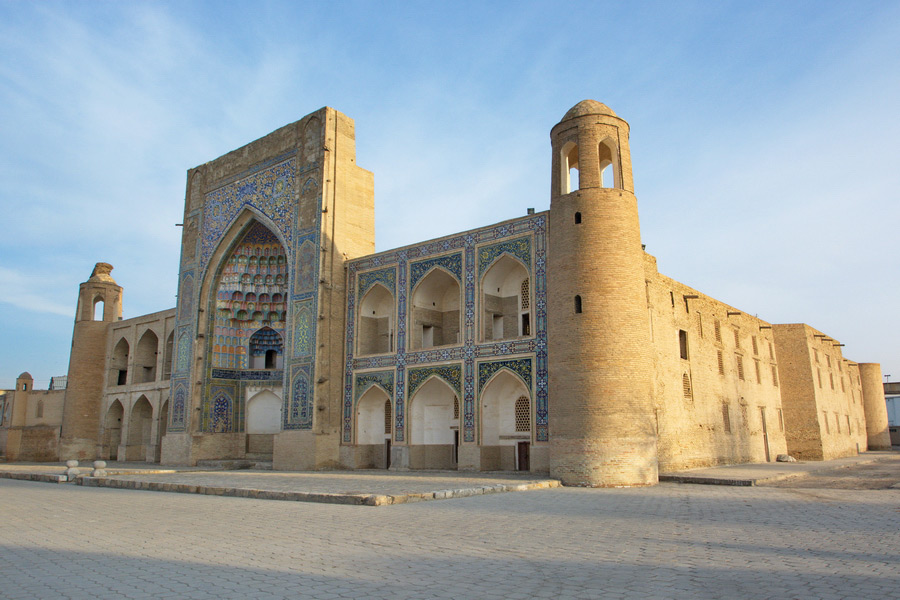 Abdulazizkhan Madrasah in Bukhara is tangible evidence of the advanced cultural developments which have been realized on the territory of Central Asia for centuries.
The school was built in 1652 by Abdulaziz Khan of the Ashtarkhanid Dynasty. Constructed next to Mirzo Ulugbek Madrasah nearly two hundred years after the great astronomer's death, Abdulazizkhan Madrasah was the last significant madrasah to be built in Bukhara. Together, the two schools form a single architectural complex and are counted among the major historical monuments of Bukhara.
Yet these educational institutions differ from each other not only in their architectural design and ornamentation, but also in their original educational goals. Ulugbek, as a ruling scientist and educator, viewed learning in the context of its national significance, believing the development of science to be the ultimate goal of education. Abdulaziz Khan, meanwhile, supported patrons of the arts and was drawn more to mystical poetry and theology than to the field of science.
Ulugbek Madrasah adhered to a strict blueprint, having been designed with the rigid study of the sciences in mind. Although an educational institution, its walls were adorned with sayings from the Koran.
In contrast, Abdulazizkhan Madrasah was an ornate building, constructed using every decorative technique available at that time. Majolica, stone and ganch carvings, tile mosaics, fine paintings, gilding and the like were all employed to enhance the school's appearance. The walls were decorated not with religious verses but with poetic lines.
Abdulaziz Khan intended his madrasah to surpass all previously designed structures in pomp and grandeur. Whether he achieved this goal or not is debatable, yet the fact that his madrasah is counted today among the key attractions in Bukhara is undisputed. His key architects and designers included Muhammad Salih, Mawlana Muhammad Amin and Min Hakan Bini Khoja. While these masters relied on traditional construction techniques, the layout of the building was nonetheless intricate, and even today impresses with its splendor.
The portal of the madrasah is distinguished by its height and detailed decoration, while the hall has a multi-dimensional shape and is enhanced with hanging stalactites and ornamentation which astounds with its brightness. The mosaics of the main façade are a tangle of geometric patterns, plant depictions and fairytale creatures painted among flowers. Such intricacies are a reflection of the mystical philosophy of the Sufi poets, who saw such patterns as a metaphorical image of the universe. The madrasah has two mosques, one for winter and one for summer, both of which boast of richly decorated walls and ceilings.
Abdulazizkhan Madrasah in Bukhara is an enduring masterpiece which impresses visitors with its unique artistic designs and historical significance.