Amir Kulal Mausoleum, vicinity of Bukhara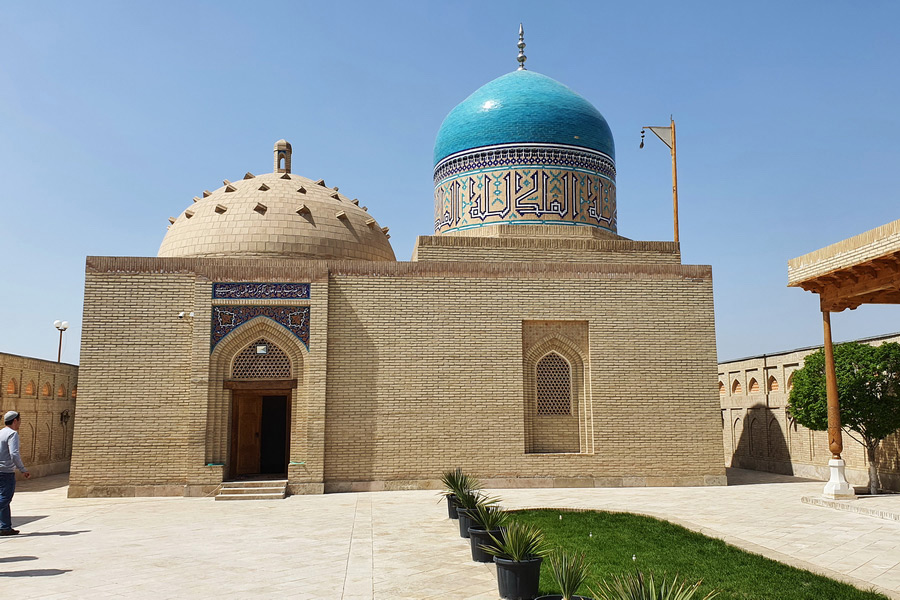 Amir Kulal Mausoleum near Bukhara marks the grave of Said Amir Kulal, a venerated representative of the spiritual and intellectual life of 14th-century Bukhara.
The sheikh, who hailed from the village of Sukhor near Bukhara, belonged to the Khojagan Sufi school and was an expert on the philosophical works of Plato and Aristotle. He also authored Sufi treatises and was known as an outstanding mentor.
Born in 1278, Kulal was fond of wrestling in his youth and garnered the attention of the famous Sheikh Muhammad Baba Samasi. Thanks to his outstanding abilities and his desire for knowledge and spiritual development, Amir Kulal was honored to be not only the disciple (murid) of Samasi, but also his successor.
Samasi appointed Kulal to become the mentor of Bahauddin Naqshbandi, founder of the famous Naqshbandi Sufi Muslim order. He also introduced Kulal to the society of Khojagan dervishes and instructed him in the laws of the mystical path and the mystery of zikr, or ritual prayer. According to various sources, Sheikh Said Amir Kulal was the first spiritual mentor of Amir Timur, who he likely first met in 1363.
A true Sufi, Amir Kulal devoted extensive time not only to the spiritual growth of his followers but also to craftsmanship, for he believed that only by creating can one approach the divine. The sheikh's family had been engaged in pottery since ancient times, and the name "Kulal" actually means "potter". Amir Kulal is widely considered the patron saint of pottery and the spiritual mentor of potters.
The Sufi scholar died in 1370, and today the Mausoleum of Amir Kulal remains a holy site for Sufis and potters, the latter of whom consider a pilgrimage to the sheikh's grave to be a rite of passage.
Amir Kulal Mausoeum near Bukhara is in Yangi Hayot in the Kagan District of Bukhara Region, Uzbekistan. The small complex is counted among the important religious sights of Bukhara and consists of a mausoleum, a garden, a mosque and a small minaret. The mosque was built in 1998, while the mausoleum was built in 2007 on the site of a modest grave.