House Museum of Faizulla Khodjaev, Bukhara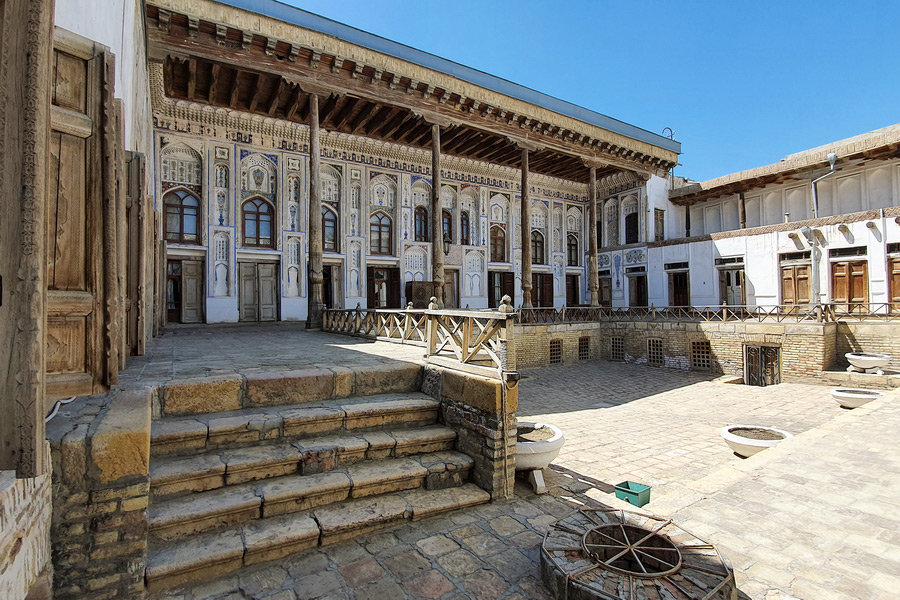 The House museum of Faizulla Khodjaev is a fine example of the Bukharan architectural style of the late 19th c., and is located in the house of his father, Ubaidulla Khodji, in the old quarter of Gozien. It has a large garden and is divided into two halves: the outer (for men) and inner (for women). The living area has a large reception room for guests, and summer and winter rooms with beautiful murals in the traditional Bukhara style.
A high wooden carved gallery (or "aivan") covers the main entrance. In the restored rooms * is original furniture and examples of clothing, crockery and other household items typical of the late 19th - early 20th cc.
The exhibition has some documents, photographs, books and other items which were saved despite Faizulla Khodjaev's persecution. Faizulla Khodjaev (1896-1938) was a leading state and political figure of Uzbekistan, born in Bukhara, who lived from 1896-1938. He was born into a rich Bukhara merchant's family and at the age of 17 took part in the Jadid movement and the activities of the Young Bukharans, after the 1917 revolution preparing an armed uprising and the overthrow of the emirate in Bukhara. From 1920-1924, Faizulla Khodjaev was the leader of the Bukhara People's Soviet Republic, and from 1925-37 he was first Chairman of the Soviet of People's Commissars of the UzSSR, one of the chairmen of the central executive committee of the USSR, and member of the central committee of the Uzbek Communist Party.
In June 1937 he was arrested, together with a group of leading revolutionaries and party workers (N. I. Bukharin, A. Ikramov, N. N. Krestinskii, A. I. Rykov and others), was tried in Moscow as part of the so called "right Trotskyist block", and in March 1938, shot. You can see traditional Bukhara clothing of the period, a traditional cradle or "garovabandon", and have tea and traditional Bukhara sweets.