Bolo Hauz Mosque, Bukhara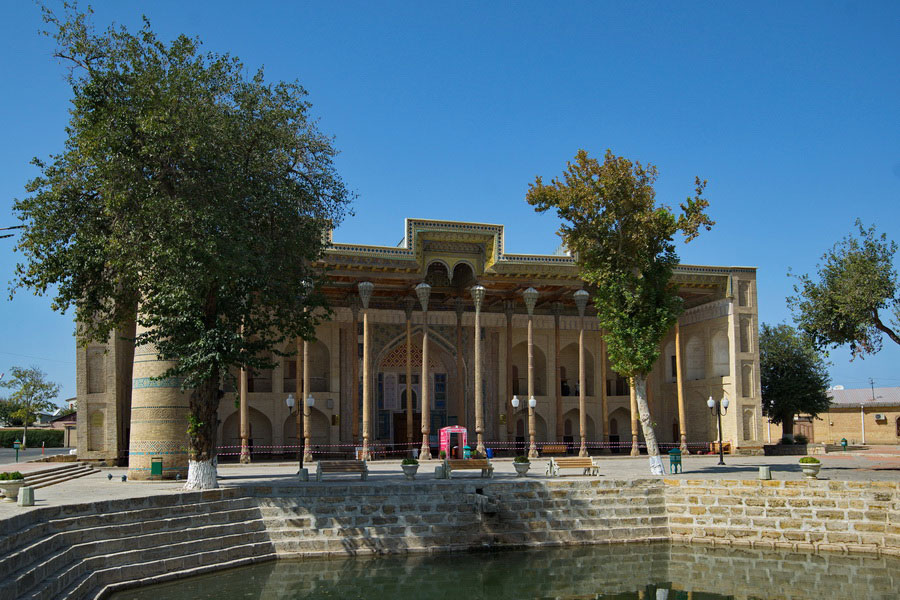 Bolo Hauz Mosque in Bukhara is an enduring witness of the past, a priceless 18th century monument that surprises with its beauty and grandeur.
Registan Square, located at the foot of the Ark of Bukhara, perpetuates memories of the activity that once transpired here, of the numerous buildings that once lined its parameter and the bazaars where customers shopped for everything from weapons to paper and ink.
Among the historical monuments of Bukhara, only one such building from the Registan has survived to our day - Bolo Hauz Mosque, the main Friday mosque of the Emir of Bukhara up until 1920. On holidays, precious carpets were spread across the entire square, from Ark Fortress to Bolo Hauz, as the Emir made his way to the famous Bukhara mosque.
Bolo Hauz Mosque was built at the command of Emir Shahmurad. The construction of the winter quarters and reservoir lasted from 1712 to 1717. In 1917, a minaret and an aivan, a raised platform which surrounds Bolo Hauz on three sides, were added to the mosque by architect Shirin Muradov.
Initially, Bolo Hauz was built according to traditional guidelines adhered to for the construction of Uzbekistan's mosques. The prayer hall was either devoid of all images and ornamentation or decorated with minimal trimming and lines from the Koran, so as not to distract worshippers from their prayers. Like all Muslim houses of worship, Bolo Hauz faced the Kaaba in Mecca, the direction of which was marked by an empty niche, or mihrab, from which the imam would read prayers and sermons.
An integral part of the ensemble is the reservoir, which originally supplied water for the faithful to perform ablutions before prayer and served as a conduit of water to the residents of the neighborhood. Over time, it evolved into an integral part of the mosque, as it amplified the compound's pleasant atmosphere. Indeed, visitors sightseeing in Bukhara today are still struck by the reflection of the mosque in the reservoir's waters.
The main focal point of the mosque is the aivan, which demonstrates the skill and creativity of its architects and sets the mosque apart from more traditional Central Asian mosques, such as Kalyan Mosque in Bukhara's Poi-Kalyan Ensemble. Its thin wooden columns, topped with capitals and elegant stalactites, are reminiscent of slender palm trees and add a delicate beauty to the Bolo Hauz complex. Built to support the aivan's canopy, they form the main entrance to the summer mosque, which then leads to the winter mosque. The bas-relief background of the aivan's painted ceiling is enhanced with various ornamentations, and the walls decorated with magnificent ganch carvings of geometric and floral patterns.
Bolo Hauz Mosque in Bukhara continues to beckon visitors with its unusual beauty, peaceful atmosphere and mystical awe.