Nadir Divan-Begi Madrasah, Bukhara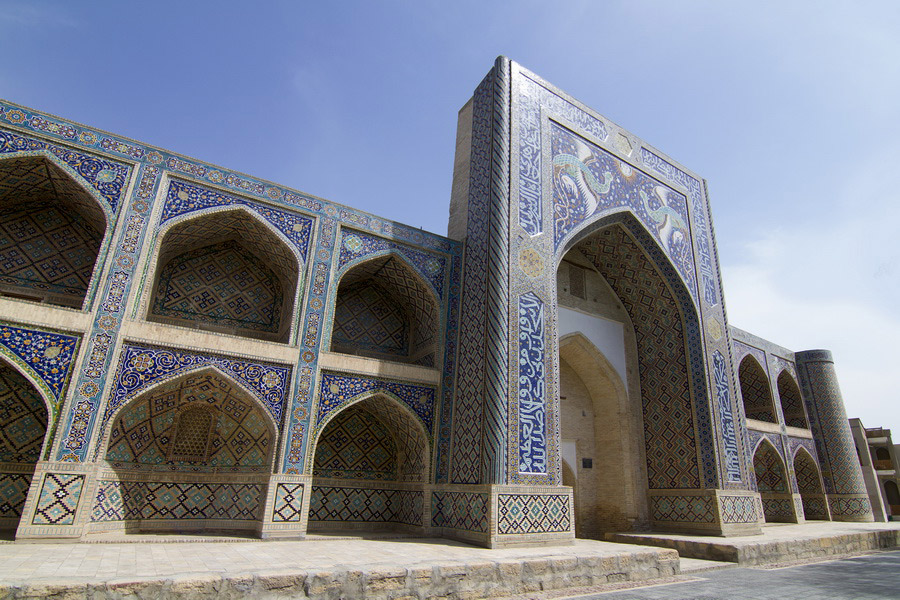 Nadir Divan-Begi Madrasah in Bukhara forms part of the renowned Lyabi-Hauz Ensemble, the city's most venerated site which serves as the backbone of the Old Town quarters.
Built in 1622-1623, the madrasah and adjacent khanaka (building for Sufi gatherings) were named after Nadir Divan-Begi, a patron and defender of Islam who was one of the most influential nobles in the court of the powerful Imamkuli Khan of the Ashtarkhanid Dynasty.
Construction began with the khanaka, followed by a caravanserai which was soon converted into a madrasah by order of Imamkuli Khan. The transformation necessitated the building of a portal, covered corridors at the building's four corners and the addition of second-floor cells for students. By order of Nadir Divan-Begi, a pool was dug in the center of the square between Divan-Begi Madrasah and Kukeldash Madrasah, now known as Bukhara's Lyabi-Hauz.
Nadir Divan-Begi Madrassah is famous for the distinctive mosaics around its portal, lurid depictions of mythical Semurg birds clasping white deer in their claws. While the imagery of birds is hardly unusual in regional art of that period, they were typically portrayed in miniature paintings, embroideries and carpet patterns rather than on religious buildings. The Semurg bird was considered a symbol of happiness, while deer represented torment, the fleeting beauty of this world and the realization that man's destruction of nature was bound to cause pain. The original mosaic was not preserved, and the current montage is a 20th-century restoration.
Nadir Divan-Begi Khanaka is located to the west of Lyabi-Hauz and faces the east. Like many monuments in Bukhara, the khanaka is associated with the Sufi order. Sufi dervishes would sometimes live for long periods near the grave of their order's founder, while others went on pilgrimage, knowing they could find shelter and hospitality wherever they roamed. In many cities, the khanaka served as the crowded hub of their activities. Hungarian traveler and Asian historian Arminius Vamberi visited Bukhara in 1863 under the pseudonym of Dervish Haji Mahmud-Rishad, and in his memoirs he describes the dervishes, public orators, actors and numerous other participants of Nadir Divan-Begi Khanaka's incessant action.
The Nadir Divan-Begi Madrasah and khanaka join with Lyabi Hauz and Kukeldash Madrasah inside the walls of Bukhara's Old Town to form the Lyabi Hauz Ensemble, one of the key attractions in Bukhara today.
Nadir Divan-Begi Madrasah of Bukhara, along with the corresponding khanaka, were important spiritual centers of the city in historical times, and their active influence on the life and worldview of Bukhara's inhabitants cannot be understated.