Kukeldash Madrasah, Bukhara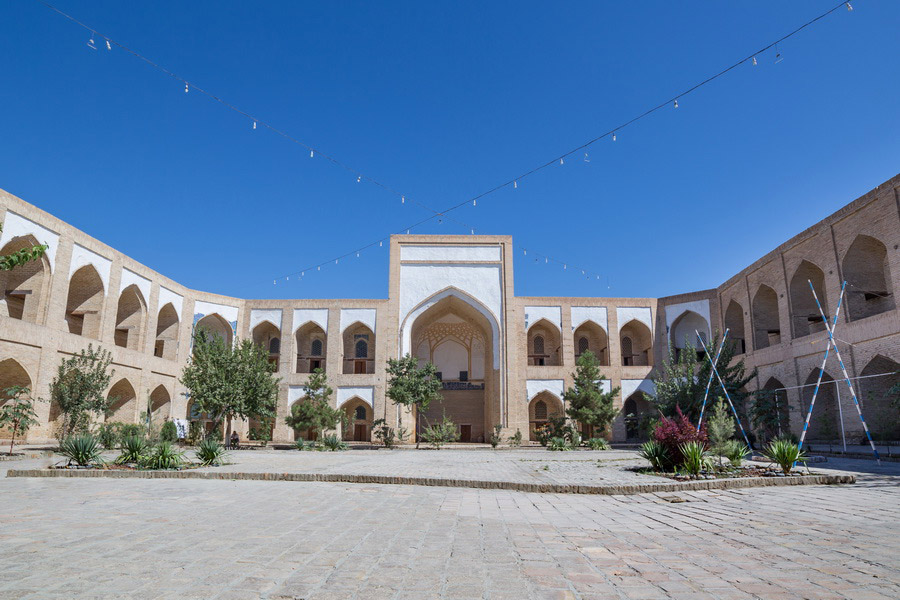 Kukeldash Madrasah in Bukhara joins with Nadir Divan-Begi Khanaka and Madrasah to form a famous architectural ensemble around Lyabi Hauz. Considered a must-see while sightseeing in Bukhara, this architectural accomplishment contributes to the spirit and ambience of the Old City.
Built in the 16th century by Kulbaba Kukeldash, Abdullakhan's foster brother and associate, Kukeldash Madrasah is the oldest building in the Lyabi Hauz Ensemble and the largest madrasah in Bukhara. It is radically different from other madrasahs of the time, nearly all of which were built according to a standard enclosed layout. In contrast, Kukeldash Madrasah is characterized by niches and balconies that are decorated with ganch, majolica and mosaics, all of which display a variety of geometric shapes.
Its architectural design originally met the requirements imposed on religious buildings of its kind, but in ensuing centuries the traditional layout was altered and improved in order to provide more suitable living and study conditions for the students. Most notably, these alterations included the addition of ventilated cells and bright, covered galleries which overlook the city.
Only the city's most famous and talented masters were involved in the construction of Kukeldash Madrasah, which explains its amazing durability through several earthquakes and numerous reconstructions. Thanks to the efforts of talented craftsmen who carried out later restorations on their own initiative, the madrasah continues to be counted among the greatest historical monuments of Bukhara.
An outstanding local writer named Sadriddin Ayni lived near Kukeldash Madrasah in the late 19th and early 20th centuries. He died in 1954, leaving a creative legacy in his void. In memory of this great author, the northern rooms of Kukeldash Madrasah were converted into a memorial museum in which Sadriddin Ayni's personal belongings and manuscripts are on display.
Kukeldash Madrasah in Bukhara imparts a legacy of endurance and cultural pride to the residents and visitors of this ancient city.