Ark Citadel, Bukhara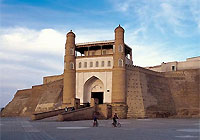 Bukhara citadel of Ark obtained its modern appearance in the period of the Man-ghit dynasty (1747-1920). Ark was the center of Bukhara statehood. There was a palace of Bukhara amir, mosques, exchequer, governmental administration and prison. Its grand entrance fronted the Registan Square.
The massive gates were reinforced with two towers connected by the gallery above. In the past a lash was hanged above the gate symbolizing the power of amir. Arc suffered much in 1920 when Red Army conducted shell attack and bombed the city.
Since 1945, the Bukhara State Architectural Art Museum-Preserve has been situated in the Ark citadel.
Bolo-Hauz mosque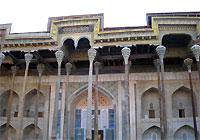 In the past Registan Square was occupied by numerous beautiful buildings. Today there is only monument of medieval Bukhara - the Bolo-Hauz Ensemble.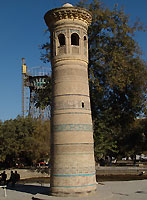 It is a classic sample of Central Asian mosque: the winter building of 1712, summer aivan of the early 20th century with ornamented ceiling and wooden columns, small minaret constructed in 1917 by usto Shirin and small basin.
The brightest feature of mosque is decor of aivan which columns are made from two trunks each and have stalactite capitals.