Ulugbek Madrasah, Bukhara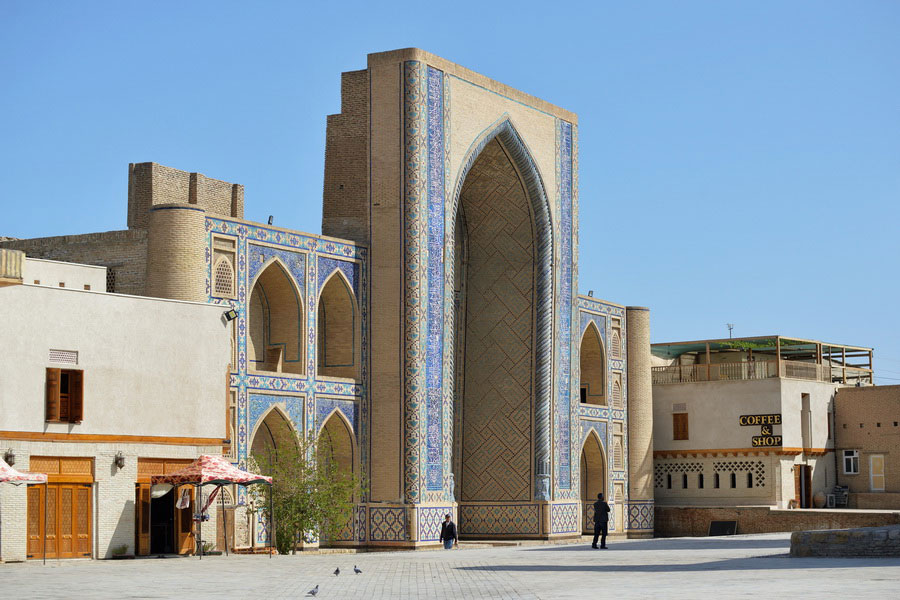 Ulugbek Madrasah in Bukhara stands in the old city quarters as the oldest surviving madrasah in Central Asia and an enduring example of Uzbekistan's Timurid architecture.
Bukhara had already long established itself among the most religious cities of the region when Ulugbek Madrasah was built in 1417 by Mirzo Ulugbek, the famed grandson of Tamerlane who made a name for himself as a great scientist, astronomer and ruler of Transoxiana. In total, Ulugbek built three madrasahs in the 15th century, one each in Samarkand, Bukhara and Gijduvan.
Ulugbek Madrasah, built under the architect Ismail Ibn Tahir Ibn Mahmud Isfagani, long served as a model for the construction of similar structures, for it perfectly embodied the medieval notion of how an austere house of learning should appear. Its simple layout and design, void of superfluous decoration, places it in contrast with its counterpart in Samarkand, which along with Sher Dor Madrasah and Tillya-Kori Madrasah comprise the famed Registan.
In addition to theology, subjects of a secular nature were also studied at Ulugbek Madrasah, which provided education not only for future religious leaders but also civil servants, teachers and scientists. The curriculum included calligraphy, Arabic, Persian, philosophy, logic, rhetoric, astronomy, mathematics, natural science, medicine, law, geography and music. Classes were held daily, with special attention given to free discussions in which the students would participate in lively debates, a form of training which fostered in students the ability to articulate themselves and to think independently.
By the close of the 19th century, approximately ten thousand students were studying in various religious schools now counted among the most famous monuments of Bukhara, some of which were inspired by Ulugbek Madrasah.
The value placed by Ulugbek on the role of education in strengthening the state is conveyed in two inscriptions on the bronze doors and knocker of Ulugbek Madrasah in Bukhara: "Aspiration to knowledge is the duty of every Muslim man and woman", and "Those who are knowledgeable in the book of wisdom can be continually open to the door of God's blessing which hovers above the learned."