Lyabi-Hauz, Bukhara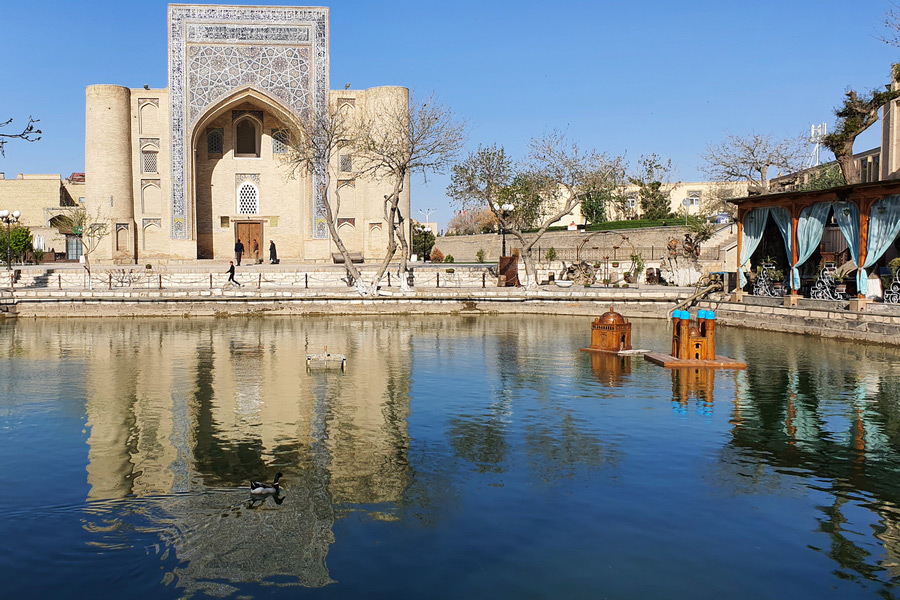 Lyabi-Hauz in Bukhara, Uzbekistan, situated near Kukeldash Madrasah, Khanaka Madrasah and Nadir Divan-Begi Madrasah, is a reservoir in the center of the city's historic quarters. The pool, one of the most popular monuments of Bukhara, has become symbolic of its famous Old Town.
The sweltering climate of Uzbekistan inspired residents to create architectural complexes, gardens and public spaces where they could find shelter from the scorching sun. One integral part of each complex was an artificial reservoir known as a hauz, which helped to create a cooler microclimate that allowed for the comfort of the faithful inside religious buildings and living quarters. As such, these pools were present in the inner courtyard of almost every mosque, madrassah and palace.
Lyabi-Hauz Reservoir was built in 1620 by order of the powerful dignitary Nadir Divan-Begi. Presumably, an older and smaller reservoir once stood in its place. Many pools were drained or demolished in the early 20th century, yet Lyabi-Hauz, whose waters come from the ancient Shahrud Canal through an underground channel covered with a vault, managed to escape this fate. Today it is the most famous pool of its kind in Uzbekistan and one of the most beloved sights of Bukhara.
Together with the Kukeldash, Khanaka and Nadir Divan-Begi Madrasahs, the pool is a part of the Lyabi-Hauz Ensemble. Residents and tourists alike gather in the evening to lounge by its cool waters, which are shaded by mulberry trees planted in medieval times, and to enjoy traditional music, local cuisine and spontaneous dancing in a scenic family atmosphere.
Lyabi-Hauz in Bukhara is often visited in conjunction with other sites for which Bukhara is famous, including Ark Fortress, Kalyon Minaret in the Poi-Kalyon Ensemble, the Trading Domes and Ulugbek Madrasah.