Two exotic "stans" and exciting destinations on The Great Silk Road
Combined Uzbekistan-Turkmenistan tour #2
Duration: 13 days, 13 nights
Kind of route: airway, motor coach tour
Season: year-round
Accommodation: Double / Twin in hotels
Tour itinerary: Tashkent - Samarkand - Shakhrisabz - Bukhara - Farab border - Mary - Merv - Ashgabat - Dashoguz - Khiva - Tashkent - Сhimgan/Charvak mountains - Tashkent
Tourism has exploded in this region during the last decade, and Uzbekistan and Turkmenistan represent the most popularly combined destination for travel to the post-Soviet part of Central Asia, especially for tourists from Europe, USA, Australia and travellers from other foreign countries. Both countries represent very similar climatic conditions (continental climate), which make combined travel to these two countries a sensible choice. At the same time, both countries offer different experiences, both in terms of historical sites as well as landscapes and culture (Turkmens being from tribal origin, while Uzbeks are of settled tribal origin), which makes for a diverse variety of tour options.
Both states have a fairly developed tourism infrastructure, are politically stable and are virtually crime-free. However, after obtaining independence in 1991 each country choose its own way of development. Tourists will witness the difference in the modern way of life in cities and towns and, at the same time, observe a lot of similarities in culture and traditions of ordinary people living in rural areas. Travellers will experience unique features of Central Asian Muslims like religious tolerance, absence of strict formality in dress, and their hospitable, foreigner-friendly attitude.
The starting points of the tour - the capital of Uzbekistan - Tashkent city and Ashgabat - the capital of Turkmenistan are good places to relax and spend time walking on shady and clean streets, enjoy parks and fountains, restaurants and entertainment. But along the main tour's routes, in the boundless desert areas, during your drives between towns, you will be excited by untouched nature and impressive landscapes, big rivers and small riverine oases. In historical places you will be mesmerized by remains of ancient civilizations and well-preserved masterpieces of medieval architecture – from Old Nissa, your first historical discovery near Ashgabat - to the Blue Domes of Samarkand, a highlight of your travel. At every city you will be able to visit Oriental bazaars where you can shop for tasty fruit and fine handmade items. But the most exiting experience remains the ultimate hospitality of people living here.
This route is a comfortable and logically constructed journey, without unnecessary detours or doubled returns to already visited places. In case you wish to extend you travel it is possible to add extensions as to Mary (Merv), Darwaza gas crater, Nohur mountain settlement, Damla desert community, the Caspian Sea or the Yangikala Canyons in Turkmenistan, or to Nukus and Khoresm fortresses, Charvak-Chimgan mountains and Ferghana Valley in Uzbekistan.
Tour itinerary: Tashkent - Samarkand - Shakhrisabz - Bukhara - Farab border - Mary - Merv - Ashgabat - Dashoguz - Khiva - Tashkent - Сhimgan/Charvak mountains - Tashkent
Day 0 (Sun.): Departure to Tashkent
Departure to Tashkent by flight HY 102 at 21:25.
Day 1 (Mon.): Tashkent - arrival
Arrival to Tashkent at 14:35. Meeting at the Airport in Tashkent. Transfer to the hotel. Check in and overnight at the hotel. Free time for rest after a long flight.
Day 2 (Tue.): Tashkent - Samarkand
Breakfast. Morning transfer Tashkent - Samarkand. Accommodation in hotel. City tour.
Sightseeing you explore this day:
Gur-Emir Mausoleum;
Registan Square;
Bibi-Khanym Mosque;
Shahi-Zinda necropolis.





Day 3 (Wed.): Samarkand
Breakfast. City tour.
Sightseeing you explore this day:
Ulugbek Observatory;
Mausoleum of Khodja Daniyar;
Old Samarkand Paper Mill;
Siab bazaar.
Overnight in the city that is a contemporary of ancient Rome and has a history of more than 2500-years.





Day 4 (Thu.): Samarkand - Shakhrisabz - Bukhara
Breakfast. Morning transfer to Bukhara via Shakhrisabz (90 km, 1.5 hrs). Excursion in Shakhrisabz. Driving to Bukhara (270 km, 3.5 hrs). Late afternoon arrival to Sacred Bukhara - one of the most esteemed cities of Islamic civilization. Accommodation in the hotel.
Sightseeing you explore this day:
Ak-Saray palace;
Jahongir mausoleum;
Gumbazi-Seiidan tomb;
Kok Gumbaz Mosque.
Dinner with folklore concert in Nodir Divan Begim Madrasa. Free time for rest and walking through the old streets of Bukhara.
One of "1000 & 1 nights" in Bukhara.





Day 5 (Fri.): Bukhara
Breakfast. City tour Sightseeing you explore this day:
Ark fortress;
Mausoleum of the Samanids;
Chasma-Ayub Mazar;
Poi-Kalyan ensemble;
Magoki-Attari Mosque;
Lyabi-Hauz ensemble;
1st, 2nd & 3rd Trade Domes;
Ulugbek Madrassah;
Chor-Minor Madrassah.
Overnight in a quiet and cozy Bukhara hotel.





Day 6 (Sat.): Bukhara - Farab - Mary
Breakfast. Morning drive to the border pass "Farab-Alat" (100km, 2hrs) to cross into Turkmenistan. Border Passing & Customs formalities. Walk via the neutral zone (~600 meters). Drive to Mary via Turkmenabat city (It is around 300km and takes 5 hours driving). Arrival to Mary. Hotel accommodation. Overnight.
Day 7 (Sun.): Mary - Merv - Mary
Breakfast. Drive to Old Merv known as Mary Shahu Jahan-King of the World for about 300 years became the biggest city in Asia & 8 years Capital of Khalifat. Sightseeing you explore this day:
Gyz Gala & Oglan Gala;
Complex of Askhabs;
Giaur Gala;
Buddist Complex;
Beni Makhan Mosque;
Erk Gala;
Soltan Gala;
Soltan Sanjar Mausoleum;
Ibn Zeid Mausoleum.
Overnight in Mary.





Day 8 (Mon.): Mary - Ashgabat
Breakfast. Drive to Ashgabat. (It is around 380 km and takes about 4,5 hours driving). On route stop to visit the ruins.
Sightseeing you explore this day:
Medieval Bagabat Town;
Anew Mosque;
Abiverd Medieval Town Ruins & Kone Gala.
Overnight in Ashgabat.
Day 9 (Tue.): Ashgabat
Breakfast. Ashgabat city tour.
Sightseeing you explore this day:
Independence Park;
Monuments of Neutrality;
Ertogrul Gazi mosque;
Parthian Royal Residence Old Nisa;
National Museum of History & Ethnography of Turkmenistan.
Overnight in Ashgabat.




Day 10 (Wed.): Ashgabat - Dashoguz - Kunya Urgench - border point Dashoguz - Khiva
Early breakfast. Morning flight to Dashoguz. Arrival to Dashoguz, drive to Kunya Urgench. City tour. Return drive to Dashoguz. Transfer to Turkmenistan-Uzbekistan border point. Border formalities on both sides. On Uzbekistan side meet the driver and drive to Khiva- the only "Museum under the open sky" in Central Asia that has been completely preserved up to the present day. Arrival to Khiva, check in to the hotel, located inside or nearby Ichan-Qala" - the historical center of Khiva which has been inscribed into the UNESCO World Heritage List. Sightseeing you explore this day:
Mausoleum of Turabek-Khanym;
Mausoleum of Sultan Tekesh;
Mausoleum of Sultan Il Arslan;
Mausoleum of Najmad-din-Kubra;
Sultan Ali Mausoleum ;
Kutlug Timur minaret & Kyrk Molla.
Overnight at the hotel in Khiva.


Day 11 (Thu.): Khiva - Tashkent
Breakfast in the hotel. City tour around the architectural complex "Ichan-Qala" (12-19thcc.). Ensemble consists of the smallest medressa in Khiva and a minaret whose top platform has a height of 45m and is the highest observation point in town. Drive to Urgench for evening flight to Tashkent HY 1058 at 21:30. Sightseeing you explore this day:
Kunya-Ark;
Kalta-Minor Minaret;
Madrassah of Muhammad Amin-khan;
Djuma Mosque and Minaret;
Tash-Hauli (Stone courtyard);
Ak-Mosque;
Necropolis of Pakhlavan Makhmud;
Islam-Khodja Madrassah and Minaret.
Overnight in Tashkent.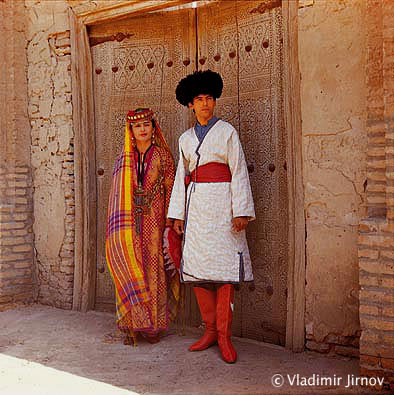 Day 12 (Fri.): Tashkent - Charvak / Chimgan / Beldersay - Tashkent
Breakfast at the hotel. Drive to Charvak-Chimgan Mountains (2 hrs, 100km from Tashkent). Proceed to Beldersay Gorge for chair elevator lift. Visit Charvak Lake (possible water activities in summer time), Chimgan mountain resort (possible horse riding or quad biking). Departure to Tashkent.
Transfer to the hotel for overnight.





Day 13 (Sat.): Tashkent
Breakfast. City tour.
Sightseeing you explore this day:
The architectural complex Khazret-Imam;
Barak-khan Madrassah;
Tellya Sheikh Madrassah;
Kukeldash Madrassah;
Jami Mosque;
Chorsu - oriental bazaar;
Abdulkasim Madrassah.
Late check out from the hotel. Transfer to Tashkent Airport at 00:40 (Sunday) for night flight to New York via Riga (HY 103 at 03:40).
Depart Uzbekistan with sweet memories and the longing to return again!





We hope you like the program and assure you that we are absolutely open to any suggestions to increase the range of our services for the complete satisfaction of our clients and are happy to meet your special requirements.
You can alter the duration of your tour and places of visit by adding one of our extensions. Our tour operator will work closely with you or your travel agent to carefully prepare an itinerary based on your stated interests.
Photos
No tour photos have been posted yet.
Reviews
No tour reviews have been posted yet.