Minaret and madrassah of Islam-Khodja, Khiva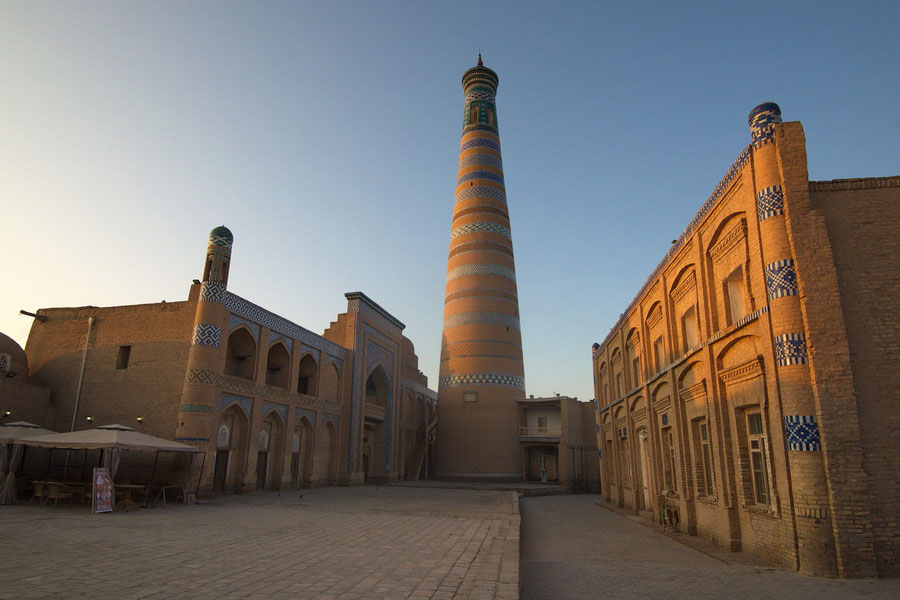 Historical monuments of Khiva
Islam-Khodja was the first vizier of the Khiva khanate of Muhammad Rahim-khan II (1863-1910) and his son Esfendiyar-khan (1910-1920). He financed the construction of a ginnery, hospital, pharmacy, post and telegraph office and secular schools in Khiva.
In 1908-1910 Islam-Khodja built this ensemble in the southeastern part of Ichan-Qala. It consisted of the smallest madrassah in Khiva and the highest minaret, imitating the ancient minarets of the 11th and 12th centuries. The height of the minaret is 57 meters (including foundation). The top platform, at a height of 45m, is the highest observation point in Khiva.
Horizontal belts of dark blue, white, blue and green glazed mosaic decorate the minaret. Its skylight has a stalactite cornice and ceramic lattices - pandjara.
The small courtyard of the madrassah has forty two hudjiras. The decor of the main facade formed a good background for the minaret: blue and white majolica, tympans and glazed ornament.
The mosque occupies the southeastern sector of the madrassah. Its low heavy dome balances a on a column of the minaret. Majolica and carved ganch decorate the mihrab niche of the mosque.