Necropolis of Pahlavan-Mahmud, Khiva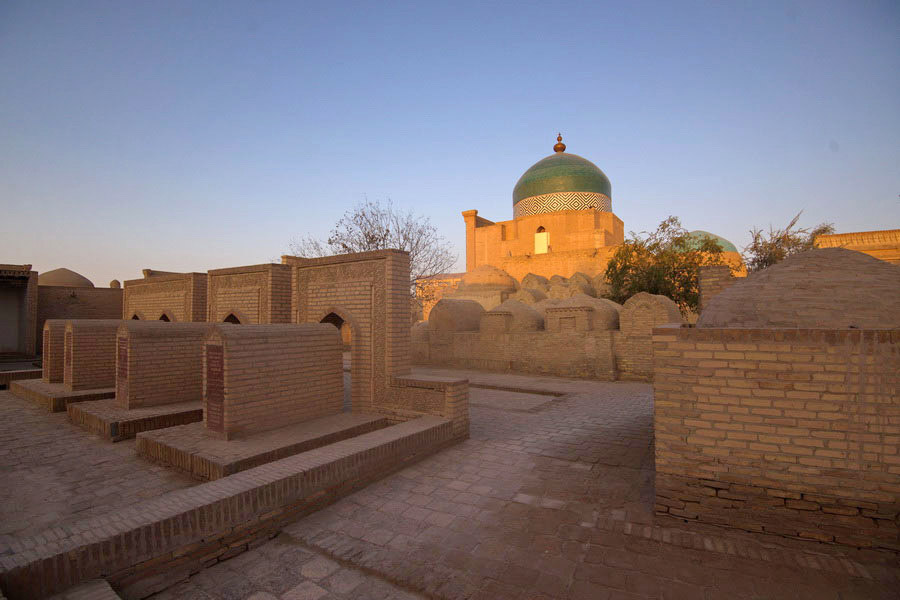 The necropolis of Pahlavan-Mahmud is the religious center of Ichan Kala. It formed around the tomb of Khiva's patron Pahlavan-Mahmud (1247-1326). He was a poet, philosopher and wrestler. He was esteemed as a patron of wrestlers and poets as well as healer throughout Khiva, Iran and India. Tradition has it that the poet was buried in his own workshop. The cemetery had formed around his buriai place in the 14th-17th centuries. When Shirgazi-khan built a madrassah at the beginning of the 18th century, he oriented it towards the tomb of Pahlavan-Mahmud.
The early mausoleum of Pahlavan-Mahmud was built in 1810 by Muhammad-Rahim-khan I (1806-1825). The new mausoleum had included the old tomb and khanaka with a high Double dome, whose silhouette became a symbol of Khiva. A memorial courtyard was set before the entrance. The gates of the old cemetery became an entrance portal to the Pahlavan-Mahmud Necropolis. In the early 20th century Asfendir-khan (1910-1920) ordered the building of a two-storied korikhona in the western sector of the courtyard and summer aivan mosgue in the eastern part. The majolica facing has many cartouches with religious writings, verses by Pahlavan-Mahmud and the names of masters.
Muhammad-Rahim-khan I reconstructed the mausoleum of Pahl-avan-Mahmud in order that the necropolis of Qungrad dynasty arose "at the foot" of Khiva's saint. The tomb of Pahlavan-Mahmud is behind a low fence in the western wing. The tomb of Muhammad-Rahim-khan I was set on a central axis of the mausoleum in a pentahedral niche. Later, in 1825, an eastern wing was added, where Allakuli-khan (1825-1842) was buried. The gravestones of these three tombs are decorated with refined majolica.
The marble gravestone of Abulgazi-khan (1603-1664) and probable gravestone of Anush-khan, bearing the date of 1681 were transferred into the mausoleum. A portal pylon bears a marble plate with an epitaph to a courtier of Ilbars-khan II (1728-1740). Another Khiva Khan, Asfendiyar, in advance prepared a large family tomb in the korikhona of Pahlavan-Mahmud Necropolis. His mother, Kutlugbiki-khanum, was buried in this spot. However, Asfendiyar-khan himself was not. He died outside of Ichan Kala, and Khiva mortuary rites determined that the dead body could not cross the city walls.