Mirzo Ulugbek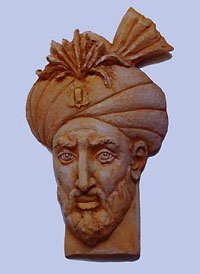 After the death of Tamerlane, internecine wars and feudal disturbances exploded in Central Asia. These ended with the victory of Tamerlane's son, Shakhrukh, who chose as his residence not Samarkand, but Herat. He gave Maverounahr as a crown domain to his eldest son Ulugbek (1394-1449).
For forty years, from 1409 to his tragic death in 1449, Ulugbek ruled the country and it was under his reign that Samarkand became one of the world centers of science in the Middle Ages. In the Samarkand of the first half of the 15th century, around Ulugbek arose an entire scientific school, uniting prominent astronomers and mathematicians such as Ghiyas-ad-din Jemshid Kashi, Kazy-zade Rumi, and Ali Kushchi.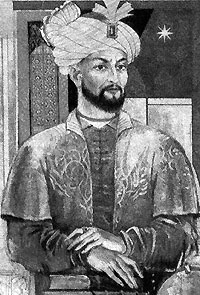 At that time in Samarkand, lived the historian Khafiz-i-Abru, who wrote a remarkable work on the history of Central Asia; the famous medical man Mavlono Nefis, the poets Siraj-ad-din Samarkandi, Sakkaki, Lutfi, Badakhshi and others. These were progressive people of that time, who had faith in the power of the human mind and science.
Scarcely any other town in Central Asia aside from Samarkand, has undergone as many hectic events, upheavals, and oppressive ordeals as Samarkand and its people were fated to experience. The grand metropolis of Tamerlane, with its wealth and greatness, attracted the ambitions of feudal conquerors, each of whom considered it a great honor to sit on Samarkand's throne.
Early in the 16th century, the Central Asian domains of the Timurids were conquered by the nomadic Uzbeks. Their chief was Mohammed Sheibani-khan (1451-1510).
At the very beginning of the 16th century, Samarkand for a short time was seized by the Fergana feudal lord, Zakhiriddin Babur. In his renowned memoirs, Babur left a description of the Samarkand of that time.
"Samarkand is an amazingly beautiful town", Babur writes, "it has one peculiarity that can be found in a limited number of towns: each sort of trade and industry is carried out in a special subdivision of stalls or workshops, that is to say, categories of crafts, commerce and retail never mingle. A lovely custom. Here are good bakeries and cafes. The best paper in the world is produced in Samarkand... There is one manufacture in Samarkand - the crimson velvet that they export to all countries... Samarkand produces fine (and large amounts of) fruit: grapes, melons, apples, pomegranates; good are all the rest of the fruit. But especially glorious are Samarkand's apples and the "sanibi" (a variety of grape)".
More useful links: