Baku Travel Guide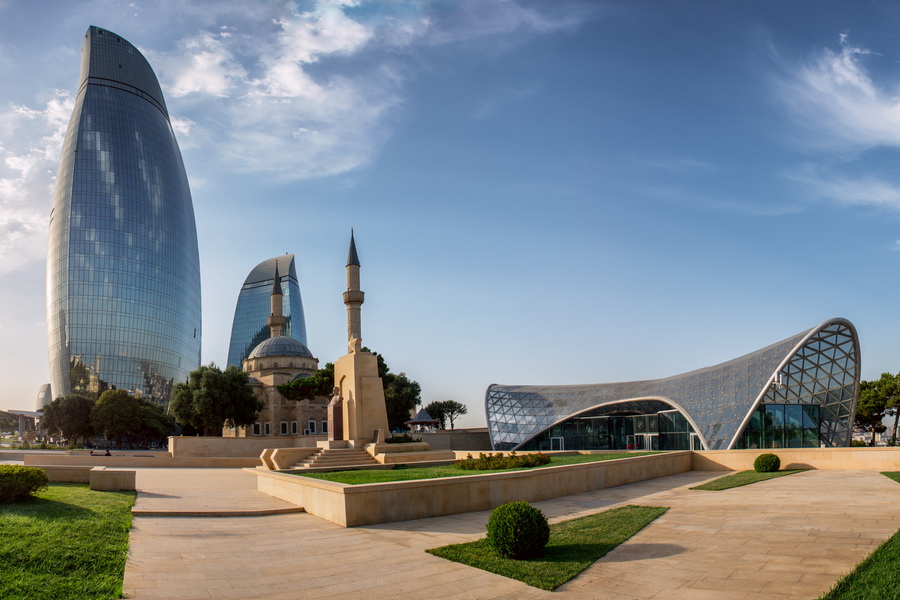 Geographical coordinates: 40°23′43″N 49°52′56″E
Meaning in Persian: Bâd-kube - "wind-pounded city"
Elevation: −28 m
Official language: Azerbaijani
Popular languages: Russian
Population: 2 277 500 (2019), www.stat.gov.az
Nationals: Azerbaijani, Russian, Jew, Lezgin, etc.
Time zone: UTC+4 (AZT)
Phone code: +994 12
Zip code: AZ1000
Automobile codes: 10, 90, 99 (AZ)
Baku, the capital of Azerbaijan, lies on Absheron Peninsula along the western shore of the Caspian Sea. It is the largest urban center of the Caucasus and with over two million residents, Baku is home to more than twenty percent of Azerbaijan's total population. The city consists of twelve main districts and forty eight municipalities, which include nearby islands and the industrial settlement of Neft Daşları (Oil Rocks).
Summers in Baku are hot and dry with little rain. In July and August, the average daily temperature hovers around 26°C. Winters in Baku are humid and relatively cold, with significant snowfall some years. In January and February, the average daily temperature drops to around 4.3°C.
Throughout the year, strong air streams gust across Baku, leading to its nickname "The City of Winds." Baku's official name may also be related to the windy weather; it is said to be a combination of the Persian words bad and kube meaning "blown upon by mountain winds."
How Do You Get To Baku?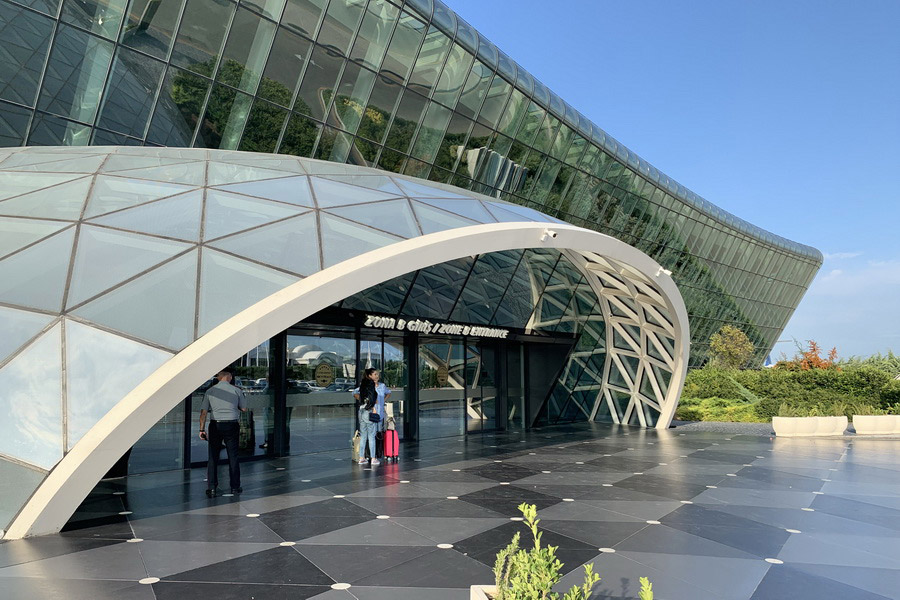 Azerbaijan's main arrival point, Heydar Aliyev International Airport, has direct connections with almost thirty countries. It is served by airlines such as Aeroflot, Austrian Airlines, Turkish Airlines, Qatar Airways, FlyDubai, Lufthansa and many others. The airport offers a city shuttle service running every thirty minutes from 6 am to 10 pm, and every hour from 11 pm to 5 am. You can also order a taxi or Uber. At Orexca, we offer complementary pick-up and drop-off services for our clients.
You can reach Baku by land, as well. There is a long distance train from Baku to the capital of Georgia, Tbilisi, in addition to buses and marshrutkas which connect both cities. Expect the ride to last up to sixteen hours, including time spent at the border. If you are looking for a more comfortable way of commuting that would also include sightseeing, Orexca runs multi-country tours involving private car transfers across Georgia and Azerbaijan.
An irregular ferry connection across the Caspian Sea links Baku with Russia, Iran, Kazakhstan and Turkmenistan. The conditions are rough, and the crossing takes up to two days. Thus, we recommend it only for the most adventurous travelers.
Important: Due to a complicated political situation, the border between Azerbaijan and Armenia is closed. It is impossible to travel to Baku directly from Yerevan or any other Armenian city.
Language
The official language of Azerbaijan is Azerbaijani or Azeri. However, many Baku citizens are bilingual. Russian is widely spoken, particularly by the older generation, and many young people speak at least basic English. You should not have any problems communicating in simple English at most public venues in areas popular among tourists.
Currency
The national currency of Azerbaijan is the manat. Typically, you can get 1.7 manat for 1 USD. Money can be exchanged in local banks and small exchange offices found all across the city. Please bear in mind that it may not be possible to pay with an international credit or debit card in small shops and restaurants. Make sure to always carry some cash with you, especially smaller notes. Credit cards issued by Bank of America do not work in Azerbaijan.
Internet and SIM Cards
Access to the internet in Baku is relatively good. There is free Wi-Fi at Heydar Aliyev International Airport and major points across the city. You should also not have any problems with accessing the internet in restaurants, hotels, cafes and other public venues.
Still, if you think you will need permanent internet access, you may want to consider buying a local SIM card, which you can get either at the airport or in one of the many mobile stores in Baku.
We recommend using one of the three leading mobile phone companies in Azerbaijan: Bakcell, Azercell or Azerfon. They offer a wide range of tariffs and provide assistance in foreign languages.
Is Baku Safe?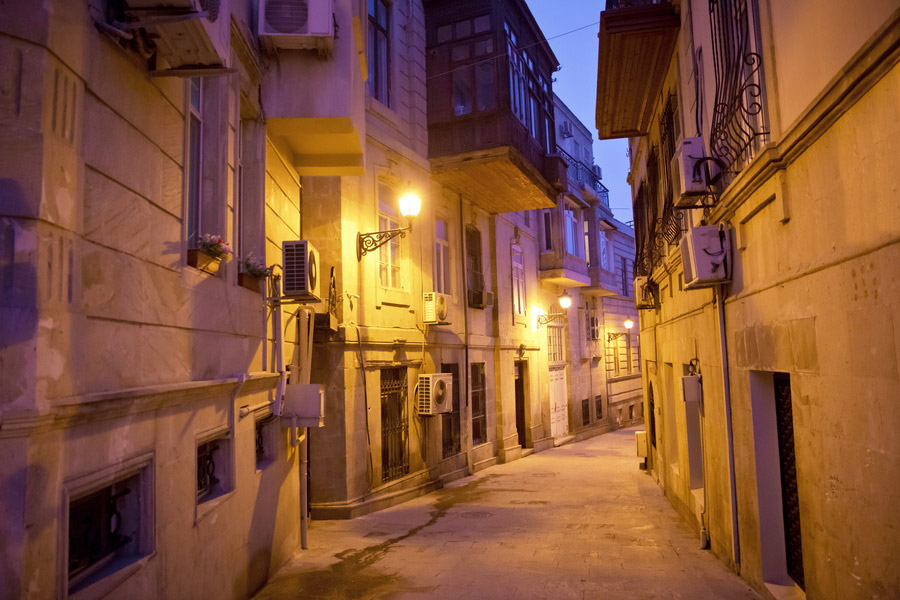 Despite being a metropolis, Baku is a very safe city for foreign visitors. Local authorities are putting a lot of effort into maintaining public order and cleanliness. Additionally, Azerbaijanis are famous for their hospitality and care for guests. Most foreign visitors face little to no obstacles when visiting the city.
However, this does not mean that crime, such as petty theft, does not exist in Baku. Please adhere to standard preventive measurements: keep an eye on your valuables while in crowded places, use only certified taxis and be careful when walking after dark. We also recommend refraining from drinking tap water in Baku to prevent potential stomach problems.
A Brief History of Baku
It is unclear when Baku came into existence as a city, although archaeological evidence indicates that people began to settle here as early as the Stone Age. Inscriptions found in the region prove that the Romans reached the area in the 1st century AD. Some researchers also associate Baku with the town of Albanopolis, traditionally considered to be the site of the martyrdom of Apostle Bartholomew.
From the 8th century onwards, Baku was ruled by members of the Arab family of Yazid ibn Mazyad al-Shaybani, who later adopted the title of Shirvanshahs. In 1191, Shirvanshah Akhsitan I moved to Baku and started to fortify the settlement.
The Shirvanshahs ruled the area until the mid-16th century, periodically acting as vassals of more significant powers such as the Mongols, Timurid Empire, or Iranian Safavids. In fact, for a while Baku served as a winter residence for the Ilkhanate, the rulers of one of four states established after the division of the Mongol Empire.
Beginning in the 19th century, Baku became the stage for a political and military struggle between Persia and the Russian Empire. In 1828, the Russians fully asserted their control over the city and promptly began to develop the local oil industry. In 1872, they started to sell local oilfields to foreign investors, the Nobel brothers and the Rothschilds being among them.
During the 20th century, Baku evolved into the USSR's leading oil industry center. As such, it became a target for an unsuccessful Nazi German offensive in 1942.
After the collapse of the Soviet Union, city authorities began a modernization process that involved a replacement of Soviet architecture with green spaces and modern infrastructure. The transition continued throughout the 2000s.
Today, Baku attracts travelers from all around the world. In 2019, approximately three million tourists visited the city. Its growth has also been appreciated by numerous international organizations. In 2012, Baku accommodated the Eurovision Song Contest, and in 2015, the European Games. Since 2016, Azerbaijan has also been hosting the F1 Grand Prix in Baku.
What is Baku Known For?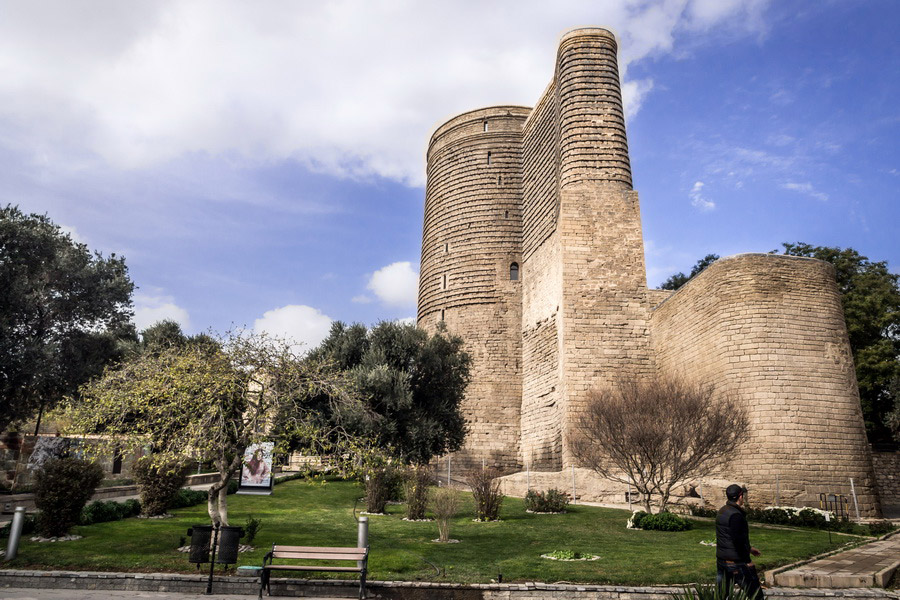 It is hard to believe how much Baku has to offer its visitors. The city is a fascinating mix of tradition and modernity, history and technology.
Baku's pinnacle is Icheri Sheher, or Inner City. The oldest building in that area, Synyk Gala Minaret, dates back to the 11th century. It is surrounded by such historical and cultural gems as the Maiden Tower, the Palace of the Shirvanshahs, Bukhara Caravanserai and the Baku bathhouses. In 2000, UNESCO inscribed the entire Inner City on the World Heritage List.
Outside the massive stone walls surrounding the Baku city of old lies the modern capital. Three shimmering skyscrapers called Flame Towers dominate its landscape. The futuristic construction is illuminated at night to resemble flames of fire or to morph into the Azerbaijan flag. South of the towers, just a couple of steps away from Icheri Sheher, stretches the spectacular six-kilometer-long Baku Boulevard, a promenade established in 1909 along the seafront. It features an amusement park, a yacht club and various cultural facilities such as the International Mugham Center of Azerbaijan and a delightful Azerbaijan Carpet Museum located in a building that resembles a rolled-up rug. Nearby Highland Park offers a breathtaking view of Baku Bay. The Boulevard is a favorite hangout for locals - joggers love running here in the morning and cyclers utilize the bicycle rental services to ride along the seafront later in the day. With its constant activity and stream of people, Baku Boulevard is also the best spot in the city for people-watching.
Several kilometers north of Baku Boulevard sits the well-known Heydar Aliyev Center. Created by world-famous architect Zaha Hadid, the complex is notable for its futuristic architecture that lacks any sharp angles. It hosts a conference hall, an art gallery and a museum at which you're always sure to find a novel art exhibition, folk concert, or other notable cultural event.
The rural areas surrounding Baku likewise offer plenty to see and experience. Some of the best attractions include active mud volcanoes and a petroglyph museum at the Gobustan National Park. You can also visit Yanar Dag, a burning mountainside fed by natural gas, and Ateshgah, a fire temple at which Hindu, Zoroastrian and Sikh pilgrims traveling along the Silk Road worshipped throughout the centuries.
Baku In Detail
Museums
Baku offers a long list of beautiful museums. We have already mentioned the 15th century Palace of the Shirvanshahs and the Azerbaijan State Carpet Museum, but you may also want to consider prominent facilities such as the National Museum of History, the National Art Museum and the Nizami Museum of Azerbaijani Literature, which all provide excellent resources into various aspects of Azerbaijan's history and culture.
Within the borders of Icheri Sheher, you will find the Baku Museum of Miniature Books displaying the three smallest books in the world. A couple kilometers further along Baku Boulevard is the Stone Chronicle Museum containing stone objects from different periods and areas of the country, from ancient cave art to modern stone sculptures.
If you have time to explore the city outskirts, be sure not to miss the Gala (Qala) State Historical Ethnographic Reserve, located 40 kilometers outside Baku. The complex houses over 2,000 archaeological and architectural monuments from all over the Absheron Peninsula. If you're unable to visit Gala, drop by the smaller Museum of Archaeology and Ethnography in Baku, located near Bukhara Caravanserai in Icheri Sheher.
Concert Halls
Travelers searching for more in-depth contact with art have plenty of options to choose from. One of the best places to start is the Akhundov Azerbaijan Academic Opera and Ballet Theater. Its origins date to 1911, but the original construction burnt down in 1985. The building had to be completely reconstructed and was reopened in 1988. Nowadays, the theater performs both foreign and locally produced operas and ballets. Performances are mostly held Friday through Sunday, and the theater is closed during summer.
Another option sure to satisfy the musically inclined is the Azerbaijan State Philharmonic Hall. The institution came to life in 1912, having been designed by the Armenian architect Gabriel Ter-Mikelov to resemble l'Opéra de Monte-Carlo. Seven musical groups, including a symphony orchestra, a choir and a folk song and dance ensemble, regularly perform in the hall.
If you are looking to experience pop culture, try Baku Crystal Hall. The venue was completed in 2012, just in time for the Eurovision Song Contest. Since then, the massive complex has become a stage for celebrities such as Jennifer Lopez, Shakira, and Rihanna. It also housed the 6th e-Sports World Championship and the FIDE's 42nd Chess Olympiad.
Baku Jazz Club Rotunda hosts the annual "Baku International Festival of Jazz" at the end of October. Local and foreign jazz bands come to Baku to play for a week and a half. The festival features two live concerts per day, jam sessions, master classes, documentary screenings and lectures.
Theaters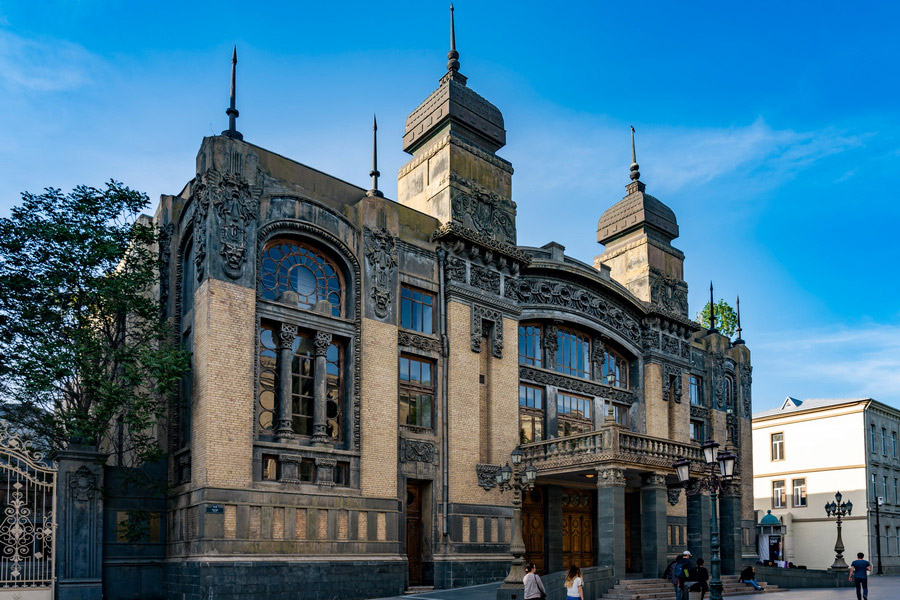 Thespians visiting Baku should head to the State Academic National Drama Theater. Founded in 1873, it is the oldest contemporary theater in the country and has welcomed some of Azerbaijan's best actors and directors onto its stage.
Another great choice is the State Russian Drama Theater, which offers performances in Russian. The theater's plays are mainly based on Russian works of art and literature, although every now and then Azerbaijani and European classics also appear.
Be sure not to miss the Baku Puppet Theater, located in the 1910 "Phenomenon" Cinema. Its first children's performance was held in 1932, and since 1975 plays for adult audiences have been offered, as well. The puppets used for the performances vary in size, ranging from a few centimeters in height to double the size of a human.
Fine Arts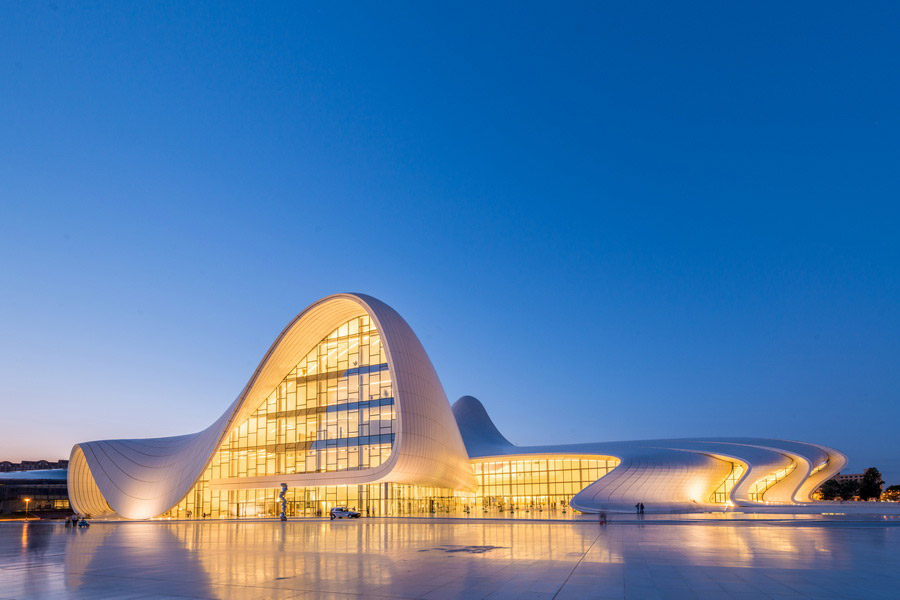 And what if you love sculptures and paintings? In that case, the already mentioned Heydar Aliyev Center is a must-see. The center's collection of modern art is rather spectacular, as are the temporary exhibits which change frequently.
You should also spend some time in the Baku Museum of Modern Art, which features over 800 masterpieces of notable Azerbaijani artists, plus works by Salvador Dalí, Pablo Picasso and Marc Chagall.
The exhibitions of the Union of Azerbaijan Artists are likewise of special significance. They feature both famous and lesser known talented local creators, some of whom have not yet had a chance to present their works in popular art galleries.
Cinemas
Like any other large city, Baku has many cinema complexes playing popular blockbusters. But the metropolis also has a couple of hidden cinematographic treasures you will not find anywhere else. One of them is the Baku Open Air Cinema, offering a unique opportunity to watch a film on the bank of the Caspian Sea. The movies, often regional classics and international arthouse films screened at festivals, are shown after sunset during the summer.
The Nizami Cinema Center is also worthy of attention as the oldest movie theater in Azerbaijan, opened in 1940. Nowadays a wide range of regional, national and international films can be enjoyed here, and contrary to the Baku Open Air Cinema, Nizami Center operates during the day.
Parks
Urban architects of modern Baku were careful to ensure that the city has plenty of well-tended public green spaces. One of the most interesting municipal gardens is the State Philharmonic Park. It was designed in the 1930s, and for many years belonged only to Baku elites. The park has a charming, classicist design with broad geometric alleys and a marble fountain in its center. Numerous parrots live in the trees, and you might be able to spot some bathing in the fountain. The garden is nicely illuminated in the evenings, which makes it a perfect spot for a romantic walk.
If you are looking for an outstanding panoramic shot of Baku, Highland (Upland) Park offers the best viewpoint in the city. You can get there either with the Baku Funicular or by way of the wide stairs. While there, be sure to take a stroll along the Alley of Martyrs, which houses the graves of the victims of Black January of 1990 and soldiers killed in the Karabakh War.
Nature lovers should not miss Central Botanical Garden, where you will find thousands of different trees and plants, including examples of the rarest of Caucasian flora. The gardens are open from Monday to Friday between 9:00 am and 5:00 pm.
Bazaars and Shopping Malls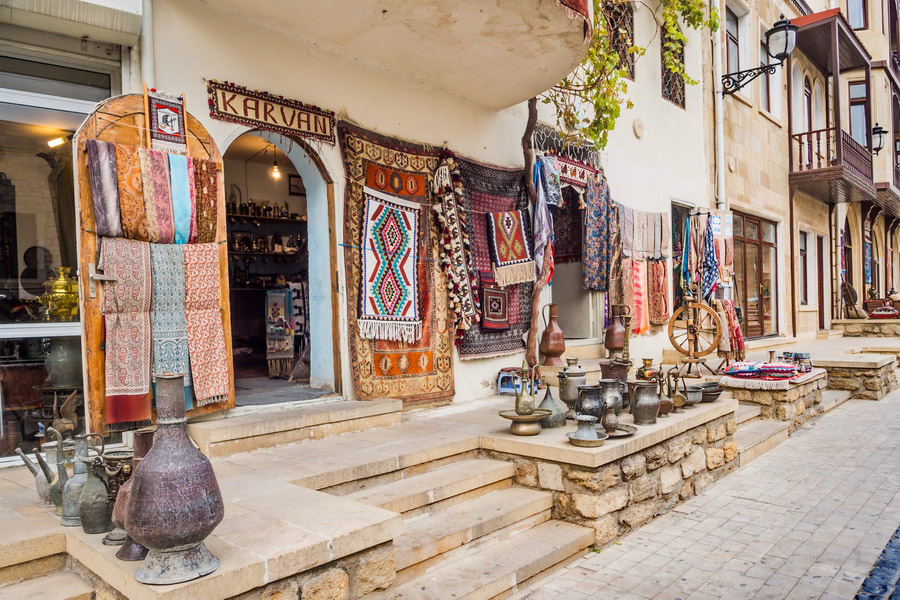 Baku provides a rich mixture of shopping experiences, from modern malls to small boutique shops to traditional bazaars. For those wondering if Baku is expensive, rest assured that there are both upscale and very affordable shopping options available.
Among the most popular shopping malls in the city are Park Bulvar, Ganjlik Mall and Port Baku Mall.
Located at Baku Boulevard, Park Bulvar is undoubtedly the most famous. The complex is Baku's first modern shopping center with a 3D cinema, a playground for children and many restaurants. Adidas, Benetton, Mango, Lacoste and Pierre Cardin all have shops here. You will also see a similar choice of brands and attractions in Ganjlik Mall, although on a larger scale, as the complex is said to be the biggest in Baku.
Port Baku Mall caters to customers searching for more high-end brands such as Burberry, Alexander McQueen, Giorgio Armani, or Givenchy. The mall stands side-by-side with several luxury auto salons, including Ferrari and Porsche.
If you wish to combine shopping with an experience of modern Azerbaijani culture, head to Nizami Street, named after the famous poet Nizami Ganjavi. This bustling pedestrian avenue, full of souvenir shops, outlets and supermarkets, is a hotspot for shopping addicts. Plus, the street has splendid architecture featuring a fusion of styles from Baroque to Neo-Gothic, in addition to many stylish restaurants and hotels. At night the area is brightly illuminated, making it the perfect neighborhood for evening exploration of the city.
Of course, you cannot leave Baku without experiencing its traditional market culture, and the best place to do this is at Icheri Sheher. Along the historical streets of Baku's Inner City, countless vendors sell Azerbaijani carpets, ceramics and jewelry, while other stalls offer typical souvenirs such as fridge magnets or key chains. Try bargaining for a better deal, as items are sometimes overpriced.
A couple of kilometers north of Icheri Sheher lie two famous local bazaars, Taza and Yasil.
Taza Bazaar (New Bazaar) is, contrary to its name, one of the oldest markets in Baku. It is a massive venue with six different entrances. You can buy a variety of fresh products here, including fruit, nuts, herbs, oriental spices, Beluga caviar and fish from the Caspian Sea. Yasil (Green Bazaar) offers a similar assortment and experience, although people particularly appreciate this market for its selection of dried fruits. At Yasil Bazaar you can also buy organic vegetables, meat, fish and spices. If you want to see the bazaars at their liveliest, come early in the morning. If you prefer to avoid the crowds, visit during the day or in the evening. The markets, particularly Yasil, are open until late, so you can explore them at a leisurely pace.
Bookstores
Baku Book Center is a lovely two-story bookshop offering a wide choice of literature in English, Turkish, Russian, and of course, Azerbaijani. Here you can find everything from the newest bestsellers to cookbooks and albums displaying local artwork. The store is located on Uzeir Hajibeyli Street just a few steps away from the State Russian Drama Theater.

Eating in Baku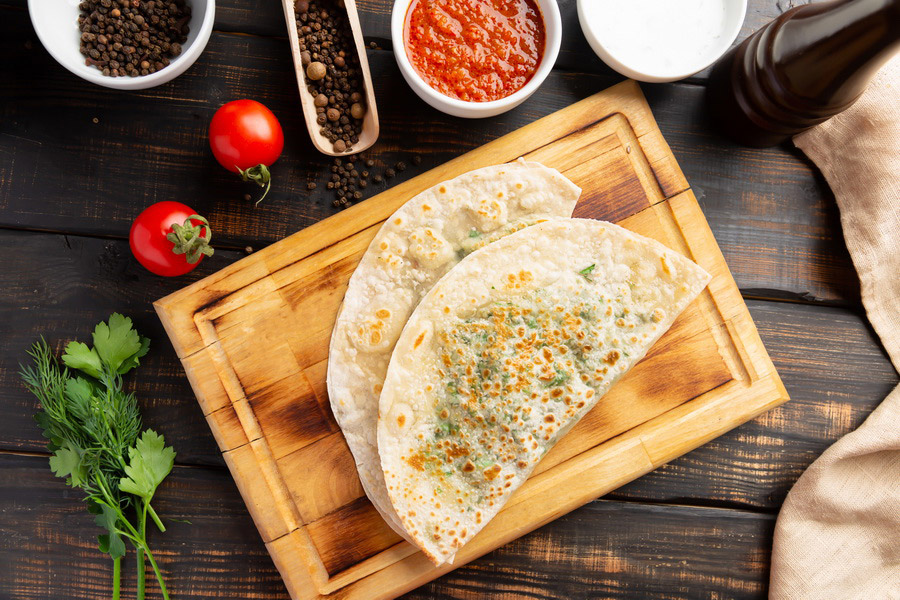 No Baku travel guide would be complete without mentioning local cuisine, for Azerbaijani food is as rich as the country's history and culture. Dishes are full of contrasts due to the country's geopolitical position at the intersection of Asia and Europe. Traditional recipes carry traces of Indian, Chinese, Turkish, Iranian, Middle Eastern and Mediterranean influences, and it is hard to imagine a better place to sample those culinary treasures than in Baku.
Baku's dishes are mostly meat-based and served with fruits and vegetables.
The first and foremost dish to try in Baku is plov, or pilaf. Azerbaijani plov uses basmati rice cooked with saffron, herbs, fried meat and vegetables and may also be served with fruit, eggs, and various sauces. Many restaurants have their own unique plov recipes, so you can have fun comparing a variety of flavors.
Another dish to try is bozbash, a meat stew in which large meatballs are boiled with potatoes, peas and mutton bones. Ingredients added to the soup differ depending on the region.
There is also dovga, a lovely soup made from plain yogurt and herbs. Some chefs add rice, spring onions, or chickpeas to the mix. Dovga is served warm in winter and cold in summer, and often during weddings between meat courses. Dovga is an excellent choice for vegetarians who wish to taste traditional local cuisine.
Speaking of which, Baku has a couple of vegetarian and vegan restaurants. You can also find meatless options in many upscale venues, as well as some cheaper places serving European and Indian cuisine. But, if you want to try Azerbaijani cuisine in a local cafe, you are likely to discover that your options are limited. In such cases, apart from dovga and salads, a good choice for you would be qutab, a large flatbread that can be stuffed with pumpkin, cheese, or spinach. Qutab can also include meat, so make sure you order a vegetarian version. The dish is served with a yogurt sauce.
After finishing the main course, end your meal with an order of baklava. This delicious Middle Eastern dessert is made of multiple layers of sweet pastry filled with nuts and soaked in syrup. A perfect accompaniment to baklava is local black tea. It holds a permanent spot in the country's culture and is undisputedly the national drink, always served in tulip-shaped glasses.
Of course, the dishes we mention in this article are just a tiny representation of what local cuisine has to offer.
How to Get Around
Now that we have mentioned dozens of highlights spread before travelers who are visiting Baku, let's talk about how to get to them.
Buses
Buses are an efficient and inexpensive way to explore Baku. The schedules can usually be found posted at the bus stops, and each vehicle has its destination posted on the front or right-hand side. Since Azerbaijan is using a modified version of the Latin alphabet, you should not have any problems with reading your destination.
Baku has two types of buses:
Red buses, which belong to a company called BakuBus, are newer and have air conditioning. Each ride costs 0.3 manat. You will need to buy and charge a smart card called BakiKart in order to ride this bus, as the credits are deducted from the card when you scan it after boarding the bus. You can buy BakiKart at the airport, metro stations, press kiosks, bus stops and other venues sporting the BakiKart logo.
An alternative to BakiKart is to use Baku Card, an official city card which includes public transport, entry fees for selected venues and various discount offers. There are 24-hour, 72-hour, and 7-day versions of the card. You can buy it at the airport, tourist information points, travel agencies and some hotels.
The second type of bus operating in Baku is painted in purple and owned by the state. These buses are older and in worse condition than BakuBus vehicles. You have to pay for each ride in cash by handing money to the driver, so it may come in handy if you do not have BakiKart yet.
Buses in Baku stop operating by midnight and resume work around 6:00 am. On average, expect to wait 5-15 minutes for each ride.
Unfortunately, Baku buses are not handicap accessible. If you have mobility issues, you may find it impossible to board them due to their steep steps.
Metro
The Baku metro has three lines consisting of twenty-five stations. The trains run every three to six minutes from 6:00 am to 1:00 am, with some stations shutting down a bit earlier. Fares are low, and as of May 2020 a one-way ride cost 0.2 manat , no matter the length of the journey. To use the subway, even for a single trip, you need either BakiKart or Baku Card (see the Buses section above for information on where to purchase these cards).
Taxi
Several taxi companies operate in Baku. You can order a ride via phone, online application, or just by flagging one down on the street. Expect travel fees for transport around the city to cost between four and ten manat, depending on the length of the journey. A taxi from the airport may charge anywhere from fifteen to twenty-five manat, again depending on your destination.
We recommend ordering a taxi in advance and double-checking the price to avoid the risk of being overcharged. To avoid an unnecessary headache, many prefer using applications such as Uber, Bolt or Yandex. You can also ask your hotel to arrange a taxi for you in advance.
Car Rental Services
Many local and foreign companies offer car rental services. The cost of each rental will vary depending on the company and the car's make and model. Payment may be made by cash or credit card.
To rent a vehicle you need your passport, a valid driver's license and insurance. In some cases, you may be asked for an international driver's license, so call your rental company in advance to confirm whether you will need it or not.
We do not recommend renting a vehicle if it is your first time driving abroad, as Azerbaijan is a country with heavy traffic. Azerbaijanis drive fast and aggressively; they change lanes without signaling and regularly cut other drivers off. Rent a vehicle only if you are sure you can handle the stress of Baku's roads.
Cycling
Baku is unfortunately not the most bicycle-friendly city in the world, but in recent years the municipal authorities have been working to develop more bike lanes and cycler-friendly areas.
If you want to try cycling in Baku, you can rent a bike from several local companies which are mostly located around Icheri Sheher. This location is conveniently situated near Baku Boulevard, allowing you to easily access what is undoubtedly the best biking path in the city.
The rental cost may differ depending on the company and the type of bike.
We hope you found the information provided in this Baku Travel Guide useful.