Baku Bathhouses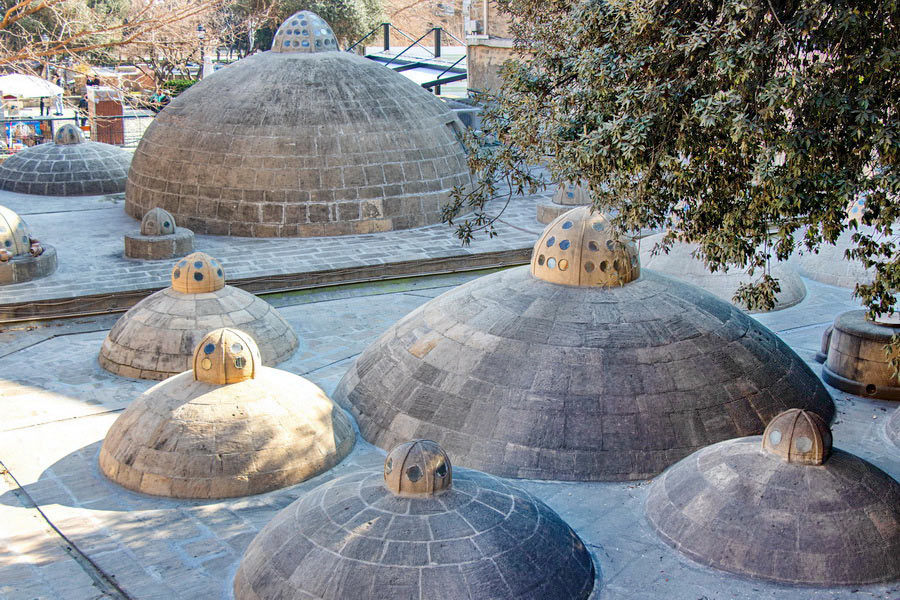 Baku bathhouses are one of the most popular luxuries in the capital of Azerbaijan. Guests to the capital have a unique opportunity to see the magnificent beauty of these baths, known locally as hammams, whose history stretches back centuries.
Hammams in Baku, Azerbaijan have always been far more than just a place for bathing, serving also as a social hub and meeting place with friends. In the past, mothers even went to the bathhouses to pick out a future wife for their son. For women, a trip to the bath was a form of escape from the monotonies of home. The young ladies sometimes brought expensive wrought-iron jugs, received as dowries, to use for bathing. The men, meanwhile, discussed important public issues and resolved business matters. After bathing, it was traditional to go to the teahouse to relax over a glass of hot tea. The bathhouse has thus come to symbolize relaxation and social opportunity for Azerbaijanis.
Many public bathhouses still operate in Baku today, and visitors are welcome to participate in this ancient Eastern method of relaxation and cleansing.
The city's most renowned bath is located on the territory of the Palace of the Shirvanshahs in the heart of Old City, and is easy to reach from any location in central Baku. Although the Shirvanshahs Palace bath is not currently operating, it remains an important historical and cultural site. The most famous functioning baths in Baku are Agha Mikayil Bath, Haji Gaib Bath and Kasum Bek Bath. Each hammam has separate bathing rooms, changing rooms, steam rooms and showers. In Azerbaijani baths, the ancient tradition of dividing visiting days between male and female clients has been preserved.
Among the active historical hammams, Agha Mikayil Bath, built into the walls of Icheri Sheher Fortress in the 18th century, is perhaps most widely known. Located in the neighborhood still referred to as the "Quarter of Bathers", the bathhouse has a spacious square-shaped interior divided into changing rooms and baths. Its architecture is marked by traditional Eastern domes and pointed arches, allowing visitors to immerse themselves in the atmosphere of a real Azerbaijani hammam.
When visiting the Baku baths, it is important to strictly observe traditional rituals which remain important to locals. Baku residents do not tolerate haste in the hammam, but relish every step of the process, from the moment of entering the bathhouse to the warm words of thanks towards the staff at the end. Visiting a Baku bathhouse is akin to meditation, for every word and action holds value, and the key components of a calm mood, purity of thought and kind words for others are highly valued.
Be sure to visit the Baku bathhouses while in Azerbaijan. Each hammam is an experience in itself, yet all will submerge you in the unforgettable world of Eastern tradition and thought.