Cafes and Restaurants in Baku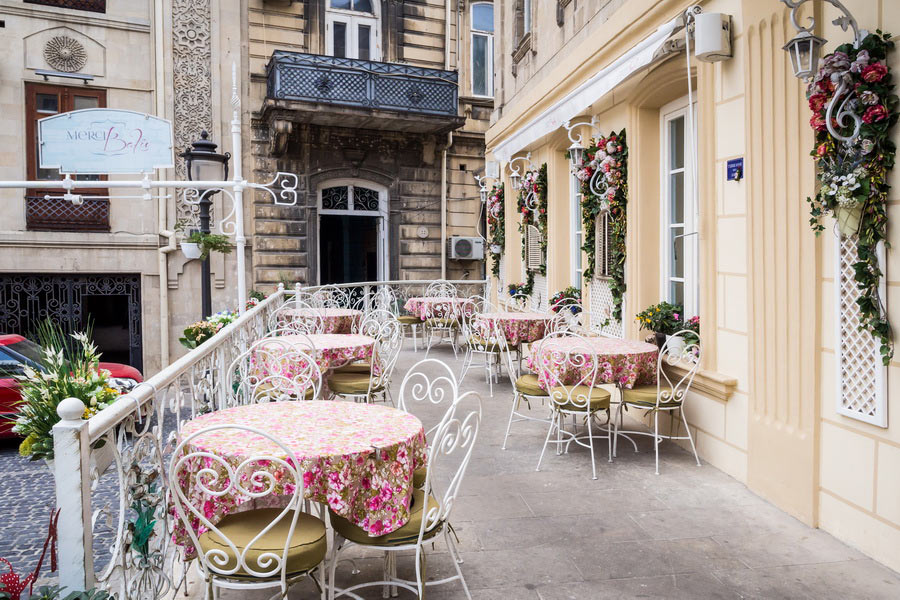 Azerbaijani cuisine is an edible attraction which rivals the nation's finest historical sites and beckons regular streams of tourists to cafes and restaurants in Baku. Indeed, you will find mouthwatering dishes and sweets seemingly everywhere you turn in the lively capital city.
In the preparation of traditional Azerbaijani dishes, a wide range of products are used. Mutton and sturgeon, prepared according to a number of diverse recipes, remain local favorites. Other popular ingredients include beef, poultry, fish, seasonal fruits and vegetables, fresh herbs and a variety of spices that infuse local dishes with a unique taste and aroma.
While traveling in Azerbaijan, be sure to try shah-pilaf, a hearty meat and rice dish specially cooked in a thin dough, and fisinjan-pilaf, a sweet variation of pilaf filled with chicken, pomegranate seeds, cinnamon and walnuts. Kutab, a thin dough stuffed with savory fillings such as lamb and onions, is flexible as a snack or a light Baku dinner. Sturgeon kebab and kufta bozbash soup, flavored with saffron and mint, are infused with fragrant tastes unique to Azerbaijan. Shish kebabs, piti soup and dishes stewed in a cauldron over hot coals are likewise popular local selections that can be found on select Baku menus.
Azerbaijani sweets often contain generous amounts of almonds, walnuts, saffron and other Eastern spices. Pastries such as shekerbura, badambura and kurabye are irresistible treats sold in many bakeries and cafes. Baklava (paklava) and halva bring special delight, particularly when enjoyed with a glass of fresh sherbet or black tea, Azerbaijan's national drink.
Many local cafes are decorated in a festive national style, while restaurants in Baku's old city and those located in historic caravanserais can plunge you into a fairytale atmosphere that collides with real-life history. In keeping with high standards of hospitality, eateries in Baku are typically staffed with attentive waiters who provide quality, timely service and helpful pointers on favorite local dishes and chef's specialties.
In addition to establishments serving classic Azerbaijani cuisine, Baku has a huge variety of restaurants with European menus, pan-Asian cuisine and an assortment of dishes hailing from Russia and other post-Soviet nations. With Baku restaurant menu prices ranging from low-cost to lavish, there are an abundance of options for everyone.
Cafes and restaurants in Baku truly offer something for every palate. When you visit Azerbaijan, be sure to come hungry!