Ganja, Azerbaijan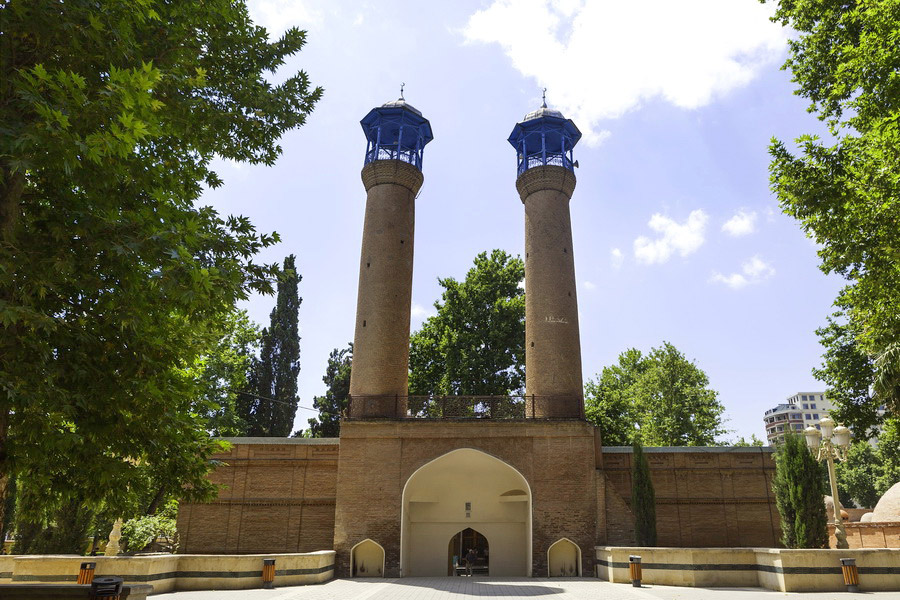 Ganja, Azerbaijan is the second most populous city in this Caucasian country and the largest in the western provinces. It sits 442 meters above sea level on a plain overgrown with lush green gardens and vineyards, and lays claim to a history as intricate as the entanglement of its life-giving vines.
Ganja, meaning 'Treasure', was likely founded around the 5th century, was long a prominent trade and handicraft center of Transcaucasia. By the 9th-10th centuries its inhabitants were active in silkworm farming, silk production and weaving. Pottery, jewelry and the manufacturing of high-quality glassware was well-developed, and Ganja had gained a reputation for its luscious pomegranates, peaches, grapes and nuts.
Ganja was successively conquered by the Persians, Arabs, Khazars and Tatars. In 1138 the city was destroyed by an earthquake and after facing subsequent invasions, its inhabitants moved a few kilometers south and built a new city, also called Ganja. In the 18th and early 19th centuries, Ganja khans wielded significant political clout until facing defeat and annexation at the hands of the Russian Army in 1804. Based on the terms of the Treaty of Gulistan in 1813, Ganja and the Ganja Khanate were officially secured for Russia, who turned it into a provincial city and renamed it Elizabethpol.
By 1913 there were more than 35,000 people living in the city, which had evolved into a significant economic and cultural center with 111 artisan enterprises, a glass factory, 10 educational institutions, a gymnasium and two printing houses. Although an old fortress and other historical relics had been bulldozed to create space for wide new boulevards and new city districts, Ganja managed to retain the appearance of a traditional Asian city.
In 1935 Ganja was renamed Kirovabad. After the Republic of Azerbaijan gained independence from the USSR in 1991, the city reverted to its historical name, which it has retained to this day.
Baku, Azerbaijan may be the country's political and oil capital, but Ganja is one of the oldest cultural centers in the land, as is evidenced by the surprising number of poets who have hailed from or resided in the town. It is most acclaimed for being the hometown of the great 12th-century Persian poet Nizami Ganjavi. Nizami is Azerbaijan's most beloved historical figure and one of the greatest poets in the entire Persian world.
Other notable poets that hailed from Ganja include the talented lyrical poetess Meskheti Ganjavi and Mirza Shafi Vazeh, a renowned 19th century ashug (Turkic folk singer and musician). Vazeh also discipled the famous author and politician Mirza Fatali Akhundov. Many of Mirza Shafi Vazeh's classical poems provided inspiration for Mikhail Lermontov, the Russian "Poet of the Caucasus" and were later put to music by composer Anton Rubinstein. The progressive, early 20th-century poets Abbas Sahhat and Muhammad Hadi both died while residing in the city, and their graves are still preserved in Old Ganja.
Nowadays Ganja, Azerbaijan is a modern, beautiful city distinguished by well-designed city planning and modern architecture, including distinct elements of Azerbaijani construction such as white stone, colored tufa and glass. A must-see for anyone wishing to immerse themselves in the culture, the distance from Ganja, Azerbaijan to Baku is just over 350 kilometers and may be traveled by bus, marshrutka, taxi, plane or train.
Much of Ganja, Azerbaijan tourism centers around select monuments that continue to attract visitors with their sophistication and cultural significance. Most notable among them is Juma Mosque, also known as Shah Abbas Mosque (1620), a red-brick structure in the center of town that once overlooked a vast market square that lay in front of its massive gates. The Nizami Ganjavi Mausoleum on the southwestern outskirts of the city is the burial site of the city's renowned poet. The mausoleum has long been a place of pilgrimage for Muslims and a venerated destination for poets.
Today in Ganja, Azerbaijan, hotels equipped with modern amenities combine with restaurants and local cafes, delicate wines and cognacs, night clubs and peaceful parks to bolster tourism in the region and attract guests to the Ganja of the 21st century.
Twin Cities of Ganja:
Derbent (Russian Federation)
Kars (Turkey)
Izmir (Turkey)
Moscow (Russian Federation)
Newark, New Jersey (USA)
Rustavi (Georgia)