Juma Mosque, Baku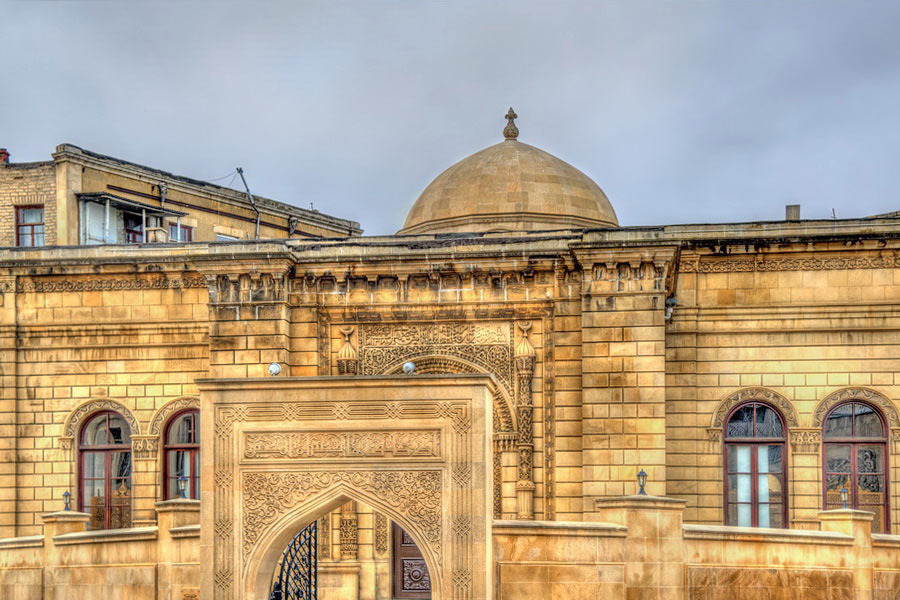 Juma Mosque in Baku, located in the city's historical center known as Icheri Sheher, is an iconic attraction and one of the main mosques in Azerbaijan's capital.
Juma Mosque (Friday Mosque) is heir to a long history, for according to extant historical information, the mosque was built on the site of a temple erected in the pre-Islamic period by the fire-worshipping Zoroastrians. In the early 15th century, a local ruler ordered the ruins of the former pagan temple be converted into a beautiful mosque. In the ensuing centuries, Juma Mosque was repeatedly destroyed, only to be revived from the ruins once again. The most ancient component of the mosque today is its minaret, the construction of which historians date to the first half of the 15th century.
Currently, Juma Mosque is a Shiite mosque where services are regularly held. Every Friday afternoon, members of the local Shiite community gather for collective prayer called namaz. When not holding services, the mosque is open to the public.
The small Juma Mosque is noted for its main building, an asymmetrical hexagon with clipped western and southern corners. Its defining architectural feature, however, is the central conical dome propped upon four columns. The mosque's exterior is richly decorated with patterns carved into stone and wood, the entrance marked by a high door with carved decorative elements and the arches of the mosque decorated with inserts bearing quotations from the Koran in the Arabic script. Inside, Juma Mosque is divided into two sections for men and women. Men pray in the main room which contains the mihrab, a niche to indicate the direction of Mecca, while women say their prayers in a separate side room.
You can reach the old city of Icheri Sheher by foot from any central point of the capital. Along with other notable mosques in the city such as Heydar Mosque, Bibi-Heybat Mosque and Muhammad Mosque, the latter of which is also in the Old City, Juma Mosque in Baku is a timeworn relic of beauty and history.