Gobustan Petroglyphs, vicinity of Baku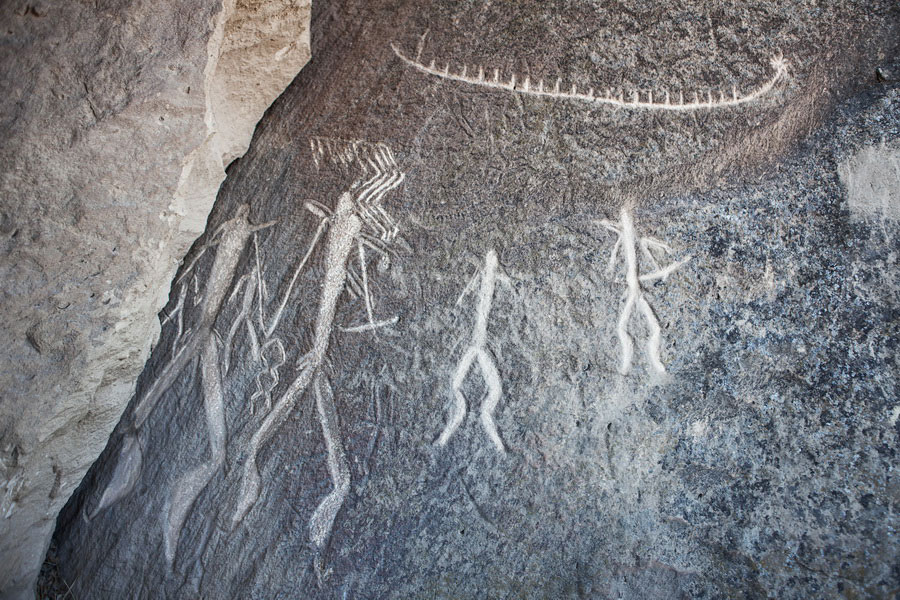 Gobustan Petroglyphs in Azerbaijan, a sprawling open-air museum of ancient rock drawings, is considered one of the most important archaeological sites in the country.
Also known as Gobustan Rock Art Cultural Landscape, the petroglyphs are a collection of over 6,000 rock paintings, some of which are dated from 4-6 thousand years old. The paintings, most of which are found in caves or on open-air stones and rocks, reflect the life and culture of the tribes that once inhabited the region from the Mesolithic era to the Middle Ages. Linear and schematic images depict scenes of farming, hunting, harvesting and ritual dancing, plus images of boats, people, animals and various signs and symbols.
Active analyzation of the petroglyphs began in 1939, although their meaning and significance had been discussed in scientific circles much earlier. Reports on ancient Gobustan in Azerbaijan have been found in archives of the Saint Petersburg Academy dating from the 1840s. Gobustan Petroglyphs have greatly expanded our understanding of the life of primitive peoples, and today they are included in the UNESCO World Heritage List.
The name "gobustan" translates as "land of ravines", and indeed, the territory of Gobustan Petroglyphs Museum covers more than 3000 hectares of hilly and low-mountainous terrain. The museum is located 60 kilometers from Baku in Gobustan State Reserve, which borders the Caspian Sea and the Absheron Peninsula. In addition to the petroglyphs, the park boasts of Gobustan Mud Volcanoes, natural springs fed by groundwater and a musical stone known as Gaval Dash.
Each year, Gobustan Petroglyphs in Azerbaijan attracts thousands of tourists with its ancient rock paintings. A visit to this unforgettable outdoor museum allows you to relax in nature as you trace the path of humanity over the course of millennia.