Attractions in Baku, Azerbaijan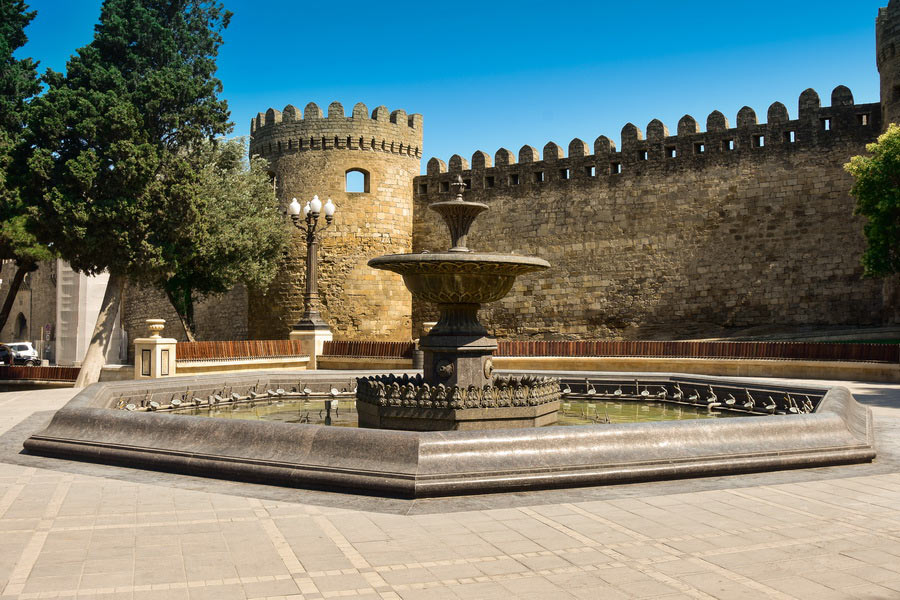 The varied attractions in Baku, Azerbaijan, a bright and beautiful metropolis where ancient monuments coexist with glittering skyscrapers, are among the nation's most alluring destinations and a great way to acquaint yourself with local culture and history.
The capital of Azerbaijan, a hospitable Caucasian country on the Caspian sea coast, Baku never fails to surprise and fascinate its visitors. While Baku is famous for its myriad of historical sites, the surrounding area is also rich in attractions – unusual mud volcanoes, ever-burning natural flames of Yanardag Mountain and primitive petroglyphs in Gobustan National Park all beckon travelers to their mysteries.
Many of the country's key sites are concentrated in the Baku region, and if you wish to absorb it all at a relaxed pace, we recommend spending at least 3 days in Baku and a full week in the area. Consider these popular attractions of Baku, Azerbaijan as you plan your tour itinerary:
Icheri Sheher is the oldest residential quarter in the city where construction of the future capital first began. The city's original fortifications, caravanserais, baths, mosques, towers and palaces all sprang up in Icheri Sheher, which is now inscribed on the UNESCO World Heritage List. Icheri Sheher encapsulates many of the best sites of Baku and is also referred to as "Old City", "Inner City", "Baku Acropolis" or simply "the heart of the capital".
Murad's Gate is a massive structure on the eastern side of Icheri Sheher. It was built in the 16th century on the orders of Murad III, the Turkish Sultan who captured Baku.
Maiden Tower, located in the heart of Icheri Sheher, is one of the symbols of Baku. While there are various legends associated with its appearance and purpose, the truth is that no one really knows exactly when and why this amazing and unusual turret was originally constructed. When visiting, be sure to climb to the top of this mysterious masterpiece for a sweeping view of beautiful Baku.
Palace of the Shirvanshahs is the magnificent creation of medieval architects which has been nicknamed the pearl of Azerbaijani culture. It has stood on the slopes of Baku in a gradual descent to the Caspian Sea for more than five centuries. The alternating symmetrical domes and arched vaults of Palace of the Shirvanshahs is nothing short of a masterpiece of manmade beauty.
Juma Mosque is one of the main mosques in the city and a landmark of the historical center of Icheri Sheher. This valuable architectural monument was first built on the site of a temple erected by fire-worshipping Zoroastrians in the pre-Islamic period.
Multani Caravanserai is a storehouse of antiquity and a well-preserved example of medieval architecture. Built in the 14th century along a Silk Road caravan route, it welcomed tired travelers from East and West to rest, water their camels and get a good night's sleep before resuming their journey. The prevalence of sojourners from the city of Multani in present-day Pakistan likely led to its current name.
Synyk-Kala Mosque is the oldest mosque in Azerbaijan and one of the oldest monuments of Baku which, based on an Arabic inscription on a stone tablet affixed to the mosque, is more than 1000 years old. The mosque got its name after the events of 1723, when the Baku coast was captured by the fleet of Peter I. As the artillery fired cannons at the surrounding buildings, one of the cannonballs hit the mosque and partially destroyed its minaret. Since then, the mosque has been called "Synyk-Kala", meaning "Broken Tower".
Baku Bathhouses are the perfect way to unwind while quite literally immersing yourself in local tradition. Guests can visit the magnificent and ornate baths, which date back to ancient times, for a quick appreciation of the architecture or for the full cleansing experience. Baku bathhouses have always embodied far more than soap and clean water - an unofficial social club, patrons would traditionally come to meet with friends, discuss current affairs, relax over a cup of fragrant tea and even strike business deals.
Bukhara Caravanserai, located in the fortress of Icheri Sheher, lies at the heart of Azerbaijan tourism. Caravanserais were traditionally created as trading points on the Great Silk Road while also serving as a gathering place for traveler-merchants. It is surmised that these lodging quarters primarily welcomed guests from Bukhara, leading to its present name. Its vaulted arches, carved balconies and pleasant courtyard now welcome guests from around the world.
Flame Towers, one of the most recognizable tourist attractions in Azerbaijan, is a set of three flame-shaped skyscrapers that have defined the Baku skyline since 2012. Designed to reflect the country's heritage of natural gas and Zoroastrian fire worship, each tower is adorned with thousands of LED lights that illuminate these modern national symbols with colorful lights displays each evening.
Primorsky Boulevard stretches for several kilometers along the Caspian Sea shoreline and is defined by shady alleyways, sports facilities, children's playgrounds, numerous cafes and Park Bulvar, a multi-level mall with multiple entertainment venues and endless options for shopping in Baku. Nagorniy Park, from the height of which you can enjoy a panoramic view of the city, can also be accessed from Primorsky Boulevard.
What to See in Baku's Vicinity
Gala Museum is a treasure trove of history and geography, an open-air gallery spread over 1.2 hectares of land. A variety of exhibits depict the life of Absheron Peninsula's past inhabitants, with many of the museum's buildings having been brought in from different corners of the peninsula. A highlight for many visitors are the authentic ancient dwellings made from animal skins.
Gobustan Mud Volcanoes are found in Gobustan National Park, which lies 60 kilometers from Baku. These unusual natural formations, of which Azerbaijan lays claim to more than 350, are formed by natural gases bubbling up through the earth in muddy spurts amidst a barren yet beautiful landscape.
Gobustan Petroglyphs is an open-air museum in Gobustan National Park which has provided the world with invaluable insights into the life of primitive peoples. Arguably Azerbaijan's most significant archaeological site, it holds thousands of diverse rock paintings estimated to be 4-6 thousand years old.
Ateshgah Fire Temple on Absheron Peninsula, one of the most unusual places in all of Azerbaijan, bears testament to the ancient Zoroastrian custom of fire worship which was first practiced in the region some 2000 years ago. In former times, underground natural gases would bubble above the surface of the earth and instantly ignite under the hot, scorching sun, thus prompting the temple's original construction.
Yanardag Mountain, also on Absheron Peninsula, is another location where endless flames have burst forth from the ground from an underground source of natural gas and methane for centuries. Yanardag has continued to produce this eternal fire as its flames illuminate the surrounding area with a warm, eerie light.
Towers of Absheron is a string of fortress walls and towers united into an integral defensive system. Originally designed to protect the city from a surprise attack, this complex of fortifications includes Maiden Tower, Sabayil Castle, Mardakan Fortress, Ramana Fortress and Shikh Fortress, also known as Ishyg Galasi.