Palace of the Shirvanshahs, Baku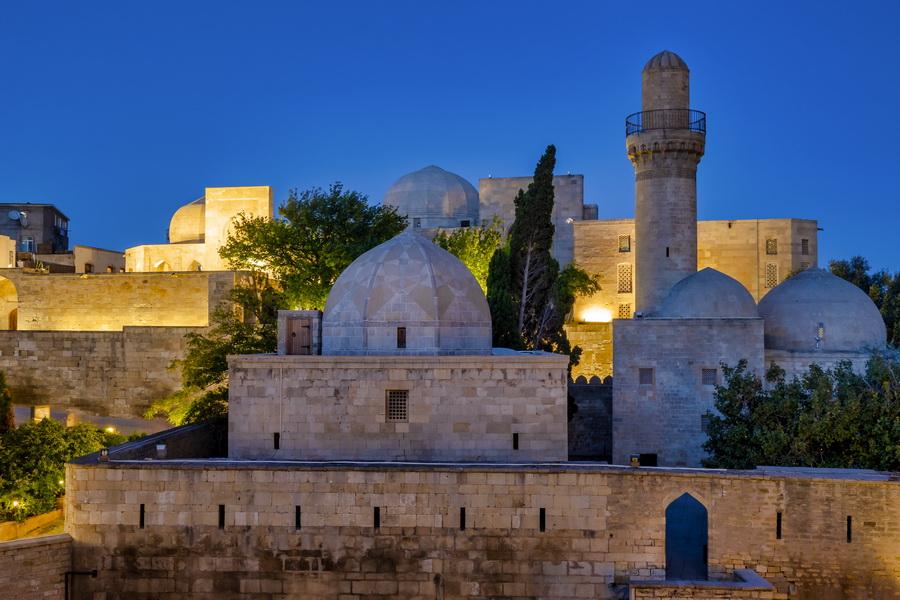 Palace of the Shirvanshahs in Baku is a magnificent creation of skilled medieval architects and a pearl of Azerbaijani culture which has adorned the slopes of Icheri Sheher (Old City) for more than five centuries.
In the Middle Ages, the Palace was the residence of the rulers of Shirvan, a large feudal state that extended beyond the borders of the present-day Caucasus. The palace ensemble includes the two-story palace building, a mosque, a tomb, a separate building in the center of the courtyard, a bathhouse, the mausoleum of Seyid Yahya Bakuvi, the 16th-century Eastern portal also known as Murad's Gate and a courtyard structure known as a divankhana. There are several theories regarding the purpose of the divankhana, which may have functioned as a courtroom, a reception area for important guests or a meeting place for the Council of State.
Construction of the Palace of the Shirvanshahs lasted for centuries as additional structures were added to the now crowded palace grounds, which gradually acquired its well-known appearance of today. According to some historians, construction of the complex stretched from approximately the 12th to the 16th centuries. Despite such a long and tedious beginning, the Palace has a unified architectural appearance, with each section harmoniously adding to the overall ambience of the ensemble. The combination of symmetrical domes and rows of arched vaults creates a panorama of amazing beauty that pleases the eye as the ensemble descends smoothly down the slopes to the Caspian Sea shore.
Three spiral staircases, an octagonal grand hall and 52 rooms of various sizes have survived to our day. Inside the Palace there is currently an exposition amassed from the discoveries of archaeologists, which include household items of its medieval inhabitants, ancient coins, jewelry, weapons and musical instruments. The highlight of these antiquities are the Shemakha carpets, masterpieces of skilled Azerbaijani weavers whose detailed, elaborate patterns, incredible symmetry and bright colors are absolutely striking.
Travelers to Azerbaijan will not want to miss a tour of the Palace of the Shirvanshahs in Baku Old City. Come admire its harmony, beauty, and architectural integrity as you touch the ancient walls, doors and columns that have survived for centuries. At night the Palace, along with Baku's Maiden Tower, takes on a whole new aura under the illumination of warm lamp and moonlight, highlighting the skills of the ancient architects who created this miracle.