Ak-Mosque, Khiva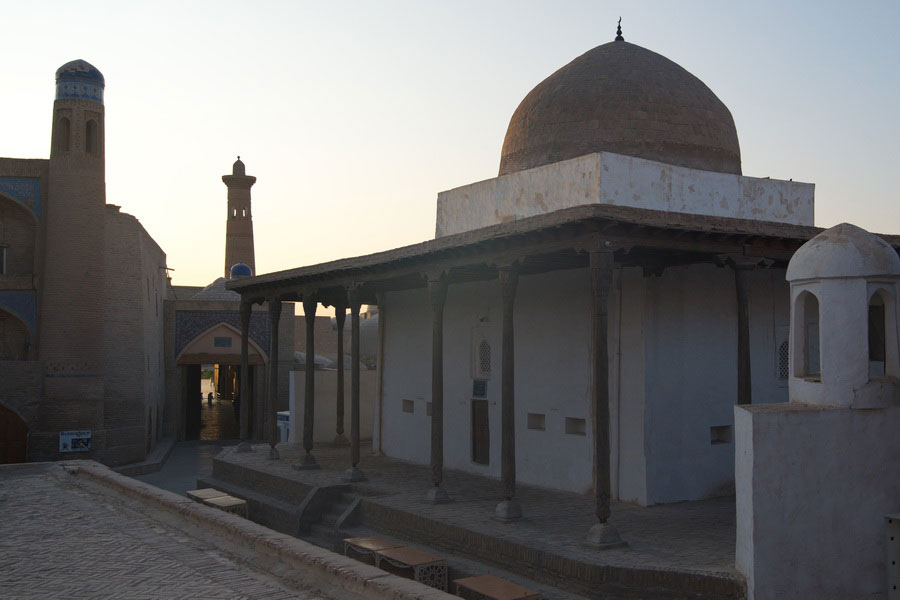 The Ak-Mosque ("White Mosque") was built at Anush-khan (1663-1687) in the middle of the 17th century. This is a small quarter mosque next to the gates of Palvan-darvaza. The winter building with prayer hall has a white conical dome.
The Mihrab is located in the middle of the southern wall. A column aivan borders three sides of the winter hall. Ganch lattices decorate the windows of the mosque, and Epigraphic and ornamental carving decorates the door.
The inscriptions reveal the date of construction, 1838-1842, and the names of the builders: Nur Muhammad, son of Adin Qalandar and Qalandar, son of Seyid Muhammad.
Bathhouse of Anush-khan
The bathhouses of Anush-khan are located beside Ak-Mosque. They are supposed to be built in honour of Anush-khan by his father, the famous historian Abulgazi-khan (1644-1664).
Interesting are their heating, water supply and sewer systems. They consist of a lobby, changing rooms and washing rooms like typical oriental bathhouses. The bathhouses have a basement with an underground heating system, which allows for the preservation of heat. Only their skylight domes are visible outwardly.