Ichan Kala Fortress, Khiva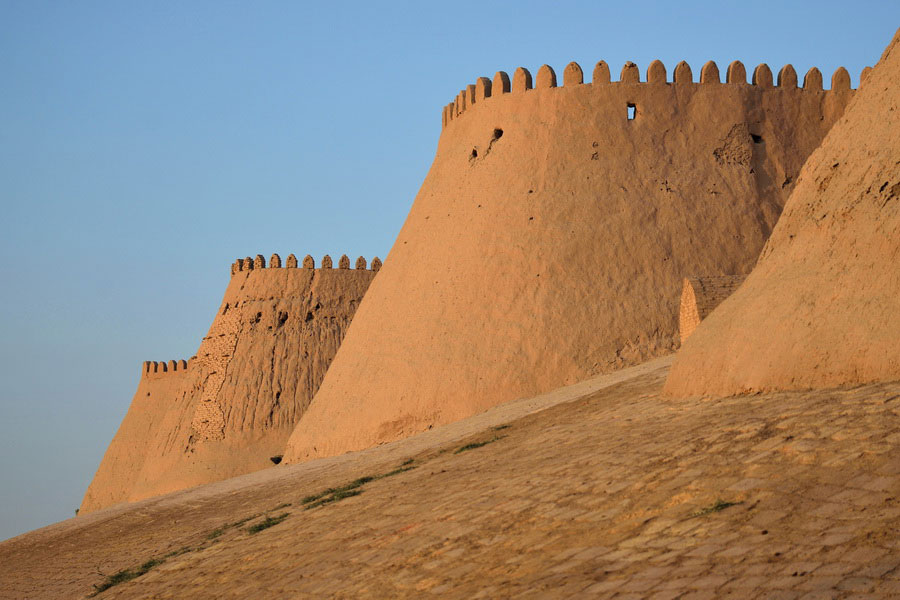 Ichan Kala Fortress is the #1 attraction of Khiva, Uzbekistan and a highlight for many tourists to the country. Constructed in 1598, this unique open-air museum has held the status of UNESCO World Heritage Site since 1990 and is regarded by many to be the embodiment of an eastern fairy tale.
Historians believe that originally there was a caravanserai on the site of Old Khiva which served as the impetus for the city's construction. Like most eastern cities of that time, historic Khiva was divided into three parts: a fortress (Khiva's Kunya Ark), a suburb (Dishan Kala) and the city center (Ichan Kala). The city is still surrounded by a massive wall which measures 10 meters high and 6 meters wide. It spans a length of 2250 meters, with defensive towers built every 30 meters along its entire perimeter.
Ichan Kala can be reached through any of its four city gates: Bagcha-Darvaza, Tash-Darvaza, Palvan-Darvaza and Ata-Darvaza. As you pass through the gates, you will find yourself in the midst of a unique complex which remains steeped in an atmosphere of antiquity, a storybook city with winding streets that dead-end at regal madrasas, palaces and minarets.
Nearly 60 monuments have been preserved in Khiva's Ichan Kala. Climb to the top of Islam-Khoja Minaret, wander Tash Khauli Palace of the Khiva khans and peek into the unique Juma Mosque whose 218 carved wooden columns are unmistakable. Most of the buildings of Ichan Kala Fortress reflect Khiva's characteristic style, which is noted for its majolica delineated with white-and-blue floral ornamentation. Surprisingly, Ichan Kala is still home to several hundred artisans' families whose two-story houses resemble one another with their decorated adobe and sun-dried mud brick walls.