Termez Archaeological Museum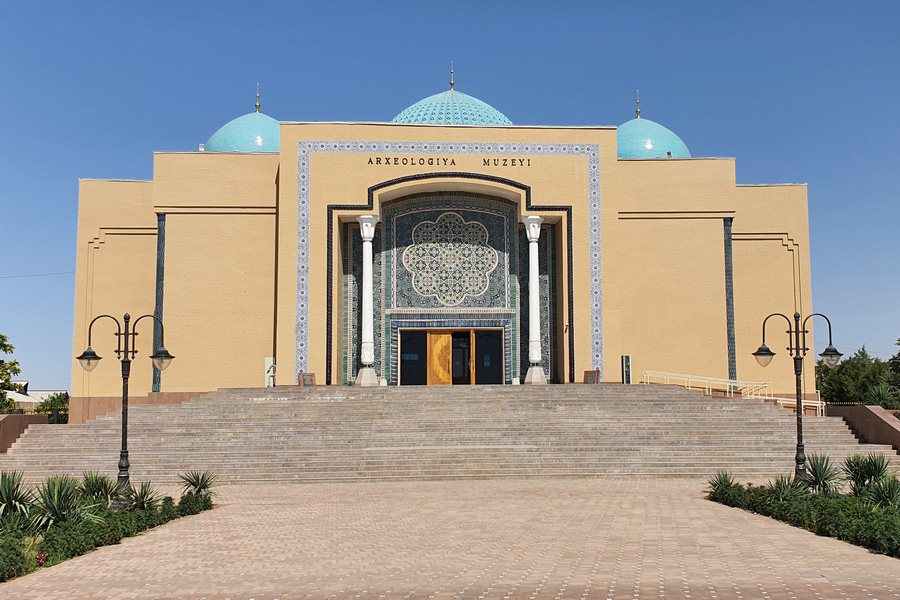 Termez Archaeological Museum was established on October 24, 2001. It opened to visitors on April 2, 2002, in honor of the 2500th anniversary of the founding of Termez. The museum is located on the main street At-Termezi, in Termez. More than 27,000 artifacts representing the material and spiritual culture of the region are stored in the museum vaults. Termez Archaeological Museum is considered to be the most unique and specialized museum in the Central Asian region, and consists of an entrance, 9 main halls, and a gallery. In the entrance hall of the museum are to be found unique statues of stone and plaster, stone basins and ceramic vessels (khums) from various historical epochs. A relief map of the area where you can find 20 archaeological monuments from the various historical periods of this region is also exhibited there. In the 9 plain halls are exhibits of artifacts found in the Surkhan-Darya area. Here you can see archeological finds ranging from the primitive stone instruments of primitive peoples to works of art executed by the hands of skillful masters. They are located in chronological order, from 100 thousand B.C. and prior to the beginning of the 20th century A.D.
There are more than 27,000 exhibits, consisting of collections of archaeology, numismatics, painting, sculpture and photos in the archives and exhibition halls of the museum. The scientific library and archive of the Archeological Museum was created on the basis of the library fund of the museum of local folklore, and contains in total more than 16,000 unique books, periodicals and archival documents. There are valuable hand-written and lithographic editions in Arabian, Persian and European languages.
The Termez Archaeological Museum consists of the following scientific sections:
1. Stone and Bronze Ages
2. Hellinism and Ancient Bactria
3. The Kushan period: culture of Northern Bactria
4. Northern Tokharistan in the Early Middle Ages
5. The Upper Middle Ages
6. The Epoch of the Khanids
7. Numismatics
8. Manuscripts.
The scientific employees of the museum conduct active work in the research of archaeological monuments on the territory of the Surkhandarya area. They study the scientific materials of historians and archeologists, publish scientific articles, issue booklets, and make translations of valuable manuscripts. Special attention is paid to the studying and preservation of exhibits of the museum.
The Museum is open every day from 9 a.m. to 6 p.m.
Info used from www.archaeomuseum.freenet.uz.