Madrassah Sayid Atalik, vicinity of Termez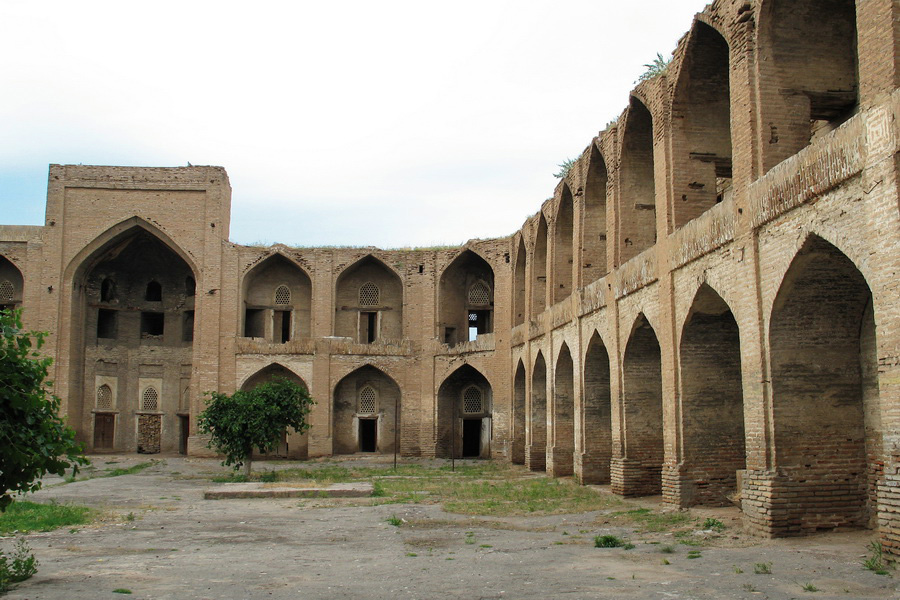 Madrasah was constructed in Denau, the Syrkhandarya province in the second half of the 16th century. Initially it was part of architectural ensemble "Kosh". At the beginning of the 20th century at the same axis was located one more madrasah of less dimensions. Madrasah of Seyid Atalik is a big rectangular building prolonged by the axis "north-south". In the perimeter of two stores there are hujris having loggia looking into the courtyard, and in the ground store there are loggias at courtyard and outer sides.
The portal niche was a semi-octahedron in its plan. Niches of loggias occupied the sidewalls of peshtak. The courtyard composition is based on double-aivan structure. Aivans are installed in a type of high portals. The arches of hujrs surround the courtyard. In the northern smooth perpends of the courtyard there are semi-octahedron niches having entrances in the premise of cross-shaped type. Prolonged passages run from the northern aivan to three rectangular living rooms being located on two stores. Nearby the entrance into the madrasah there are mion-seray, cross-shaped mosque and darskhona.
The floor in mion-seray is formed by small low cupolas on pendentives, and in mosque and darskhana - by system of crossing arches which support the cupola with light in zenith. The floors of hujrs are of "balkhi" type. The vaults of madrasah bear traces ghanch decoration: modeled cell-shaped stalactites - mukannas, flat stalactites - irqi in niches of main portal and relief vault in the niche of mion-seray. In some windows of hujrs are remained lattices-panjara, and on the portal - fragments of ghanch carving. Madrasah is built from bricks 25/26x4/4.5 cm. Madrasah of Seyid Atalik is mentioned in the geographic encyclopedia by Mahmud ibn-Vali, the 17th century.