Ishratkhana Mausoleum, Samarkand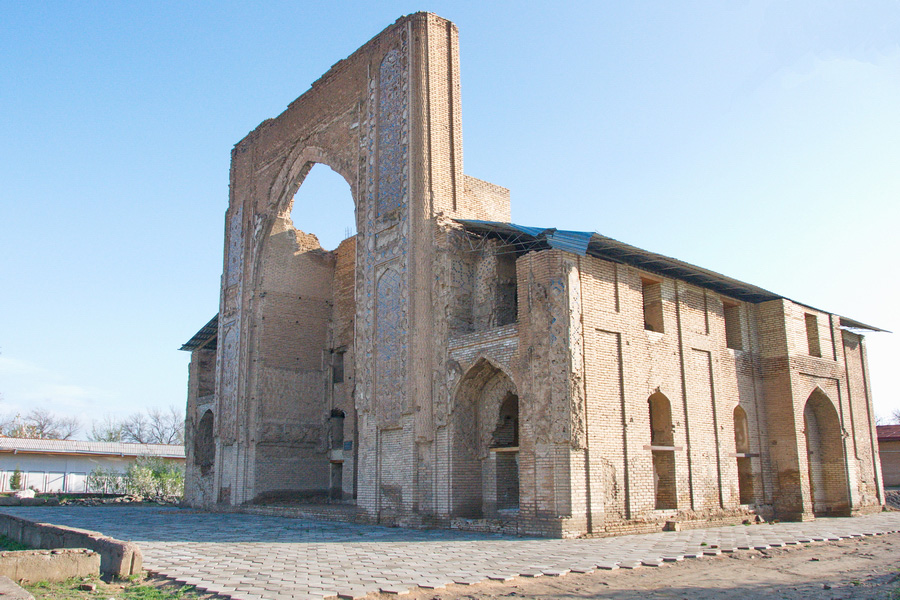 Ishratkhana Mausoleum in Samarkand, a dilapidated 15th-century Timurid structure with a tall, elegant portal, is counted among the ancient city's most mysterious monuments.
Ishratkhana (also known as Ishrat-hona) means "House of Joy" or "House of Entertainment". Located in Samarkand's southeast corner, Ishratkhana Mausoleum sits just across the road from a cemetery containing the mausoleum of Khoja Abdi Darunee, a medieval Islamic theologian and judge. Despite extensive research, scientists and historians remain uncertain as to whether this structure is truly a mausoleum or rather a palace, as no surviving evidence has been discovered to support or refute either theory.
Another supposition, fueled by the discovery of several female bones on the premises during excavations in 1940, suggests that the building served as burial grounds for women and children from the royal Timurid Dynasty. In the void of concrete information, the history of Ishratkhana has become closely associated with various myths and folk legends.
Regardless of its origins, most historians and scholars of Central Asia unanimously recognize the rich and unusual design of Ishratkhana as one of the finest examples of regional architecture. Although the building originally consisted of a high tower with a turquoise dome, a mosque and multiple smaller structures, only the remains of the central construction have survived to this day.
Thanks to years of plundering and a 1903 earthquake, little remains of this former slice of grandeur but its outer shell, which still manages to impress and mystify those who make the effort to pay the Ishratkhana Mausoleum in Samarkand a visit.