Gaukhar - the Leader of Samarkand aAmazons
Legends about Kyrk-Kyz - Forty girls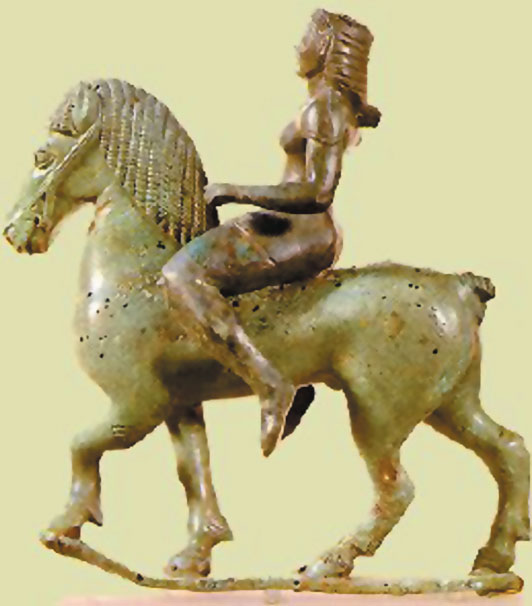 During old times when on steppe of open spaces ploughed nomad tribes, equally with men with the weapon in hands women were at war also. Girls valiantly skipped on horses, neatly shot from a bow, skillfully threw axes, bravely fought on sabres, safely entered Single combat with the opponent. They have been incorporated in groups from forty girls, and in the chapter "Kyrk Kyz" there was the most courageous, skilled and skillfully owning the weapon warrior. These groups could be united, and the whole army which represented powerful and dangerous force for the enemy.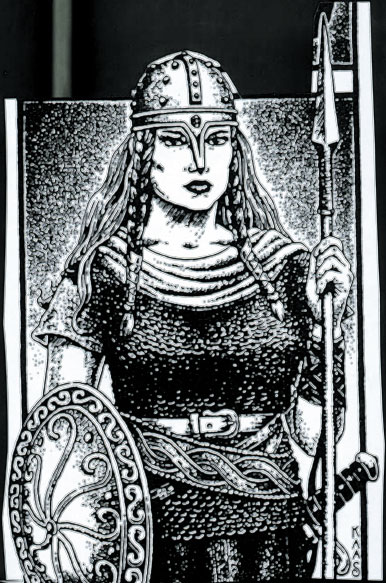 Girls regularly bore a guard duty, that nobody could be equal to them in investigation. Groups "Kyrk Kyz" perfectly conducted patrol in fortresses, to it testifies historic facts. Groups "Kyrk Kyz" were in Amir Timur's army. If any of warriors married, they left group, they were replaced with other girls. And here that one of legends about the Samarkand amazons says.
The group "Kyrk Kyz" was in the garrison fortress Kyrk Kyz-Tepe located within the limits of Samarkand region (near the modern airport). The enemy army has approached to the walls of a fortress siege. The Samarkand girls, under leadership of Gauhar have lost count of days and nights, reflecting attacks of the opponent. A lot of enemies dead in this war. Numbers and warrior have thinned. There was one Gauhar and some its girls, and help did not go, probably, prepared for defense of city. Burned a fortress, walls are torn down. Having collected all the remained quivers with arrows, Gauhar neatly amazed soldiers of the enemy. When fatally hurt Gauhar had terminated the arrows, she has crept out of a fortress.
The soldiers of the opponent who was ready to kill the defender of a fortress, have stood in catalepsy. Gauhar has slowly risen, from the head blood helmet has fallen, and magnificent plait scattered on armour-clad iron. Warrior has lifted a sabre and with an anguish has spoken: "I - Gauhar, my group of girls "Kyrk Kyz" was lost in fight, and I cause on a duel of your commander". The army has answered with the amazed roar. The leader has thrown a penetrating glance on the girl, and lips have whispered it: "to Me such soldiers".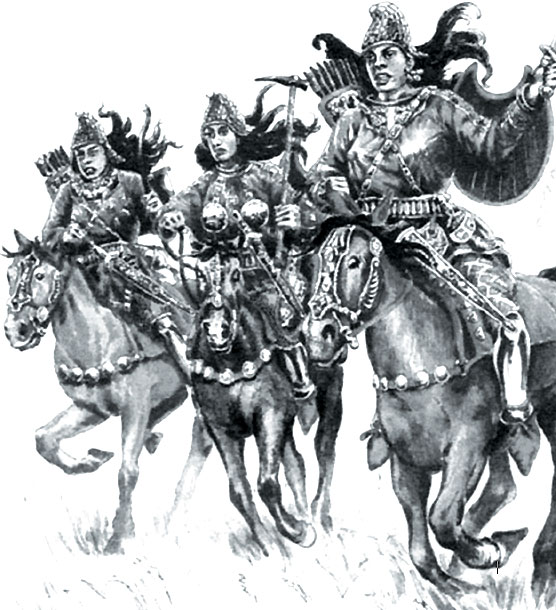 Having come off a horse, it has politely approached to Gauhar and has closely looked in eyes and has understood, that Samarkand to him to not take and he will find here the death. The commander bent a head and has kissed hand of Gauhar. Having turned back to the soldiers, it has loudly shouted: "I have seen a pearl of Samarkand and is satisfied of what I seen!" The rumble of approval was carried by above the army. Gauhar, having straightened, painfully long stood, while from the hooked horizon last enemy soldier has not disappeared. Having seen the horsemen, it has joyfully screamed: "At last!" - and having swayed, has fallen backwards. And on not kissed her lips flew scarlet blood, by closed eyes have flown face of parents close, narrow, steppe, gardens and the city of Samarkand, and it was high in blue snow-white clouds floated. " The city is rescued!". The happy inspiration has flashed.