Palace of Khudoyar Khan, Kokand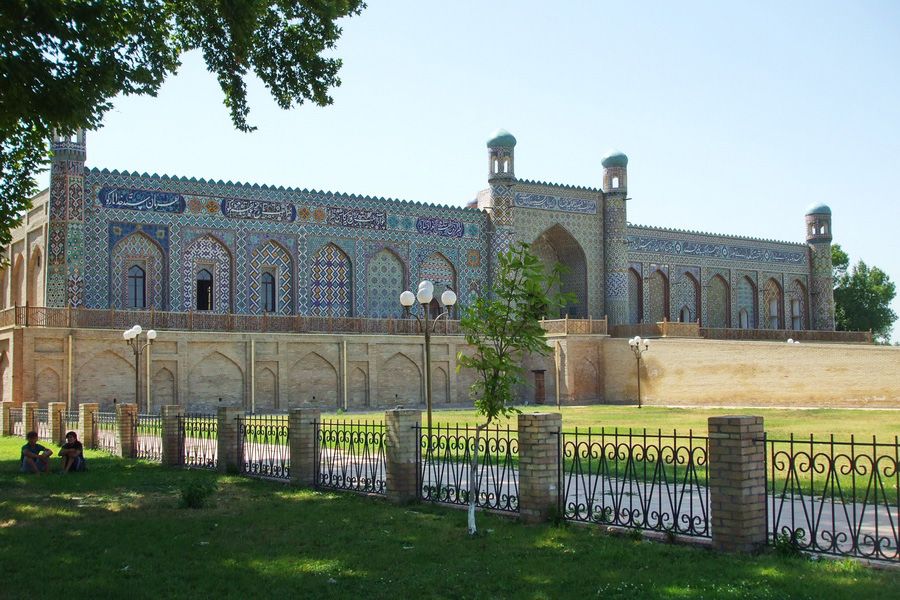 The Kokand Khanate was a powerful state with 29 rulers; it was the second religious center of Central Asia after Bukhara. Its most outstanding ruler was Khudoyar-Khan, who became the ruler of Kokand in 1845 at the age of 12, and lost the position and won it back again 4 times before 1876, the period of annexation of the Kokand Khanate by Russia.
Khudoyar had 4 wives and 40 concubines. In 1875 Khudoyar, with his wife Farang, reached Tashkent under the protection of a Russian detachment of 30 Cossacks. Later, the Khan escaped to Afghanistan with his family and his fortune. The Kokand Khanate was known as a powerful and independent state during its 170 year history.
The Khudoyar-Khan Palace was built from 1863 to 1870, throughout seven years. The first part of the palace was constructed by artisans from Bukhara and Khorezm, and the second for three years by artisans from Rishtan. These two parts are different, with the first palace consisting of seven courtyards and 119 rooms; after it was conquered by the Russians, the larger part suffered, and nowadays has only two courtyards and 19 rooms.
The central gate has an Arabic inscription, which describes the name of the great ruler, Muhhamad Khudoyar-Khan, and some texts from the Quran.
The palace area is 4 hectares; its foundation is 3m high, and from the eastern side there is a special road to the palace - the Ramp.
In the southern part of the palace there is a central room which used to be a Church, built on the orders of General Skobelev, but was restored during the reconstruction; there are many Arabic inscriptions in the palace, which decorate the walls.
This material has been kindly provided by Ms. Elena Azarenko