Minaret of Palvan-Kari. Minaret, madrassah and mosque of Seyid-biy, Khiva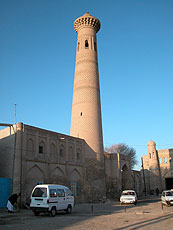 At the time of Allakuli-Khan, the rich merchant Seyid Sheliker-biy built a complex of religious structures outside Ichan Kala, beside the gates of Palvan-darvaza. This consists of a nine-dome mosque, two-storied madrassah and minaret. An open aivan with three carved wooden columns was built from the end of the 18th - beginning of the 19th centuries. It adjoins the major building of mosgue on the northern side.
A small madrassah was built near the northeastern wall of the mosgue. The height of its minaret is more than 30 meters. Hanging eaves and arch lanterns crown the minaret, located in the eastern part of the mosque's courtyard.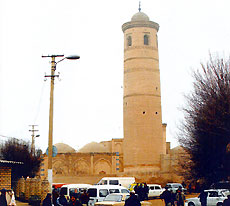 Minaret of Palvan-Kari
The minaret of Palvan-Kari is located in the eastern part of Dishan-Qala, in a street running from the Palvan-darvaza gates by the complex of Seyid-biy. This is a rare type of straight cylindrical minaret, differing from traditional Khorezm minarets, whose diameter normally diminishes with height.
The minaret of Palvan-Kari dates back to the end of the 19th - early 20th centuries. Its trunk is decorated with belts of figured brickwork, with ornamental inserts of green glazed "bows".