Matniyaz Divan-Begi Madrasah, Khiva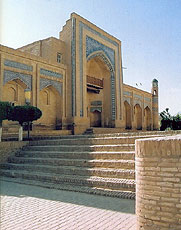 Matniyaz Divan-Begi Madrasah in Khiva was built in 1871 in the center of Itchan Kala near Muhammad Amin Khan Madrasah.
Construction was carried out by Muhammad Niyaz, the Minister of Finance of the Khivan ruler Muhammad Rahim Khan II. A covered bazaar built next to the madrasah was also constructed under his leadership.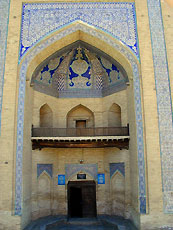 The construction of Matniyaz Divan-Begi Madrasah harmoniously combined traditional architecture of the region with the latest 19th-century trends. The school is a one-story building consisting of an auditorium (darskhana), winter mosque and 21 small rooms (hujras). Above the entrance doors, which are chiseled with magnificent wood carvings, is a marble slab engraved with an Arabic inscription.
The madrasah's southern and eastern walls are unadorned, while on the north is a shallow portico. The front, wester-facing facade is decorated with traditional, predominantly blue ornamentation and defined by a high entryway embellished with traditional azure hues, floral majolica décor and a five-sided niche in the center. In each corner of the building is a small tower topped with a green-brick dome and supported by a colorful symmetric base of blue, green and white brick.
Since 1979, a restaurant has operated in Khiva's Matniyaz Divan-Begi Madrasah.