Kutlug Murad-Inak and Abdullah-Khan Madrasahs, Khiva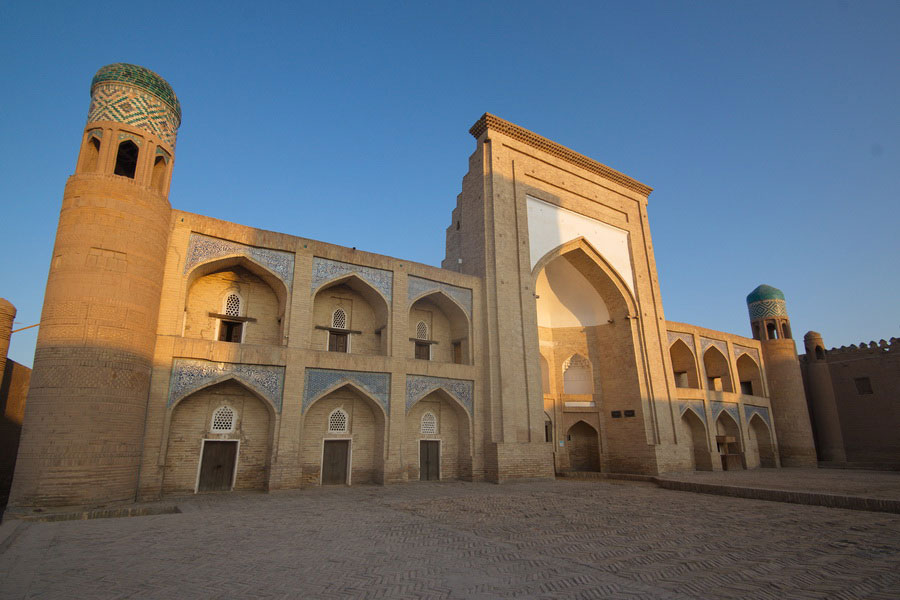 Kutlug Murad-Inak and Abdullah-Khan Madrasahs in Khiva are a pair of religious schools in Itchan Kala, Khiva's illustrious open-air museum built gradually during the 17th-19th centuries.
The dates of construction of Kutlug Murad-Inak Madrasah, 1804-1812, are chiseled on its carved wooden doors, the madrasah's main attraction and enduring proof of the advanced skill of Khiva's woodcarvers.
The school was built on a hill on the western side of the city's trade square and is believed to be the first two-story madrasah in Khiva. Its architecture varies greatly from Khiva's 17th-18th century madrasahs, which more closely resemble walled fortresses. In contrast, Kutlug Murad-Inak Madrasah has a two-tiered, three-span arcade and is flanked by covered outer galleries. It is further decorated with stamped, unglazed relief terracotta that alternate with paired stone and brick masonry accentuated with bows. The upper half of its lamps are decorated with a brick mosaic pattern of emerald, azure, and white, while the majolica tympanums follow a traditional color scheme of cobalt, white and pale blue.
Directly beneath the dome in the madrasah's courtyard is a well (khuduk khana), which provided an inexhaustible source of water for Khiva's population in the 19th century.
The madrasah was built on the initiative of Kutlug Murad-Inak, the uncle of Khivan ruler Alla-Kuli Khan who, in accordance with his personal wish, was also buried here. Legend claims that Kutlug Murad-Inak died in Dishan-Kala, Khiva's outer city. This created a serious obstacle to his desire to be buried in his madrasah, for carrying a body through the city gates was considered a bad omen of coming misfortune. A creative compromise was reached when the wall of Itchan Kala was dismantled near the eastern gate and the body passed through the opening. Kutlug Murad-Inak was thus buried in the lobby of his madrasah.
To the south of Kutlug Murad-Inak Madrasah is Abdulla-Khan Madrasah. It was built in 1855 by Kutlug Murad-Inak's wife as a memorial to their son, who died tragically at the age of seventeen in a clash with the Turkmen Yomut tribe. The architecture and decor of the madrasah are extremely basic and austere. The building, a rectangular structure with a tower at each corner, formerly included a mosque, small rooms (hujras) and a well. Today, an exhibition of the Museum of Nature of Khorezm is housed in the building.
Kutlug Murad-Inak and Abdullah-Khan Madrasahs in Khiva are a valuable component of the Itchan Kala ensemble and a worthy destination for travelers in the region.