Madrassah of Khurdjum and Allakuli-khan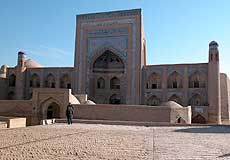 The madrassah of Khodjamberdy-biy, near the eastern gates of Ichan-Qala, dates back to 1688. It was reconstructed during the construction of Allakuli-khan Madrassah, the first seeming to form a foundation for the Madrassah of Allakuli-khan because of the significant difference of floor levels. A ramp bisected Khodjamberdy-biy Madrassah. Its new name, Madrassah of Khurdjum ("Saddlebag"), follows from that.
A segment of city wall was dismantled as the construction site of Allakuli-khan Madrassah was too close. The southern wing of the new madrassah came on shops of northern Palvan-Darvaza's line, the northern adjoined Allakuli-khan structure.
Madrassah of Kutlug-Murad-inak and Abdullah-khan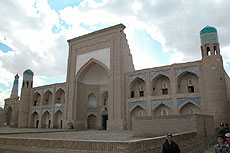 The madrassah of Kutlug-Murad-inak is located opposite to the Madrassah of Allakuii-khan. Kutlug-Murad-inak was the uncle of Al-lakuli-khan. He was buried in this madrassah, and as he died outside the city and custom prohibited carrying the dead through Ichan-Qala's gates or wall, the city wall was broken to bury him. The madrassah of Kutlug-Murad-inak was the first two-storied madrassah in Khiva. Only this monument in Khiva is decorated with a relief of unglazed terracotta.
The madrassah of Abdullah-khan is located to the south of Kutlug-Murad-inak Madrassah. It was built by the wife of Kutlug-Murad-inak in honour of their 17-years old son Abdullah, killed in Turkmenia in 1855.
Madrassah of Matniyaz-Divan-beghi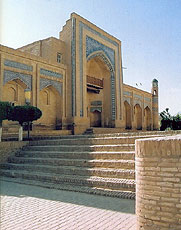 The one-storied Madrassah of Matniyaz-Divan-beghi is located to the east of Muhammad Amin-khan Madrassah. The minister of Muhammad-Amin-khan, Muhammad-Niyaz Divan-beghi, constructed it in 1871.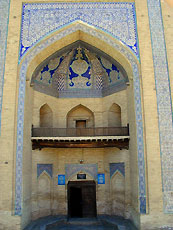 The main facade is turned towards the Madrassah of Muhammad-Amin-khan. It is supplied with a high portal having a pentahedral niche, decorated with blue and white Khorezm majolica. Three arch-niches and corner towers, guldasta with small lanterns and domes, decorate its side wings. The southern and eastern facades are dead ends; the northern has an arcade. The cross axis imitates the planning of the Amir-Tura Madrassah: a southern mosque and northern false portal.