Amir Tura Madrasah, Khiva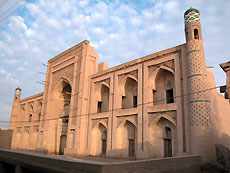 Amir Tura Madrasah in Khiva is located among residential buildings in the northern section of Ichan-Kala Fortress. Walking along the ancient, narrow streets, you cannot help but notice this simple structure, which recalls an era of enlightenment in the not-so-distant past.
Muhammad Rahim Khan served as ruler of Khiva from 1864-1910. A learned monarch, he promoted the cultural development and enlightenment of his subjects. More than 15 madrasahs and mosques were built in Khiva during his reign, including Amir Tura Madrasah, which was funded by the king's brother Amir Tura.
Built in 1870, the madrasah's main facade is denoted by a high portal with an octagonal niche and a two-story arcade of wings. This front wall is two-storied, while the rest of the school has only one level. In addition to the multiple rooms (hujras), its frontal section also contains lecture halls for classes and a winter mosque.
The external decor of the madrasah is very modest, with only the corner latticework turrets and their domes bearing any form of decoration. Openwork wooden lattices (panjara) have also been preserved in the windows of the hujras.
Amir Tura Madrasah in Khiva, despite its modest decor, remains a valuable historical monument and important link with the past, a testimony to our ancestor's inexhaustible desire for spiritual development and knowledge.