Madrassah of Amir Tura, Khiva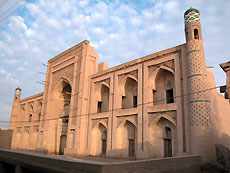 The madrassah is located in the northern part of Ichan Kala among private houses. It was constructed in 1870 by the brother of Muhammad Rahim-khan II (1863-1910) and was named after him. The main facade has a high portal with an octahedral niche and two-storied arcade of wings. Th high walls of other facades also create the illusion of a two-story plan. The external decor is very simple. Majolica is applied only on the corner angular turrets, guldasta, and their domes. The windows of the hudjras still retain their ganch lattices (pandjara).
Madrassah of Arab-khan and Muhammad-Amin-inak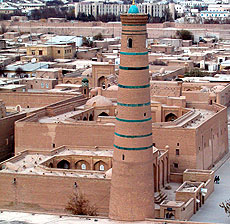 The two historical madrassah are located in the center of Ichan Kala, to the left of the road leading from the Ata-darvaza gates to Palvan-darvaza. The first is connected with Arab-Muhammad-khan (1602-1623) from the Chinggisids (Genghis Khan's lineage) and the second relates to Muhammad-Amin-inak (1763/70-1790), the founder of the Manghit dynasty.
The madrassah of Arab-khan was built in 1616 to commemorate the transfer of the Khorezm capital from Kunya-Urgench to Khiva. It was reconstructed in 1838, at Allakuli-kan.
The madrassah of Muhammad-Amin-inak dates from the second half of the 18th century. It contains a burial inside the pylon of the southern aivan. The legends say that it might be the tomb of either Muhammad-Amin-inak, or his little son.