Bagbanly Mosque, Khiva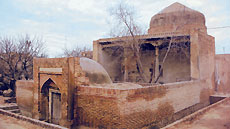 Bagbanly (Bokbonly) Mosque is a small quarter mosque from the early 19th century. It is located to the south of Islam-Khodja Minaret. We know its architect, Pahlavan Kuli, and the master who made the carved door - Ruz Muhammad. A sphero-conical dome crowns the square hall.
The mihrab is located in the southern niche. The aivan has a flat beam roof with two carved columns on marble bases. The columns are much more ancient than the mosque. Ornamental zones alternating with inscriptions decorate each column. Similar columns in Djuma-Mosque date from the 14th-15th centuries.
Complex of Sha-Qalandar-bobo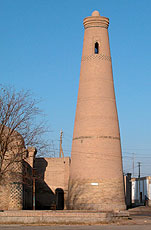 The complex of Sha-Qalandar-bobo consists of a one-storied madrassah and minaret. It was built at the end of the 19th century to the west of the Ata-darvaza gates on behalf of Biki-Djan-bika, the sister of Khiva Khan Muhamrriad-Rahim II.
The complex was set beside the tomb of highly esteemed sheikh Qalandar-bobo. There was a three-chambered mausoleum of the 16th century with two tombs. Its memorial dome building with portal has been preserved. A small madrassah has hudjras along the perimeter of the courtyard, corner dome halls of the mosque and classroom. A minaret of 18 meters in height and 6 meters in diameter at its base is located beside the main portal of the madrassah.
Historical monuments of Uzbekistan