Bogbonly Mosque, Khiva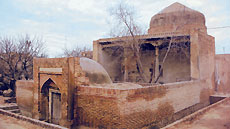 Bogbonly Mosque in Khiva was built in 1809 on the southwestern side of Itchan Kala as part of a project by architect Pakhlavan-Kuli.
The mosque is a rectangular building defined by a two-columned, vaulted courtyard enclosed with a beamed roof. Domed winter quarters and a square hall, crowned with a cupola supported by rounded sails, complete the layout. On the southern wall is a niche to indicate the direction of Mecca. Pakhlavan-Kuli's name and the date of construction are poetically inscribed on a stone plate affixed to the mosque.
The carved columns of the courtyard are of special artistic value - significantly older than the mosque, their trunks are decorated with ornamentation of fish and birds which alternate with inscriptions. The similarity of these columns with those of the 14th-15th century Juma Mosque is striking. This correlation, along with additional similar details, places the construction of Bogbonly Mosque in the 19th century, with patterns from older buildings likely borrowed and duplicated in the mosque's layout and ornamentation.
If legend is true, Bogbonly Mosque was funded by two brothers who served as local gardeners. On the carved outer door, the name of the woodworker - Ruz Muhammad, son of Adin Muhammad – has been engraved. Notably, at the Sheikh Mukhtar-Vali Mausoleum, located in the village of Astana in the nearby Yangiariq District, the door of a memorial hall is also attributed to Ruz Muhammad.
Currently, Bogbonly Mosque in Khiva houses art workshops and the workbenches of skilled woodcarvers. The opportunity to work in a historic building, surrounded by vivid examples of artistic carving, inspires these modern-day artisans to perpetuate the legacy of high-quality craftsmanship inherited from their ancestors.