Sudochie Lake, Karakalpakstan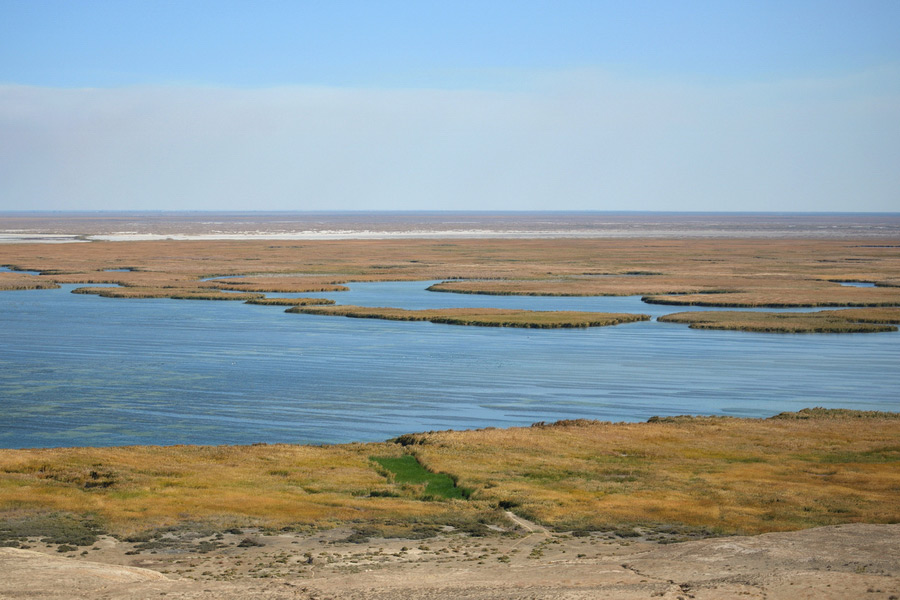 The shallow Sudochie Lake is known for its islands overgrown with reeds, high and colorful cliffs, flocks of wild birds and bizarrely-shaped rocks. The outlines of these beautiful landscapes change depending on the time of day: they appear to come to life under the sun's rays and are especially beautiful at sunrise and sunset. In the background is Ustyurt Plateau, one of the most defining features of Karakalpakstan.
Lake Sudochie was once the largest reservoir in the Amu Darya delta of Karakalpakstan, having been fed by a large river and connected to the Aral Sea by a channel. Yet after the Aral Sea largely dried up in the mid-late 20th century, the lake and sea became separated by some 150 kilometers, and Sudochie gradually split into several smaller bodies of water.
The area around Lake Sudochie was inhabited for centuries, and at Cape Urga visitors can still see the ruins of a citadel and towers believed to have been built by the Massagetae in the 4th-3rd centuries BC. More recently, the fishing village of Urga became one of the first Russian settlements in Khorezm when it was founded by fugitive Cossacks associated with the 18th-century insurrectionist Yemelyan Pugachev. Urga was inhabited until 1971, when the few remaining fishermen were forced to abandon the town due to a dearth of fish in the wake of the Aral Sea disaster. Although there are no settlements near Sudochie today - the closest cities being Kungrat, Chimbai and Nukus - until recently there was a fish processing plant, and even today fishing brigades still visit the area.
In summer, the waters of Sudochie Lake warm up to 25-27 degrees. The lake freezes in November-December and thaws again between late February and early April. In the waters of the lake are common carps, crucian carps, snakeheads, roach, silver carp, grass carp, bream and pike perch.
In 2008, Sudochie Lake was awarded the status of Important Bird and Biodiversity Area (IBA), as it is located on the flight path of birds from Siberia and the arctic tundra to the south and back. Around 230 species of birds nest here in total, including nearly twenty which are listed as endangered species. Among the most common are swans, common flamingos, herons, Dalmatian pelicans, little cormorants, little egrets, spoonbills, glossy ibis, mute swans, ferruginous ducks, golden eagles and great black-headed gulls.
In the Sudochie State Ornithological Sanctuary, created in 1991 on an area of 50 thousand hectares, some twenty-five species of mammals can be found. Among the rarest varieties are the long-spined hedgehog, the gazelle and the caracal. Fishing, licensed hunting and limited harvesting of reeds are permitted on the territory.
Joint efforts of international organizations and the Karakalpakstan authorities have made it possible to monitor Sudochie Lake and to develop projects aimed at sustaining this unique body of water, whose preservation or demise is sure to have further impact on the region's already fragile ecosystem.