Dzhanpyk-Kala, Karakalpakstan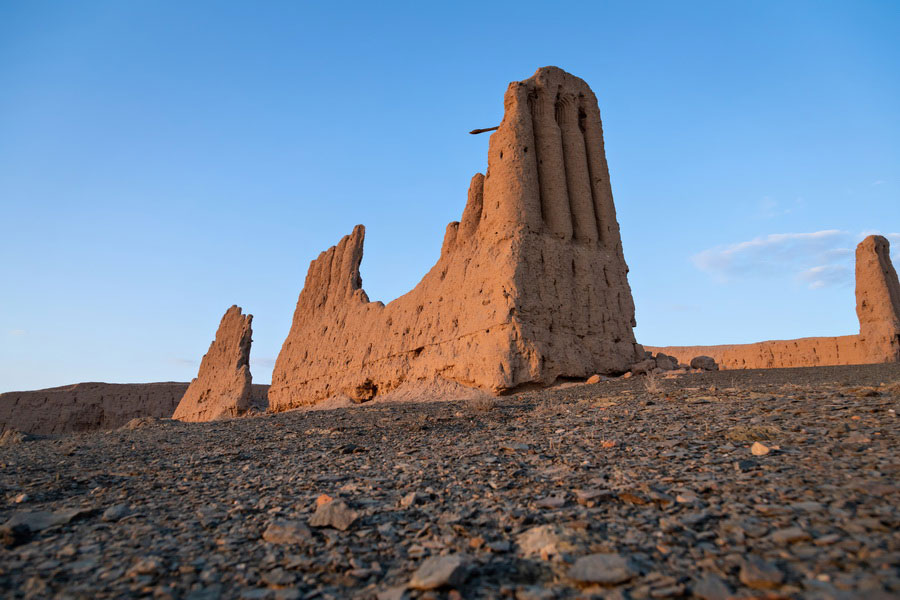 Dzhanpyk-Kala is of the most beautiful fortresses in Uzbekistan's Karakalpakstan Region. Located 50 kilometers from Nukus and 6 kilometers from the main road connecting Nukus and Urgench, the fortress offers unique views of Badai-Tugai Nature Reserve and the Amu Darya River.
Dzhanpyk-Kala was discovered in the 1940s by an archaeological expedition headed by renowned ethnographer Sergei Pavlovich Tolstoy. The ceramics, coins and other artifacts found at the site suggest that the settlement was founded in the 5th -4th centuries BC and was occupied until the 1st century AD. At that time, the Amu Darya River flowed nearby and the settlement served as a port along this vital trade route between East and West. Various goods which were shipped in from as far away as China, Russia and Europe have been found among the fortress ruins.
In the 1st century AD, the Amu Darya River changed its course, and in its wake a desert oasis was created which now forms the basis of Badai-Tugai Nature Reserve. With the river redirected, Dzhanpyk-Kala was abandoned, and it was not until the need arose to strengthen the borders of Ancient Khorezm during its heyday in the 9th-10th centuries that the fortress was again restored.
Dzhanpyk-Kala has a rather complex layout which was necessitated by the harshness of the area. The rectangular citadel was surrounded by clay walls, behind which was a gallery for archers which could be accessed by steps from the inner side of the wall. Today, five original towers of Dzhanpyk-Kala still stand about 70 meters apart from each other. One of the towers located along the east wall even has an intact interior.
The city was accessible through two entrances, one of them located on the south side and the second one on the north wall near the cemetery. On the northwest side of Dzhanpyk-Kala is a building decorated with stucco molding typical of medieval Khorezmian architecture. On the eastern side, fragments of decorated wall defined by closed semi-columns that are crowned with stepped arches can still be seen.
Dzhanpyk-Kala looks particularly stunning when approached from the southeast in the evening time. As the road suddenly emerges from the forest into the foothills, an extraordinary view of the fortress splays against the backdrop of a sunset framed by black-green hills to create an otherworldly impression.