Barsa-Kelmes, Karakalpakstan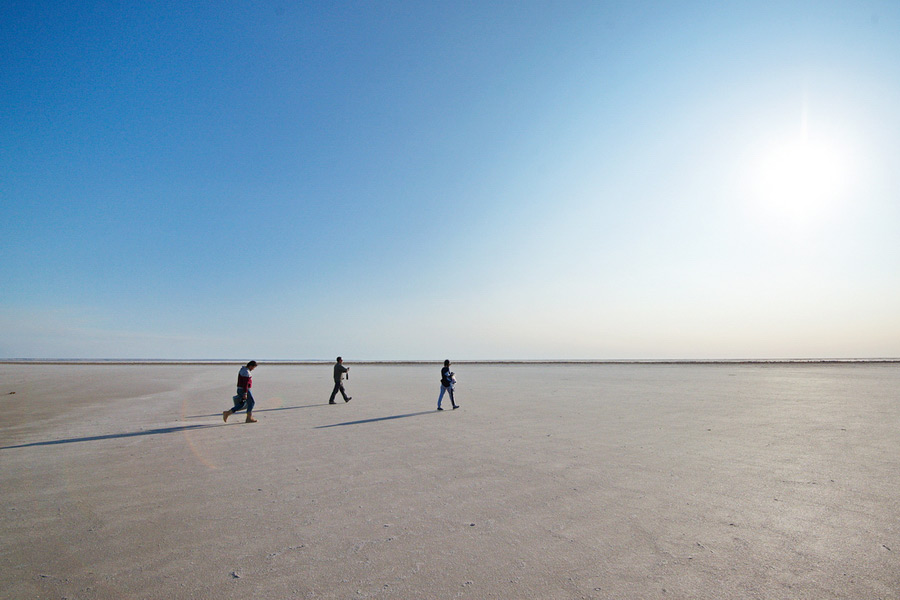 Barsa-Kelmes, meaning "The Place of No Return", is an eerie salt marsh in western Uzbekistan's Karakalpakstan territory. Anyone wishing to step into the mysterious expanse of time and test their courage in an uninhabited wasteland need look no farther than Barsakelmes, whose very name conjures up images of trepidation.
Stretching 70 kilometers in length and 40 kilometers in width, scientists believe that Barsa-Kelmes formed part of the seabed for the ancient Tethys Sea of the present-day Karakum and Kyzylkum Deserts and the Ustyurt Plateau. More recently, Barsakelmes was a former island in the Aral Sea on which a well-known reserve was located. As the Aral Sea dried up at an exponential rate in the 20th century, "Never Return Island" was also left depleted of its natural resources, eventually becoming one with the surrounding land. The dearth of life and vegetation at Barsakelmes is a direct result of the high concentration of salt which was left behind by the evaporated seawater.
The floor of Barsa-Kelmes is only 10-11 meters higher than the bed of the Aral Sea. This depression is filled with incredible reserves of salt which is reached by a path that winds through the sand along the clay-and-gypsum desert. This hard-to-access and little-researched salt marsh is also dangerous, for when crossing the terrain it is easy to sink through the thin layer of crystallized salt which cakes the ground. The salt sparkles like ice in the bright desert sun, making it nearly impossible to look at without tearing up. Although dangerous, Barsa-Kelmes is fantastically beautiful and is known to evoke a strange mixture of delight and fear in visitors.
A trip to Uzbekistan's Barsa-Kelmes is recommended only for travelers who are physically fit, and it is strongly advised to take sturdy shoes, cotton clothing, sunglasses and wide-brimmed hats for the journey. As the landscape resembles the backdrop for a sci-fi or fantasy film, those brave enough to make this journey will also be rewarded with unique and fascinating photo opportunities.