Akmola District
Districts of Kazakhstan
Nur-Sultan is the capital of the republic. Since 2019 it was renamed Astana (till 1961 Akmolinsk, then Tzelinograd and Astana (on May 1998)). Nur-Sultan is an important industrial and cultural center of the republic, as well as a railway and auto-transport hub. In 1824 it was founded as a military post, by Russian troops on the bank of the Ishim river, in 1868 recieved the status of town, and in the 1950s became an important center for the development of the Virgin Lands in the north of the country. Its industry includes agri-mechanical engineering, food processing, refining of raw agricultural materials, and transportation.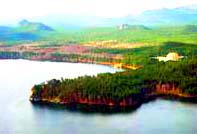 Akmola District was founded in 1961. Its territory is 146.6 thousand sq. km., with a population of 374.9 thousand (45.7%), and a population density of 5.6 people/sq. km. The center of the district is Kokchetau. There are 17 rural districts, 10 towns (1 large, 2 middle sized, and 7 small), 14 settlements, and 776 villages and rural districts.
Topography
The Kokchetav Hills include the Kokchetav mountains ( highest peak - 477 m), Ereimentau (899 m), and Zhaksy-Zhangyztau (730 m); the Atbasarska and Siletinskaya plains; and the Tengiz-Korgalzhin lowlands.
Flora and soil
Southern and carbonite black soils with feather-grass flora and birch-coniferous forest stands are found in the northern part of the district. Dark chestnut, chestnut and light chestnut soils with feather-grass flora, and small islands with pine-birch forests are found in the southern part . A large recreation zone including a sanatorium health resort complex was founded in the mountainous pine forest. Nature reserves include: Korgalzhin National Park, Ereimentausky, and Atbasarsky. In the Borvskoye and Zerendiskoye hunting farms, hunters have introduced and acclimatized different varieties of animals and birds.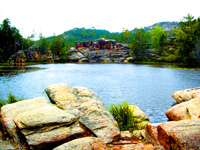 The largest rivers are: the Ishim, Nura, Silety, and Kulanotpes; important lakes are: Lake Tengiz (1162 sq. km), Kypshak (64.7 sq. km), Kerei (63 sq. km), and Kozhakol (60.7 sq. km); reservoirs are: Viacheslavskoye ( area 60.7 sq. km, capacity 410.9 mln cubic meters), and Siletinskoye ( area 36.3sq. km, capacity 221.8 mln. cubic meters). The main minerals are: ores of non-ferrous and black metals and uranium; deposits of building materials such as coal, cobalt, and kaolin; and of mineral waters and medicinal mud.
Transport and communication
Railways cover 1.588km or 11.3% of the national network. Paved roads cover 64.7 km per 1,000sq km.
The Kurgalja Lakes have plenty of fish, including farmed species such as golden and silver crucian, ide, pike, tench, perch and roach.
Lake Tengiz is the biggest lake of the reserve (1.590 sq km wide, with a 488 km long coast). The world's most northern colony of pink flamingos nestles on its islands. They have been here since the Paleolithic era when the entire Tengiz-Kurgalja Depression was under the Tetis Sea.
In the Kurgalja Reserve the luckiest will come across the black stork, hooping swan and brand goose, as well as wild boars hiding in the reeds. From time to time, forest species from Northern Kazakhstan and Western Siberia, such as the lynx, roe and elk visit this reserve.
The Burabay National Park is located in the north of Akmola district. This is fantastic mountain country with gorgeous pinewoods, layered rocks resembling gigantic bricks, and fantastically shaped peaks sometimes resembling Egyptian pyramids separated by silent lakes. Although the Burabay Park does not have any artifacts, every rock here has its own legend.
Nature generously scattered precious mineral treasures around Burabay. Among them are the picturesque Okzhetpes cliffs (Which even an arrow cannot reach) with peaks resembling baby elephants, and the Zhumbaktas cliffs (Riddle stone) like a sphinx with stiff fearless features.
The shores of Borovoye Lake (the beauty and pride of the area) are crowded with sanitariums, campsites and resorts with their restaurants, beaches, stores and nightclubs. From the small mountainous island you can see Bolshoe Chebachni Lake. It is a perfect holiday spot for those who like to have a quiet break and prefer camping and nature. From the top of Mt. Kokchetau (961 m) you have a panoramic view of the lake, as big as a sea, stretching almost to the end of the horizon. Burabay National Park also features Lake Shchuchye and many smaller lakes.