Aktyubinsk District
Districats of Kazakhstan
The administrative center of Aktyube District (Oblast) is the city of Aktyubinsk (Aktobe in Kazakh). Its history dates back to 1869, when a military fort was founded at the junction of two rivers: the Kargaly and Ilek. According to legend, the hill neighboring the fort was white due to cretaceous sediments.
That is why the city was named Aktobe, or "The White Hill" in Kazakh. The rivers Emba, Uil and Ilek cross the Aktyube district as well. The well-known Ilek burial mounds are located on the banks of the Ilek River. Archeological excavations of the area have provided historians with evidence that modern Aktyube is where the legendary Aryan civilization was born.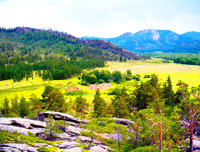 Aktubinsk is a large industrial and cultural center of north-western Kazakhstan. It was founded in 1869 on the fortifications of Aktube (the white hill). Local factories produce ferro-alloy, X-ray equipment, agricultural machinery and oil processing equipment. There are also medical and pedagogical universities and a summer academy.
Aktubinsk District was founded in 1932. It covers 300,000 sq km; with a population of 678.6 thousand (44.1%) and a population density of 2.3 people/sq km. The center of the district is Aktubinsk. There are 12 rural localities, 7 towns (1 large, 6 small), 3 settlements, and 468 villages and rural districts.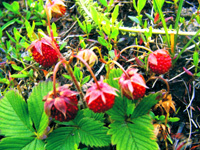 Topography. The majority of the territory consists of hilly plains with the southern Ural range in the north and the Mugodzhar mountains in the center, a plateau in the west, the sands of the Karakum, Ulken and Kishi Borsyk in the southeast and the Turgai plateau in the northeast.
Soil. The northwestern part of the district is covered by feather-grass and steppe on dark chestnut soil, the central and northeastern parts with sandy steppe on light chestnut and grey soil and the southern part with feather-grass sands and sands on uneven soil with sand dunes and salt flats.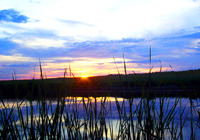 The largest rivers are the Torgai, Oiyl, Zhem, and Irgiz. There are more than 150 lakes, small and salty, some of them dry and forming salt flats. The man-made Kargaly reservoir covers 28.5 sq km, with a capacity of 280 mln cubic meters.
The main minerals are chrome (1stin the CIS), nickel-cobalt, phosphorus ores, oil and gas, sulphur pyrite and non-ferrous metals, potassium salts, coal and bauxite.
Transport. The railway covers 1,138 km, or 8% of the national network. Paved roads cover 60.1% of the national average.