South Kazakhstan District
Kazakhstan Districts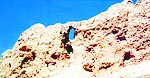 Kazakhstan is a land of ancient civilizations. Since time immemorial, its inhabitants have been creating an outstanding and original culture.
Today the administrative, cultural and industrial center of the district is Shymkent, the third largest city in Kazakhstan (population 420,000).
South Kazakhstan District is famous mostly for its historical memorials - burial mounds, sites of ancient settlements, fortresses, mausoleums and ancient towns.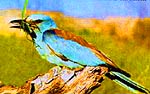 The center of South Kazakhstan district, Shymkent city, with a population about a half millon people, is the third in size in Kazakhstan.
Though the first written mention of the city dates to 1366, no large architectural monuments of the ancient city have been preserved. However, the modern infrastructure is well developed.
At the service of visitors are two four star hotels, "Sapar" and "Kema", and a few other hotels of lower quality. There are two modern bowling centers, the technopark "Fantasy world", and an aqua-park.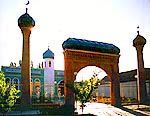 The city hosts a great number of restaurants and cafes, serving an enormous variety of dishes. Shymkent is the most inexpensive city in the country, food per person per day costs a maximum of 7-8 dollars. In many cafes life music can be enjoyed, billiards are available, and banya lovers will find saunas in the city to suit any taste.
The regional historical museum of ethnography is very interesting and features an art gallery.
You should add to this list a wonderful Zoo and arboretum, in which is represented the plant life of many diverse landscape zones, and likewise many parks, cultivated under the conditions of an arid climate found nowhere else in Central Asia.